Sour Cream (Old-Fashioned) Glazed doughnuts that taste precisely like a cake ones you'd get from your favorite donut shop! Perfectly sweet, sour cream doughnuts are fried creating a crisp, beautifully crackled exterior glaze that breaks into soft, dense, fluffy doughnuts.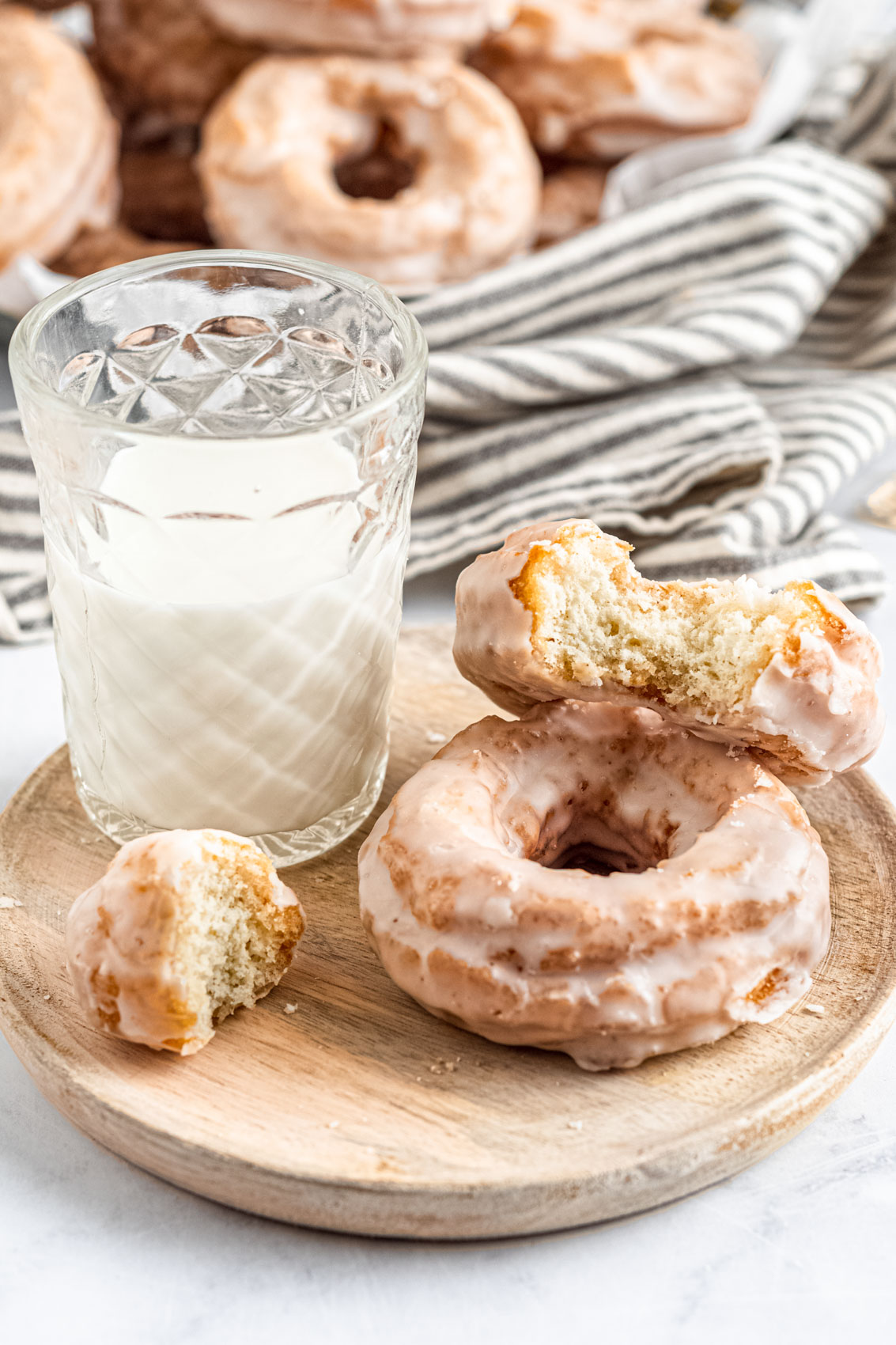 why cake-like doughnuts are the best
These Old-Fashioned Sour Cream Doughnuts are the best sweet breakfast recipe; it's like stepping back in time with your favorite bakery's old-fashioned cake doughnuts.
On the outside, they're a little crackled, which makes those crevices ideal for soaking up the thick, lustrous, glaze.
While warm, we immerse the doughnuts entirely in the glaze in the recipe, and it's incredible.
The donuts are soft and cakey on the inside, with a crispness on the outside.  Plus, you can't go wrong with sour cream; these old-fashioned donuts are the best for dipping into coffee or milk!
This recipe does not require yeast, making the donuts easier to prepare
ingredients for sour cream donuts
In addition to the food ingredients for this recipe, you'll also need a donut (biscuit) cutter, rolling pin and stockpot.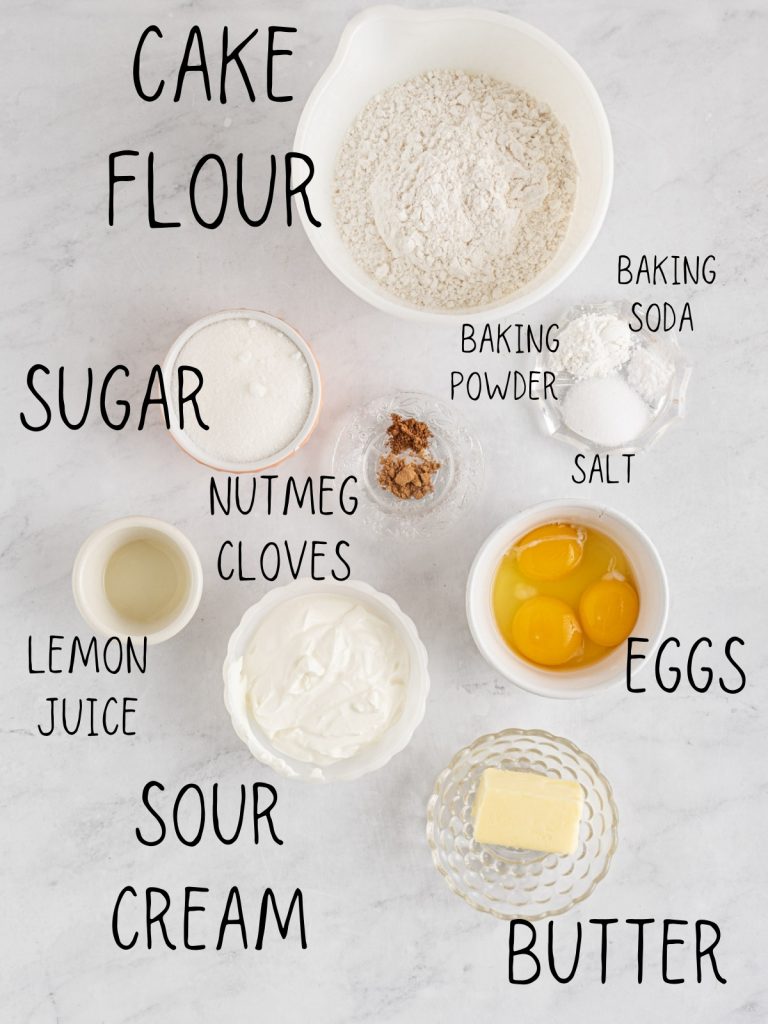 dough instructions
Follow these instructions for making a perfect, sour cream cake donut batter.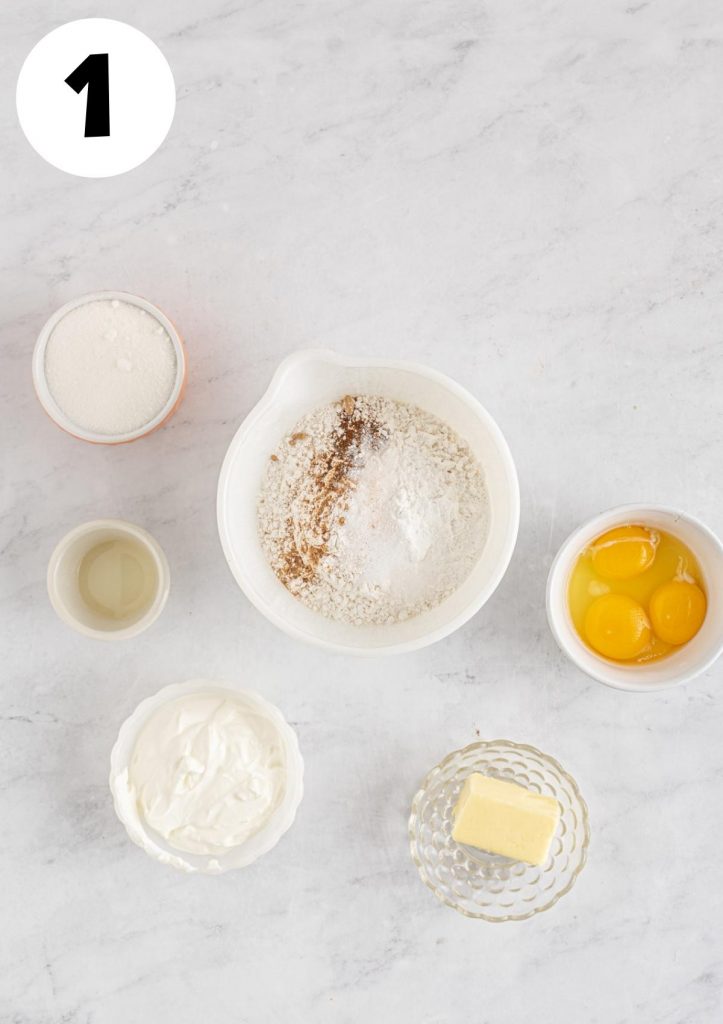 how to cut out and glaze donuts
See how to roll your doughnut dough, cut out perfect circles and holes, then deep fry to a golden brown. Don't forget to glaze!
Before we begin:
heat your oil to 375 degrees F
prepare the donut glaze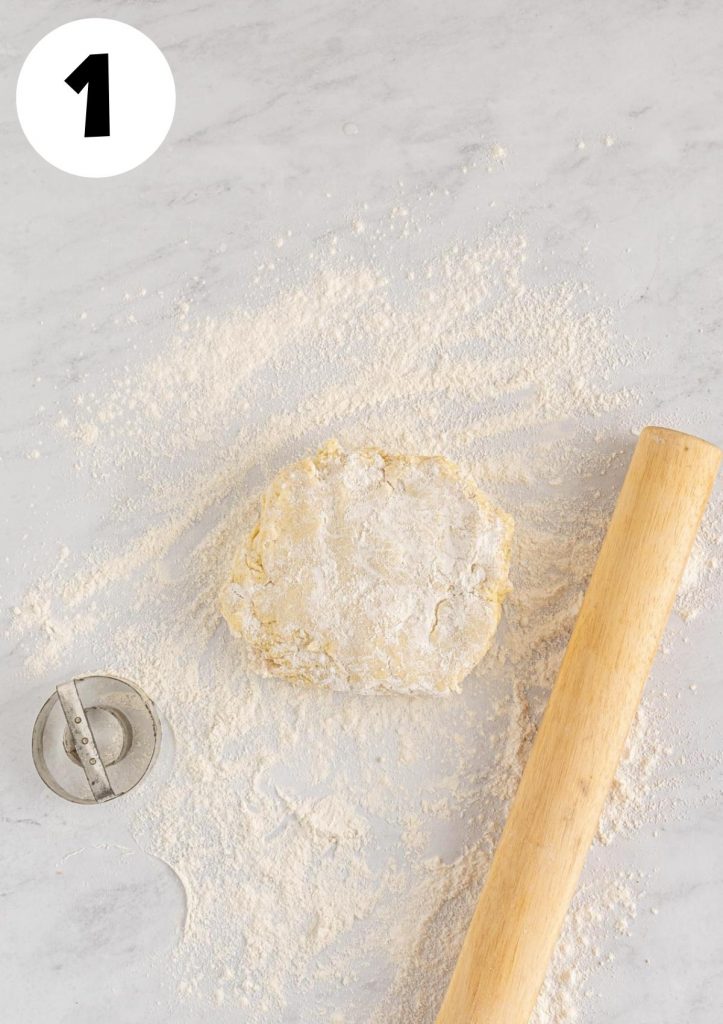 expert tips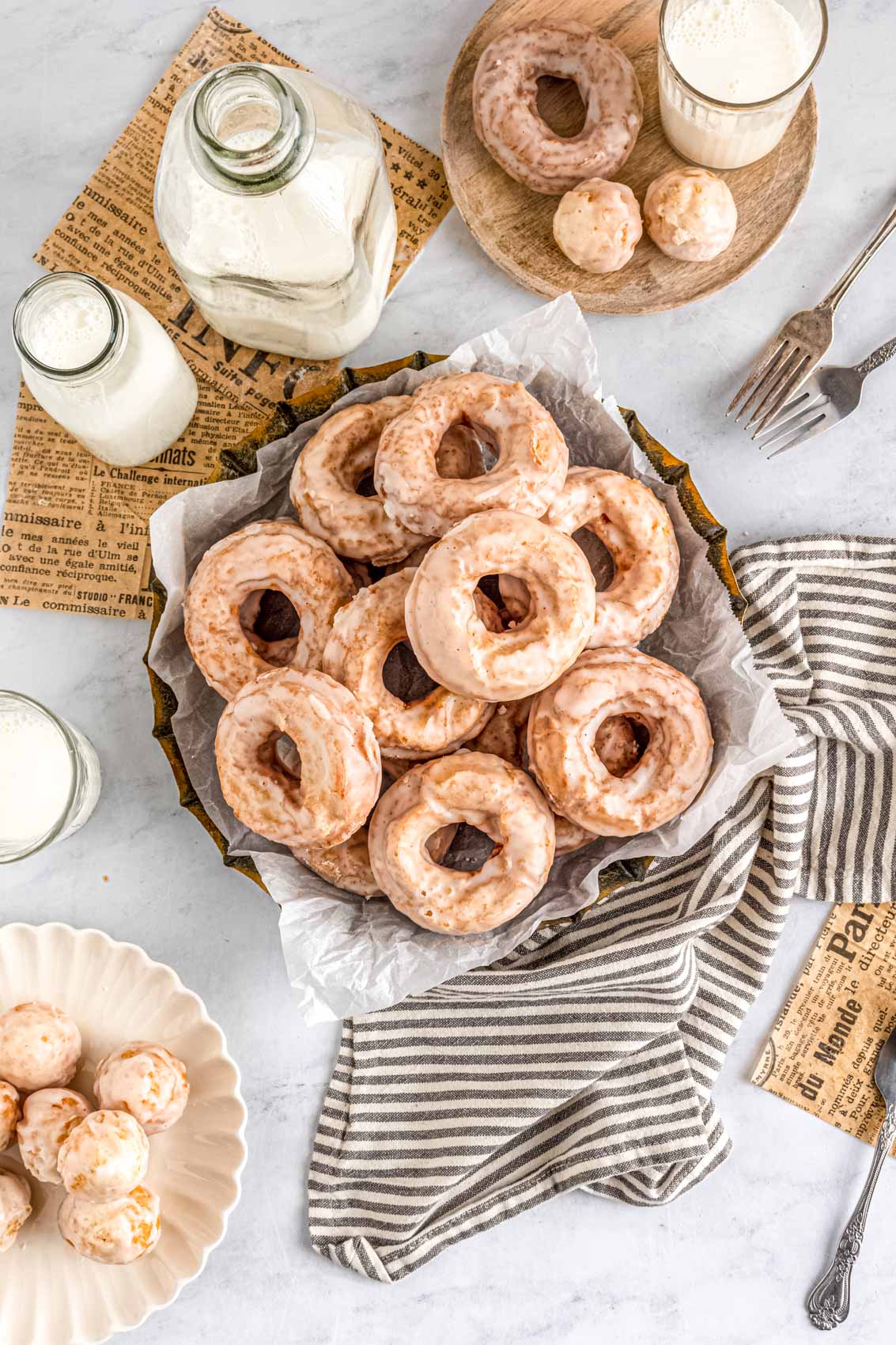 Follow these tasty tips for the perfect recipe for old-fashioned sour cream donuts.
If the dough is too sticky

The doughnut dough will be sticky after mixing, however, it should not be so sticky that it will coat your hand when touched.

Mix in 1 Tbs of flour at a time until it is the right texture.

If the glaze is too thick

whisk in 1-2 tsp flour for the right consistency. If the glaze becomes too thin, whisk in 1-2 Tbs powdered sugar. In either case, be sure to whisk well after each addition.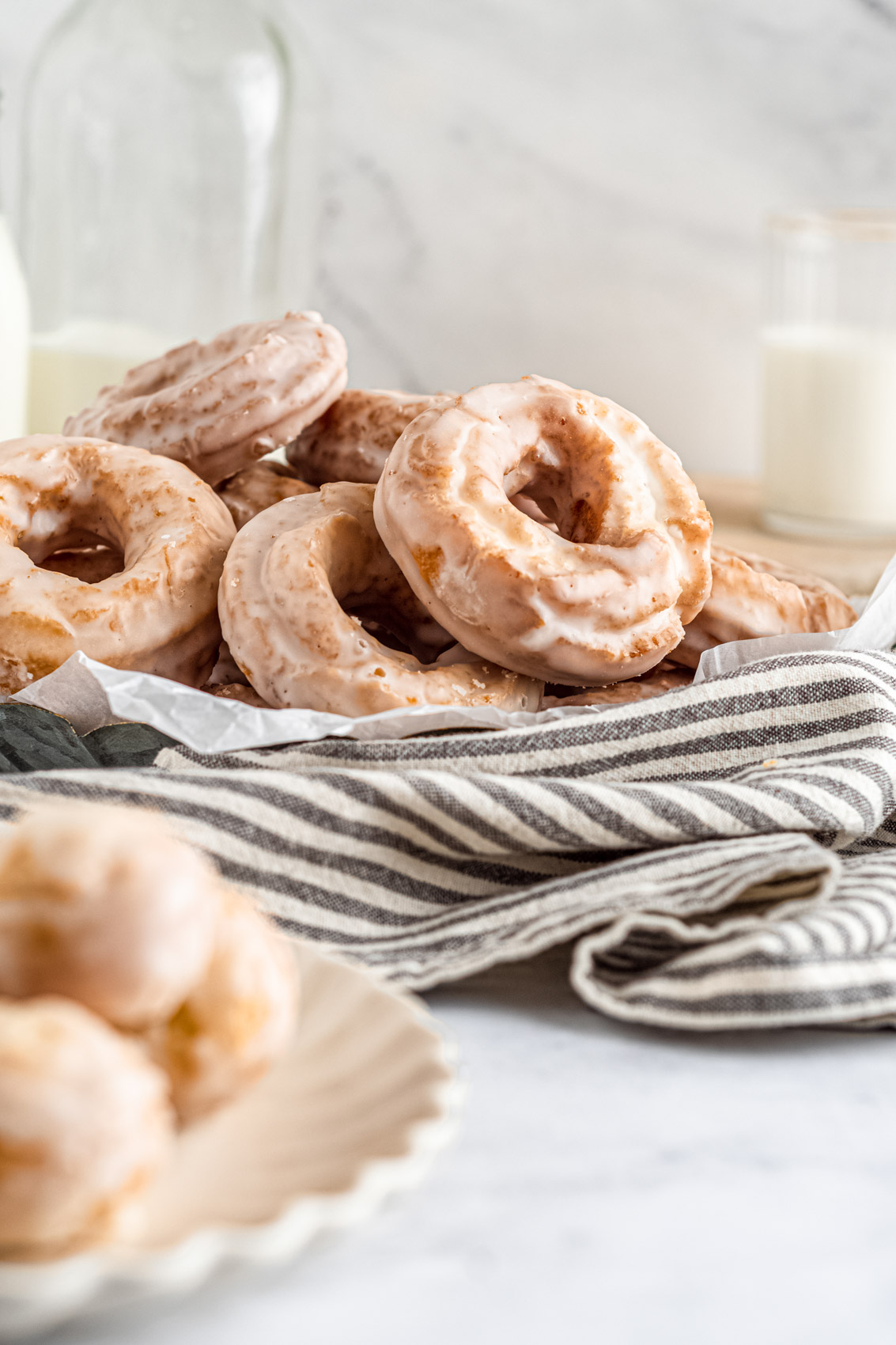 Chill the dough

you don't want to skip out on the chill time; it allows the dough to toughen up in preparation for frying
Use real, bleached cake flour

This is a must-have ingredient for the recipe. Cake flour from the store will produce light and delicate doughnuts similar to those from the bakery.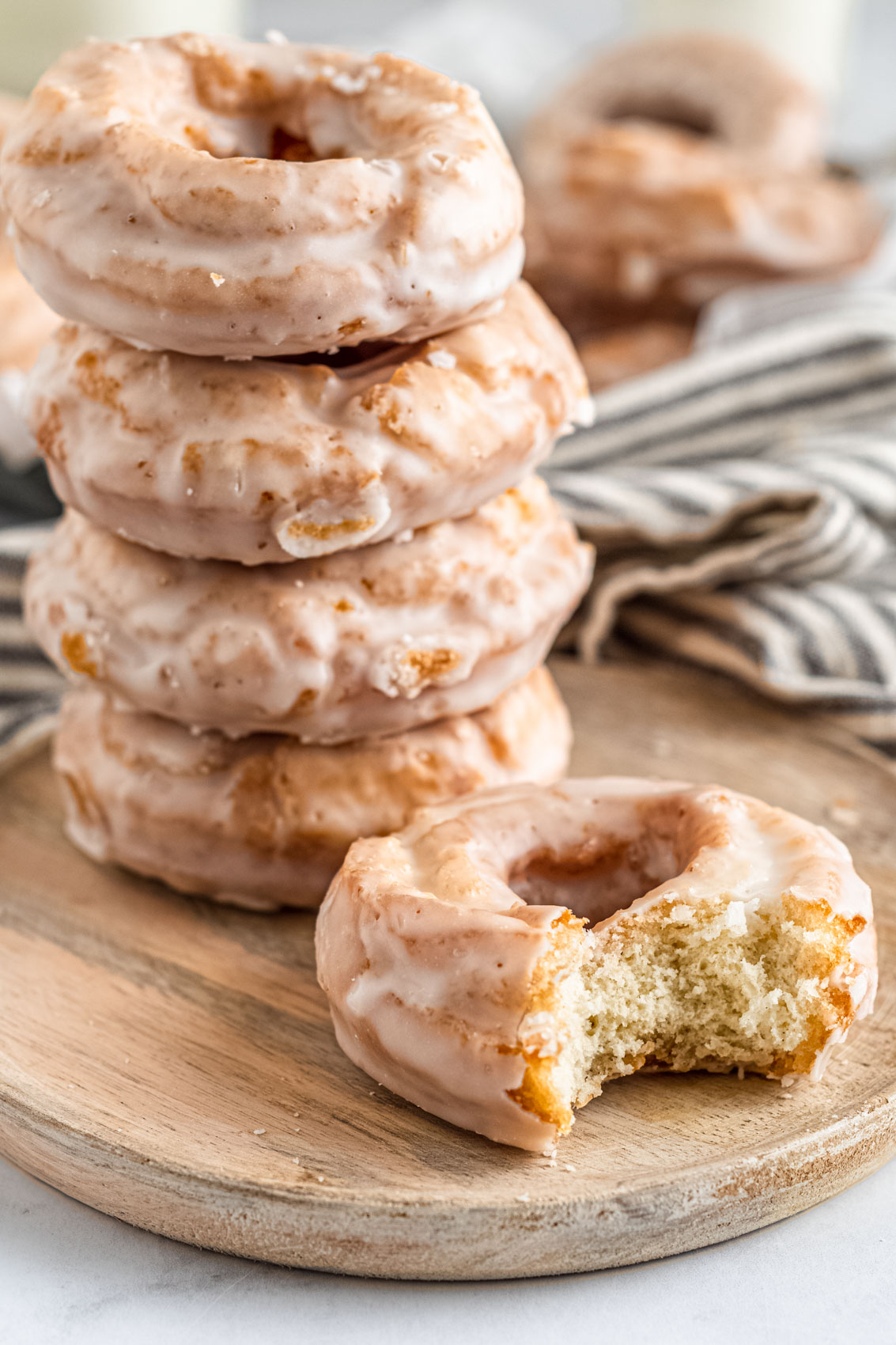 FAQ
Substitutions

Cake flour – To make cake flour, simply remove 6 Tbs flour and whisk in 6 Tbs cornstarch before adding to the recipe.
Cloves – Enhances the old fashioned flavors, however, it can be omitted.
Lemon juice – use lime juice instead.
storing leftover doughnuts
Due to their crisp exterior, store these donuts in an airtight container or zippered bag at room temp for up to 5 days.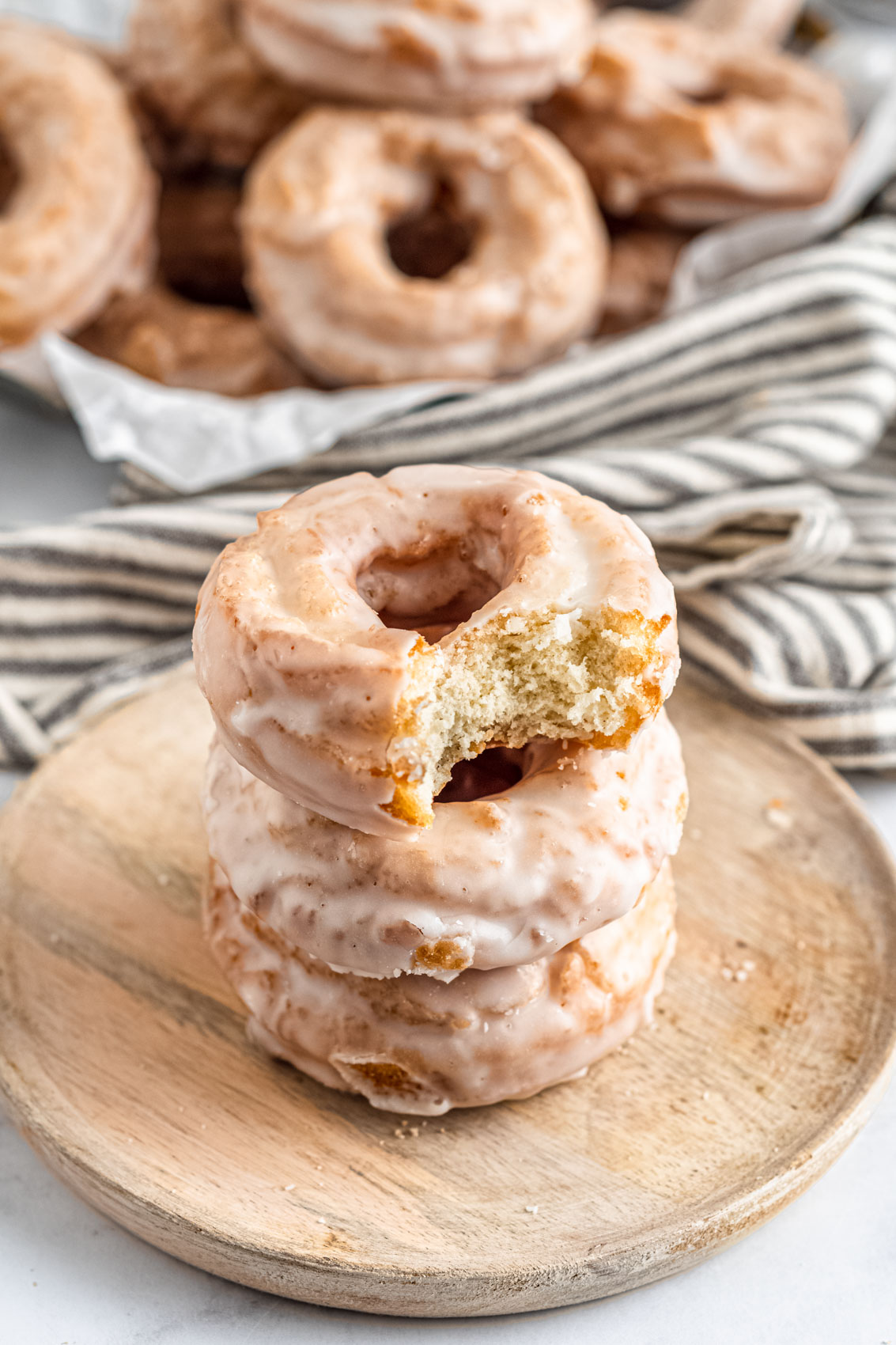 what to serve with doughnuts
These donuts are so versatile, you can serve them with just about any other breakfast item. I like to serve these glazed donuts with a breakfast platter, coffee, or a tall glass of milk.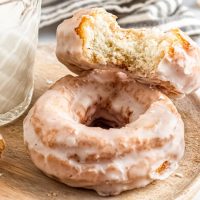 Old-Fashioned Sour Cream Doughnuts
Old-Fashioned Sour Cream Doughnuts are perfectly crackled and crisp with a special glaze on the outside, yet amazingly fluffy and cake-like on the inside. Try these amazing donuts with a cup of coffee or as a breakfast treat.
Print
Pin
Rate
Instructions
Whisk flour, baking powder, salt, baking soda, nutmeg and cloves together in a large bowl. Set aside.

Beat together the sugar and butter on high speed for 1 minute or until smooth and fluffy. Scrape down the sides of the bowl and add the eggs. Beat together for 45 seconds or until fully combined. Next, add the lemon juice and ⅓ of the flour. Mix until incorporated. Add ⅓ of the sour cream and mix until incorporated. Be sure to scrape the sides of the bowl down intermittently. Next, mix in ⅓ of the flour then ⅓ sour cream. Repeat with the remaining flour then sour cream. 

Once the dough has come together, scrape the sides of the bowl down. Cover tightly with plastic wrap and place in the fridge to chill for 1 hour. 

Before rolling out the dough, start heating the frying oil. Add 3" vegetable oil to a stock pot. Place the pot over medium heat and heat the oil to 375 F. Meanwhile, turn the dough out onto a floured surface. Lightly flour the top of the dough. Use a rolling pin to roll the dough out to ¼" thickness. Use a doughnut cutter or two biscuit cutters, one large and one small, to cut out doughnuts and doughnut holes from the sheet of dough. Transfer the doughnuts to a parchment lined baking sheet for ease. Roll the excess dough back into a ball then roll out into ¼" thickness. Continue cutting out as many doughnuts from the dough as possible until all of the dough has been used. There should be about 16 doughnuts and holes. 

Once the oil has heated up and the doughnuts have been cut out, gently place 3-4 doughnuts into the stockpot making sure to not overlap them. Let them fry for 2 minutes  or until the raw top side has crackled and the frying side has turned a golden brown. Gently flip the doughnuts over and fry for another 30 seconds – 1 minute or until fully cooked. Transfer the fried doughnuts to a cooling rack on top of a paper towel lined baking sheet to drip off excess oil. 

Once all of the doughnuts have been fried, make the glaze. Add all of the ingredients to a medium sized bowl and whisk well until a smooth glaze has formed. 

Dip the doughnuts, one by one, into the glaze. Let excess glaze drip from the doughnuts before transferring back to the cooling rack on top of the baking sheet. Let the doughnuts set for about 5 minutes to allow the glaze to harden around the doughnuts before serving. 
Notes
Storage
Keep in an air-tight container or zippered bag for up to 5 days. 
Nutrition
Calories:
270
kcal
|
Carbohydrates:
57
g
|
Protein:
4
g
|
Fat:
3
g
|
Saturated Fat:
1
g
|
Polyunsaturated Fat:
1
g
|
Monounsaturated Fat:
1
g
|
Trans Fat:
1
g
|
Cholesterol:
40
mg
|
Sodium:
282
mg
|
Potassium:
48
mg
|
Fiber:
1
g
|
Sugar:
39
g
|
Vitamin A:
112
IU
|
Vitamin C:
1
mg
|
Calcium:
41
mg
|
Iron:
1
mg
more sweet breakfast recipes…..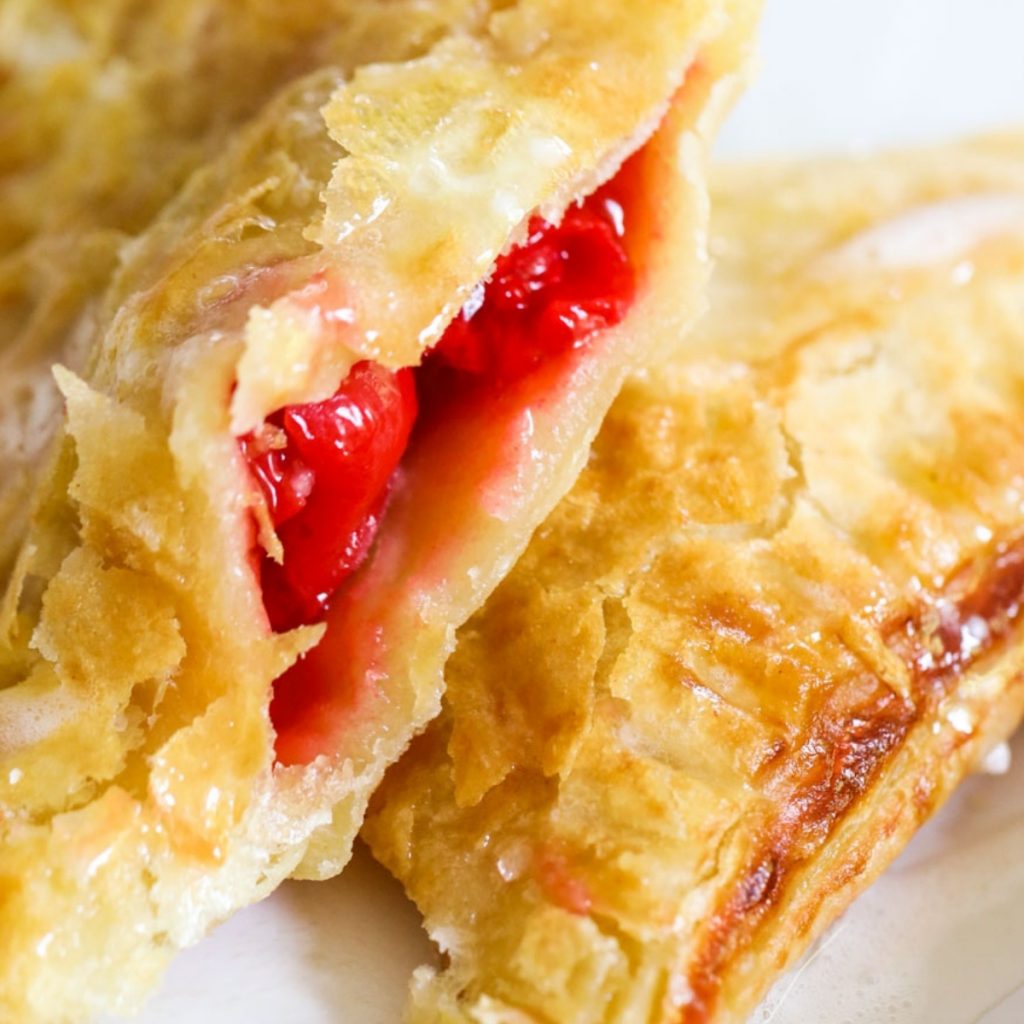 Air Fryer Turnovers