These Bourbon Glazed Pork Chops are seared and baked, then drizzled with an irresistible maple glaze. This dish is worth a little extra effort and doesn't require any breading. Roasted sweet potatoes, and a sweet and tangy maple bourbon glazed pork chop make the perfect dinner.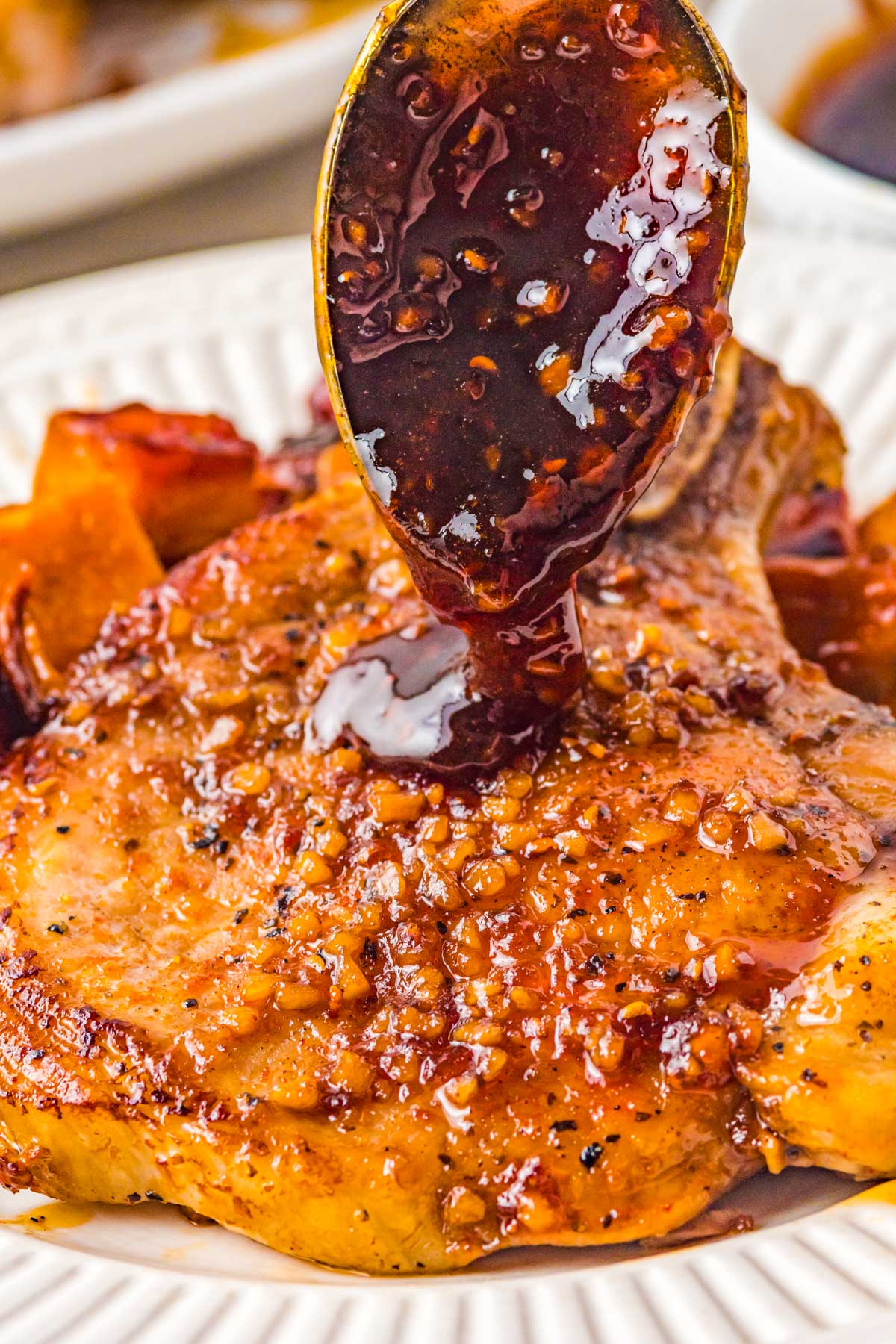 the bourbon pork chop glaze is amazing
This recipe for bourbon glaze is on our family's weekly rotation because it's easy to make for one-pot dinners or holiday meals.
This glaze is simply delicious.

I pour it on everything from

chicken

to salmon.

It's pure comfort food. This bourbon glaze recipe will make any dinner delicious.
A weeknight-friendly dish for the entire year, served with healthy sweet potatoes.
Because these pork chops are ready in 45 minutes, they're ideal for busy families or for meal prepping ahead of time.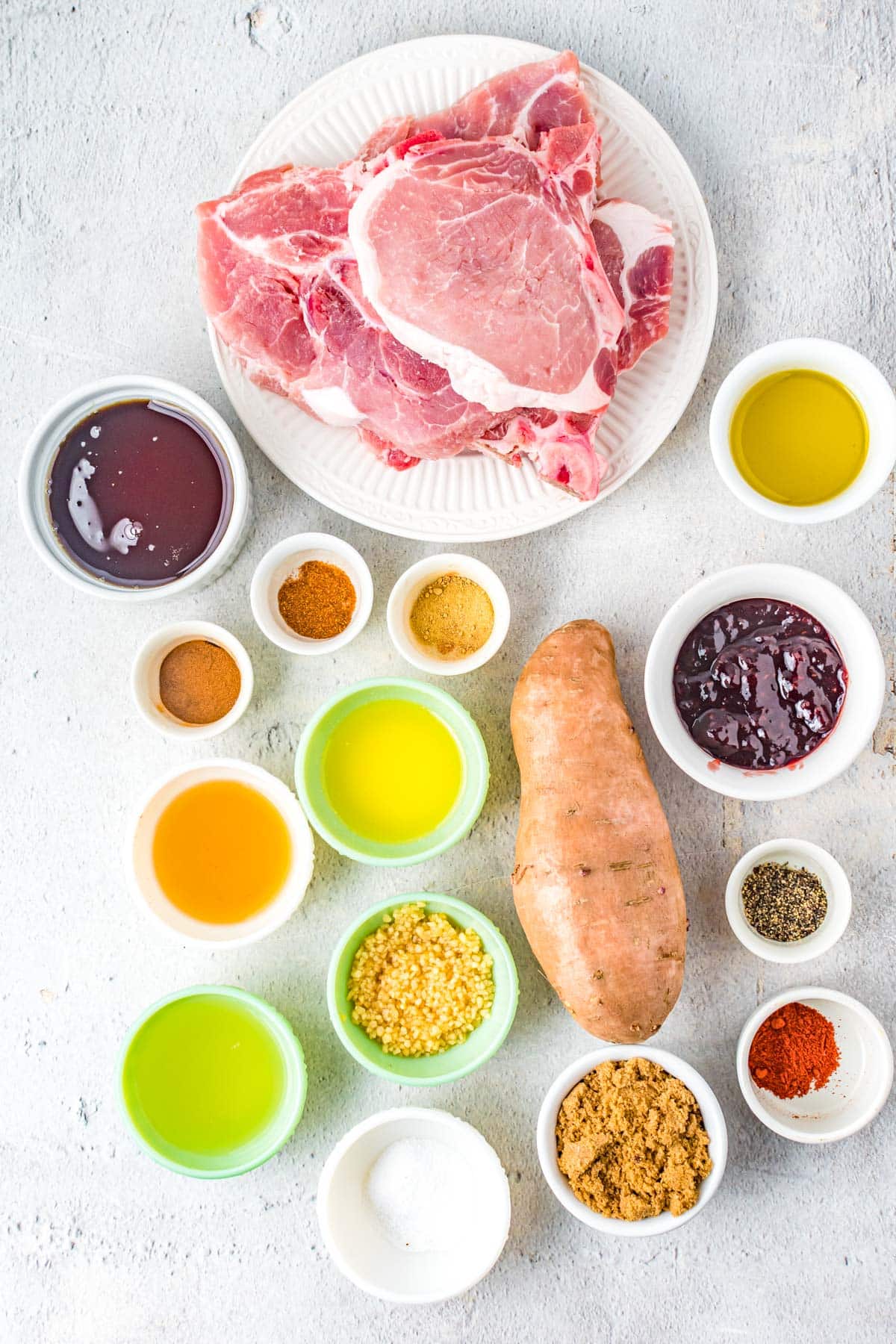 ingredients
Pork chops – any kind is good. You can use boneless, bone in, thicker is best for moist pork, but you can use a thinner chop as well
Warm water
Olive oil
Bourbon – you may use chicken broth if you don't want to use bourbon.
Raspberry jam – any brand (you may also use blackberry)
Lemon juice– fresh squeezed is best, but bottled will also work in this recipe
Garlic – fresh or pre-minced garlic cloves
Ginger –

dried or you can grate fresh ginger as well

Cayenne pepper– you may also use chili pepper
Sweet potatoes– diced in 1/2 inch cubes
Butter– real butter is best
Maple syrup – real maple syrup, no light substitutes (you may also use honey as a substitute)
Brown sugar- light or dark brown sugar will work well
Cinnamon– optional
Salt and pepper
Smoked paprika– gives a wonderful, full-flavor
Soy sauce- optional, a dash is all you need!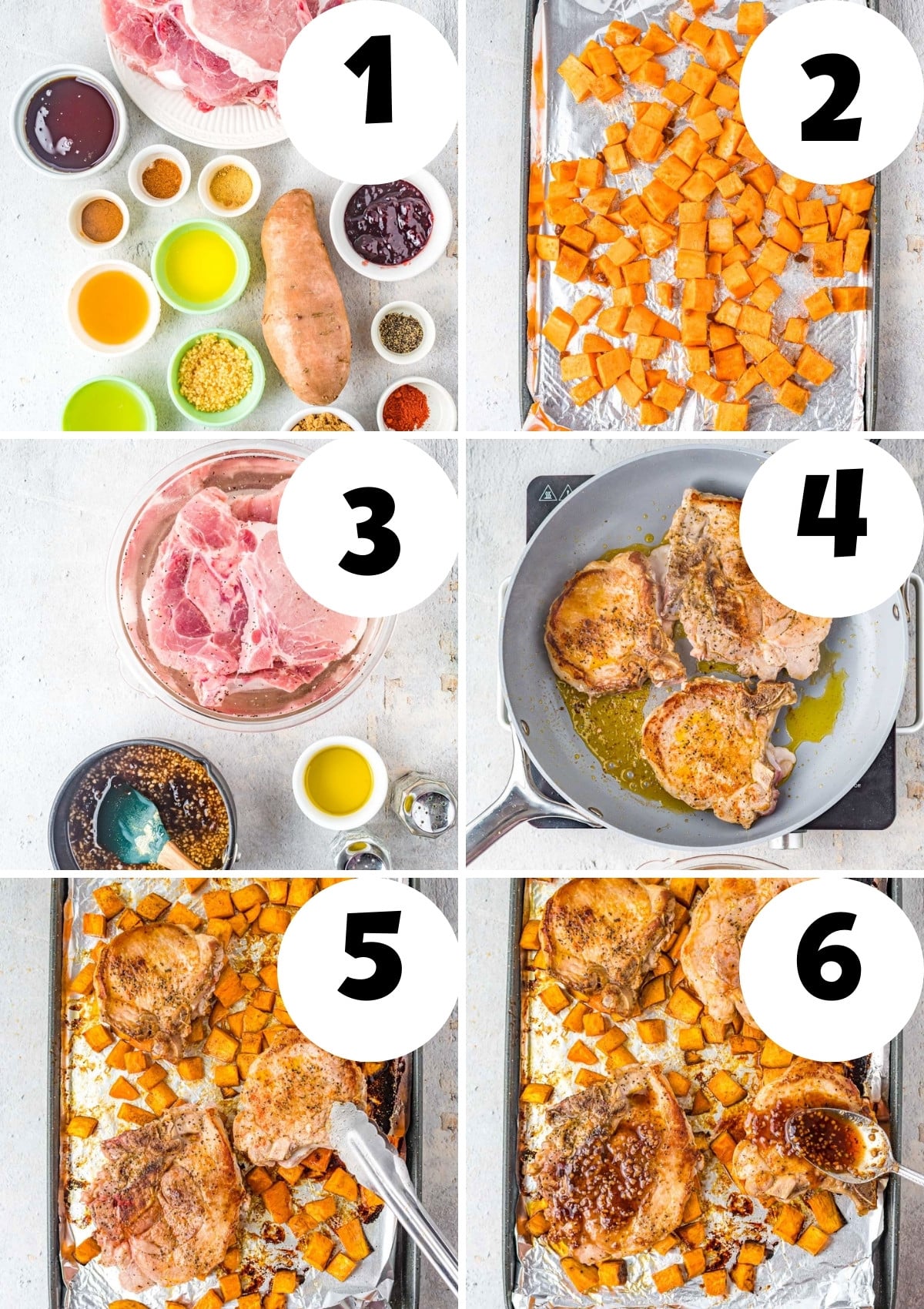 instructions
Brine Instructions
In a large shallow dish, combine the water, salt, and pepper to brine the chops.
Place the pork chops in the brining water, ensuring that they are well submerged.
Refrigerate the chops for 15 minutes to an hour after covering them with wrap or foil.
Remove the chops and pat them dry after the time has passed.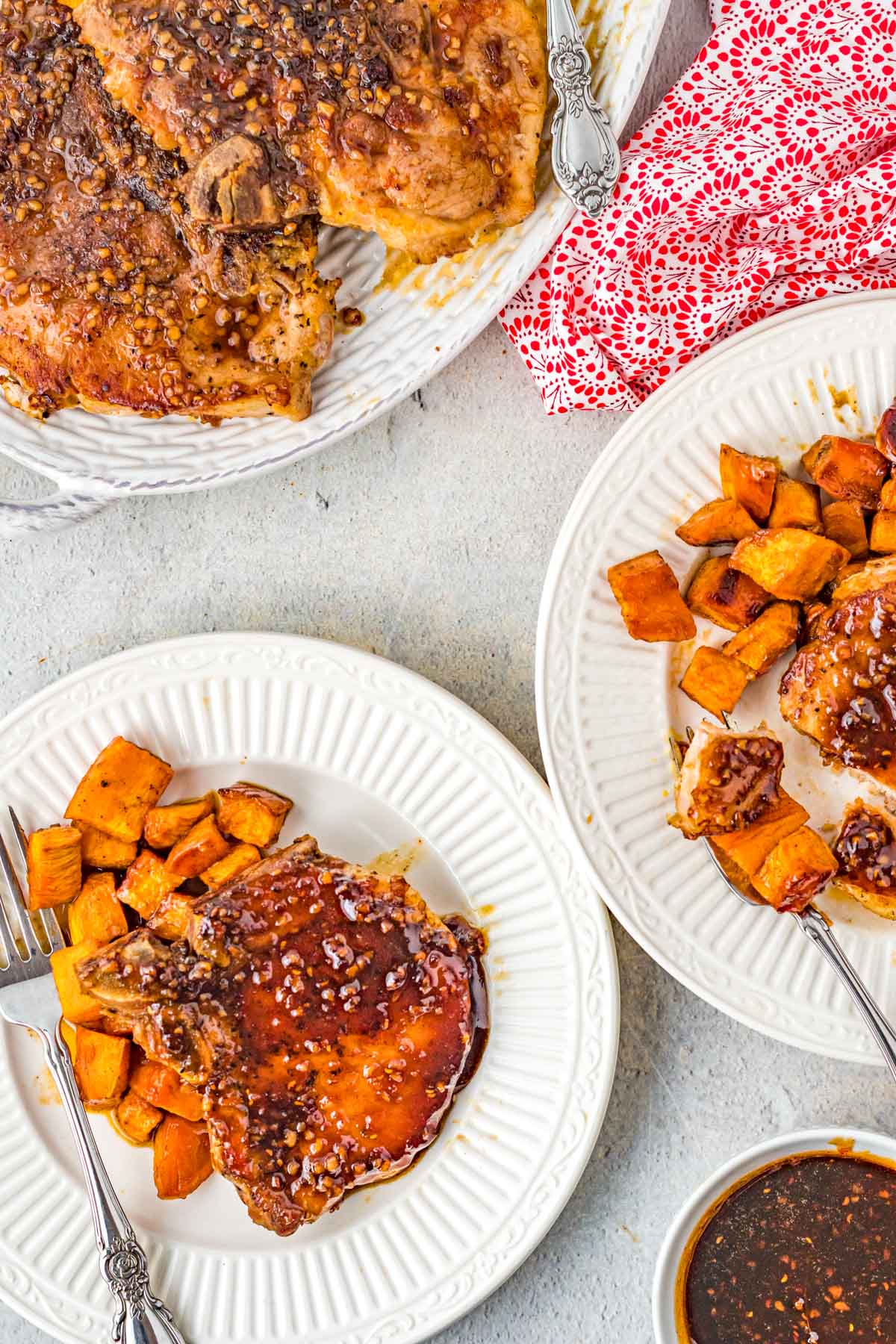 Sweet Potato Instructions
Preheat the oven at 400°F and add the melted butter, maple syrup, brown sugar, cinnamon, salt, and smoked paprika in a mixing bowl.
Spray a big pan with nonstick cooking spray and line it with tinfoil.
Place the potatoes in the pan and cover them with the brown sugar mixture.
Toss to evenly coat. Bake the pan for 25 minutes. To brown all sides, flip them over from time to time.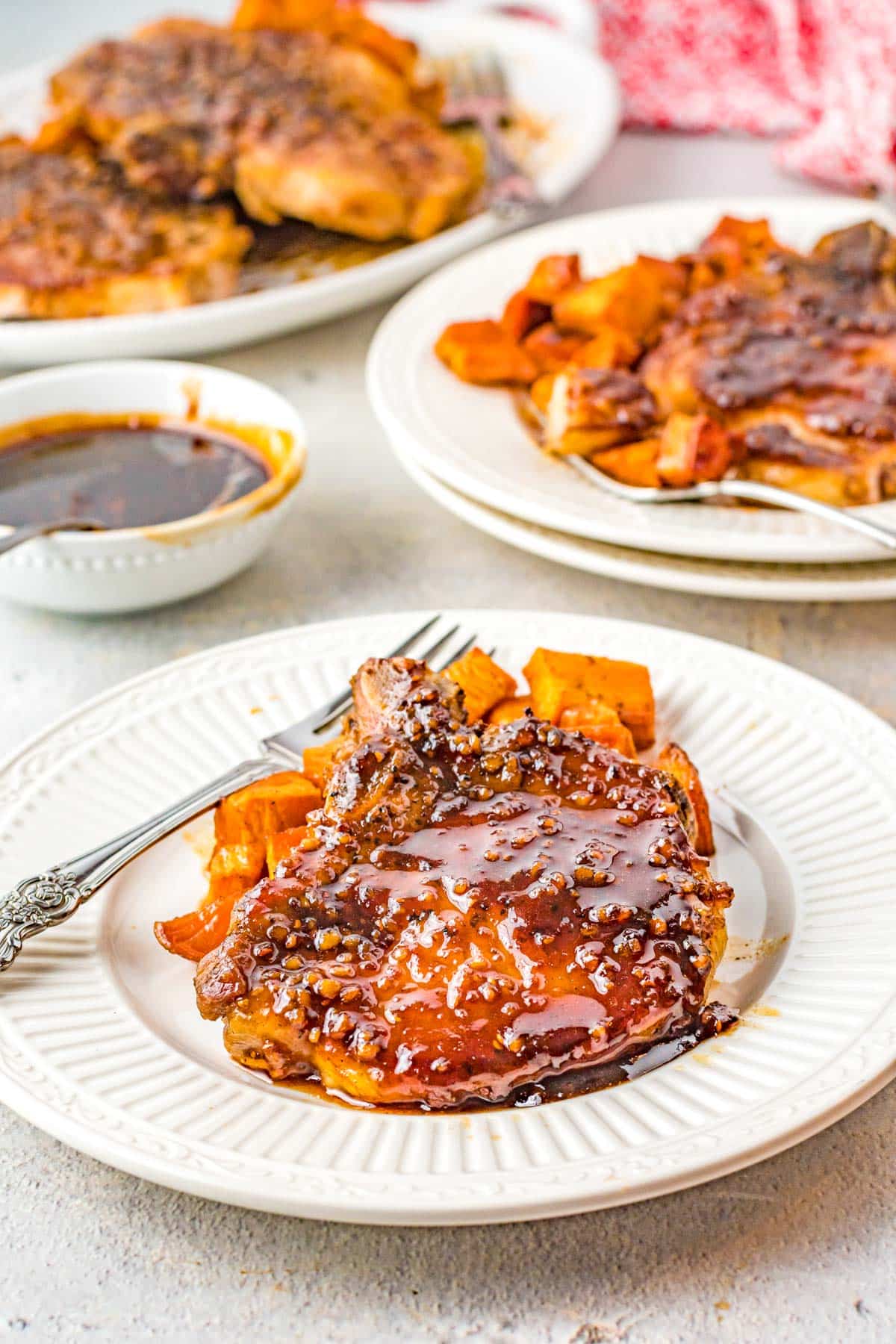 glaze Instructions
Bourbon brown sugar glaze is sweet and tangy at the same time. The perfect combo to jazz up any protein!
Whisk together all of the glaze ingredients in a small saucepan. Cook over low heat until the sauce has thickened and decreased.
Heat the oil in a sauté pan for the pork chops. Salt, pepper, and paprika are used to season the chops.
Place in the pan with heated oil and sear on both sides.
Reduce the oven temperature after the potatoes have roasted.
Bake pork chops in the oven after spooning the glaze over them (see recipe card for cooking times).
Remove the chops from the pan and drizzle some glaze over them. Bake the pork steak for an additional 4 minutes in the oven.
Remove them from the oven and let them aside before serving.
The remaining glaze can be poured on the pork and veggies.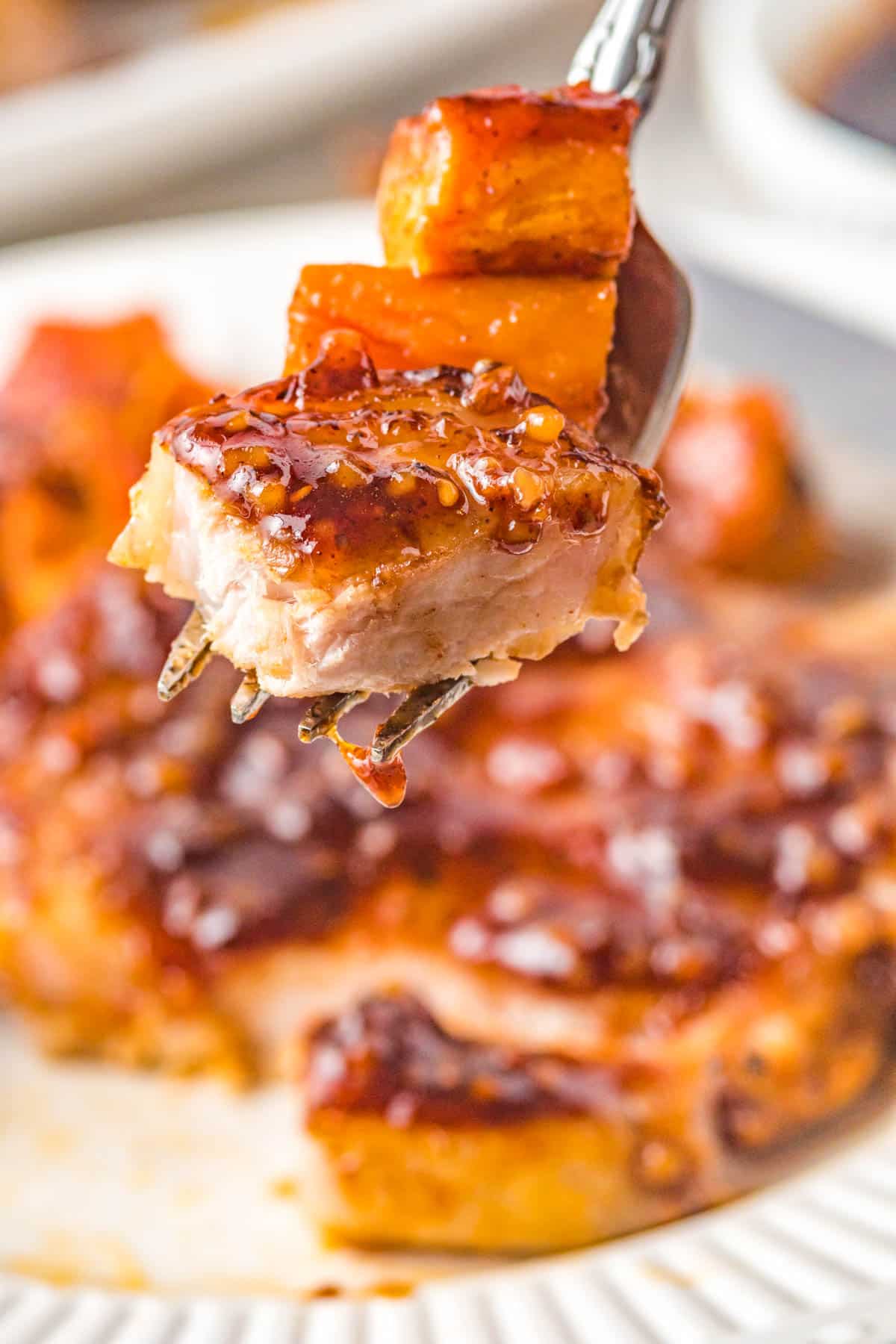 FAQ
Substitutions
Pork steak variations

If you like bone-in pork chops, you may substitute them with boneless pork chops in this recipe with no change in cooking time. In order to be sure, check the pork's internal temperature.

This glaze may be used with chicken, turkey or salmon.
No bourbon? If alcohol-free, try apple juice in place of whiskey in the glaze. However, the effects of the bourbon is cooked out of the glaze at high temperatures.
Swap the maple syrup for honey.
No raspberry jam? Try blackberry preserves instead.
Swap the sweet potatoes for carrots.
Which bourbon is best for cooking?

As a Kentuckian, I suggest Buffalo Trace or Four Roses bourbon for this recipe.

Check out the best bourbon for cooking.
how to cook thin pork chops without drying them out
Thin pork chops should be salted to prevent drying out. You may also use soy sauce or a seasoned dry rub with added salt.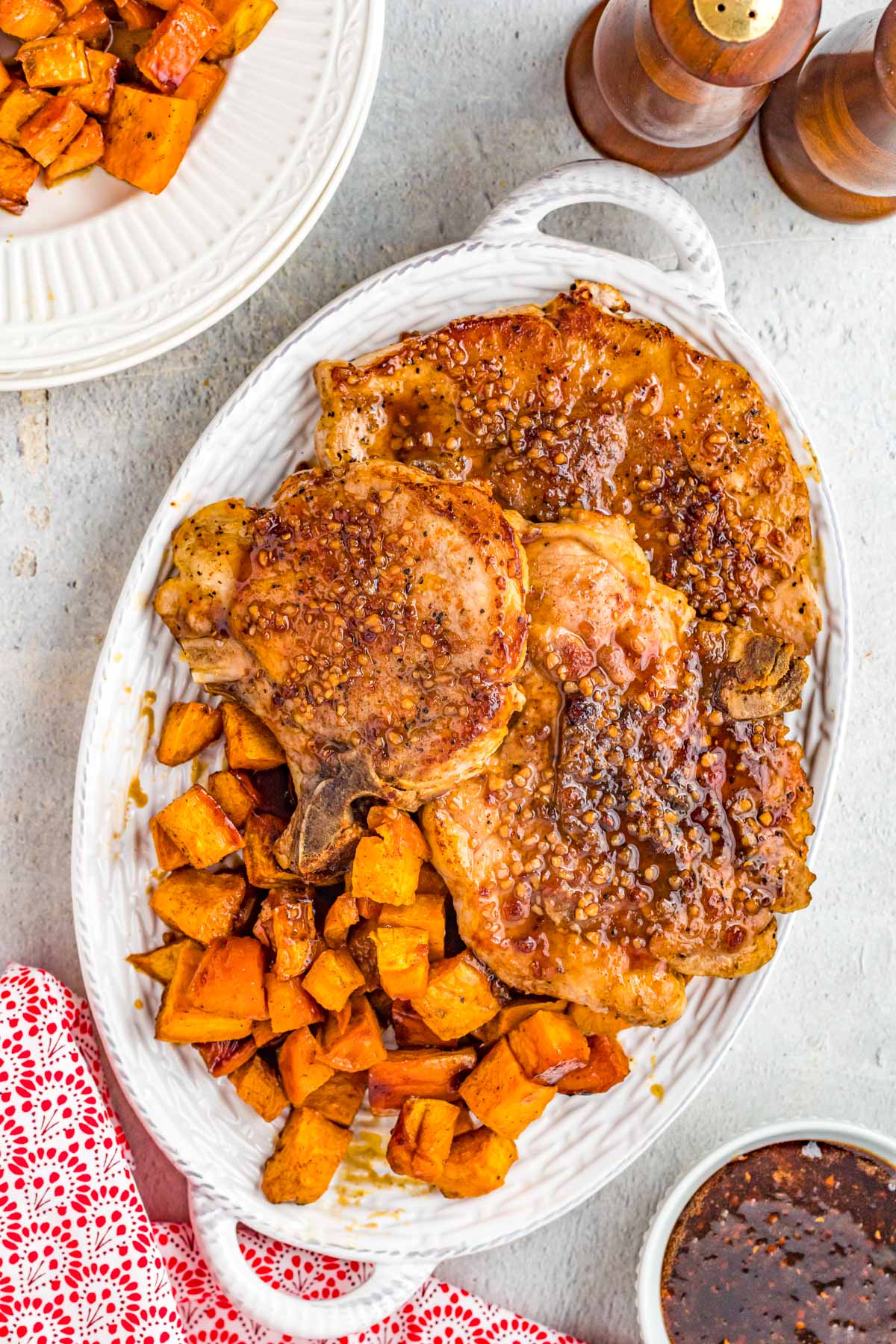 time savers
Fresh-baked pork chops are best since they'll be moist and tender right from the oven. However, you can prepare the brine and glaze in advance.
I like to prepare the brine and the bourbon glaze a day in advance, which significantly reduces your prep and hands-on time.
Just store the glaze in an airtight jar in the refrigerator until time to cook.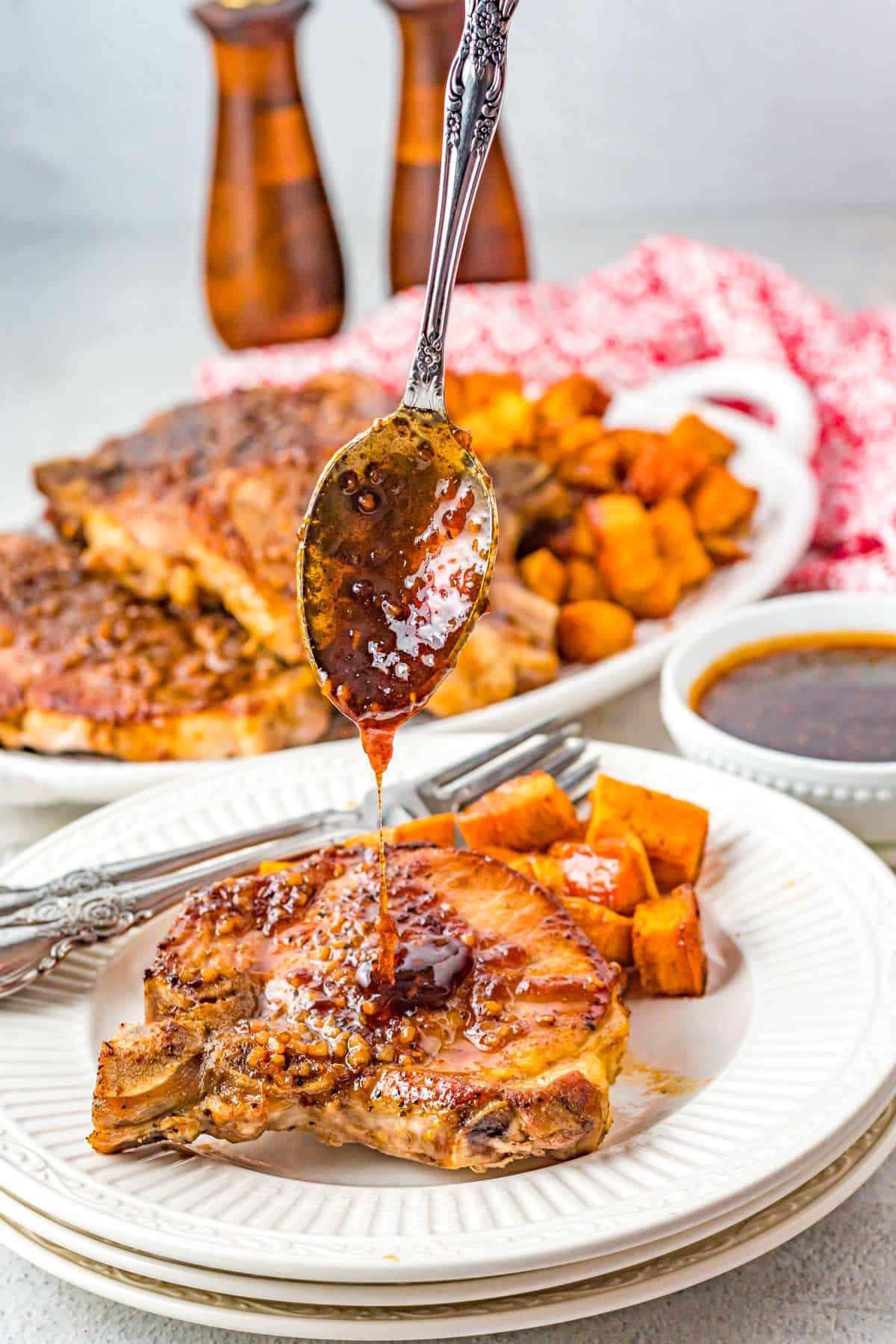 how long are cooked pork chops good in the fridge
Pork chops should be stored in an airtight container in the refrigerator and eaten within three to four days after making.
Oven-baked chops may be frozen for up to 3 months in a sealed, air-tight freezer bag. Thaw overnight in the refrigerator, then re-heat.
expert tips
If you want perfectly crisp pork chops on the outside, don't skimp on the searing or the glaze.
If you have an oven-safe skillet, utilize it here since there will be less dishes to wash.
The key to a great pork chop lies in the internal temperature. To avoid overcooking and drying out pork chops, it's important to cook them at the optimum temperature. At least 145 degrees Fahrenheit is the ideal cooking temperature for pork.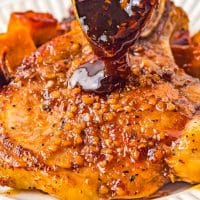 Bourbon Glazed Pork Chops
This bourbon glazed, maple soaked pork chop recipe is a game changer for busy weeknights. Amazing and crave worthy, you'll never need another pork chop recipe again!
Print
Pin
Rate
Ingredients
Instructions
Brine
To brine the chops, combine the water, salt and pepper in a large shallow dish. 

Place the pork chops in the brining water, making sure to submerge the chops completely.

Cover the chops tightly and place in the refrigerator for 15 minutes to an hour.

After the allotted time, remove the chops and pat dry.
Sweet Potatoes
Preheat the oven to 400° and combine the melted butter, maple syrup, brown sugar, cinnamon, salt and smoked paprika.

Line a large pan with tinfoil and spray with nonstick cooking spray.

Place the potatoes in the pan and pour the brown sugar mixture over the potatoes.  Toss to coat.

Place the pan in the oven and bake for 25 minutes.  Flip them over from time to time, to brown all sides.
Glaze
To make the glaze, combine all the glaze ingredients together in a small pan.  Cook over medium low heat till the sauce has reduced and thickened.
Pork Chops
In a sauté pan, heat the oil.  Season the chops with salt, pepper and paprika.

Place in the hot oil and sear both sides for 2 minutes, then remove from the pan.

When the potatoes have baked for 35 minutes, lower the oven to 375°.

Place the chops on top of the chops and spoon the glaze over the chops, then bake for 5 minutes.

Remove and spoon some glaze over the chops.  Bake for an additional 4 minutes.

Remove and let them rest for 5 minutes before serving.

Serve with the remaining glaze.
Notes
Tips:
Pork can dry out quickly, you can use a meat thermometer to know when it is done properly.

 

Pork is done when it reaches 145°.

 

You can remove it from the oven when it is at 140° and it will reach 145°.
Brining the pork will help it stay moist and tender.

 

Brining the pork for an hour is best, but at least 15 minutes is important.
Storage:
Store in an airtight container in the refrigerator for up to 5 days.
Nutrition
You may also like…