Make this easy recipe for Korean Sloppy Joes in no time. The rich and tangy sauce blends Asian flare with a delicious ground beef mixture of Sriracha, brown sugar, garlic and sesame oil. Serve these easy sandwiches on a Brioche Bun or Hawaiian rolls for a new twist on an old favorite.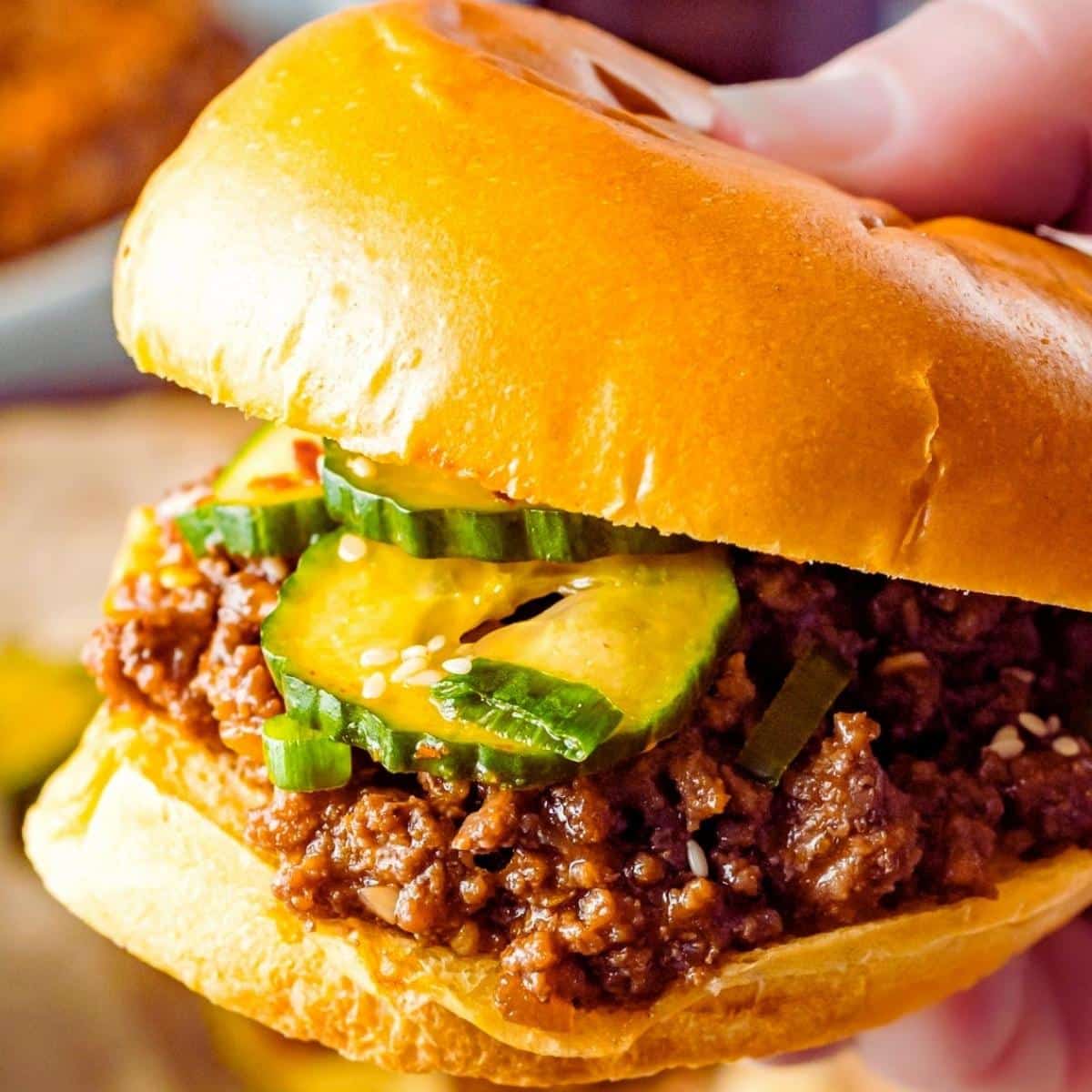 Asian sloppy joes are easy and flavorful
My family gobbles this one-pot recipe because it's a more complex and flavorful take on traditional Sloppy Joes and inspired by a Korean beef bowl and easy ground beef recipes.
This recipe is a variant on the Korean cuisine bulgogi and traditional sloppy Joes, making this dish both affordable and easy.
We make this recipe year-round when we're looking to mix it up, as it is one of our favorite comfort foods made in less 30 minutes. I often serve this dish with my Macaroni and Cheese, soup or a side salad.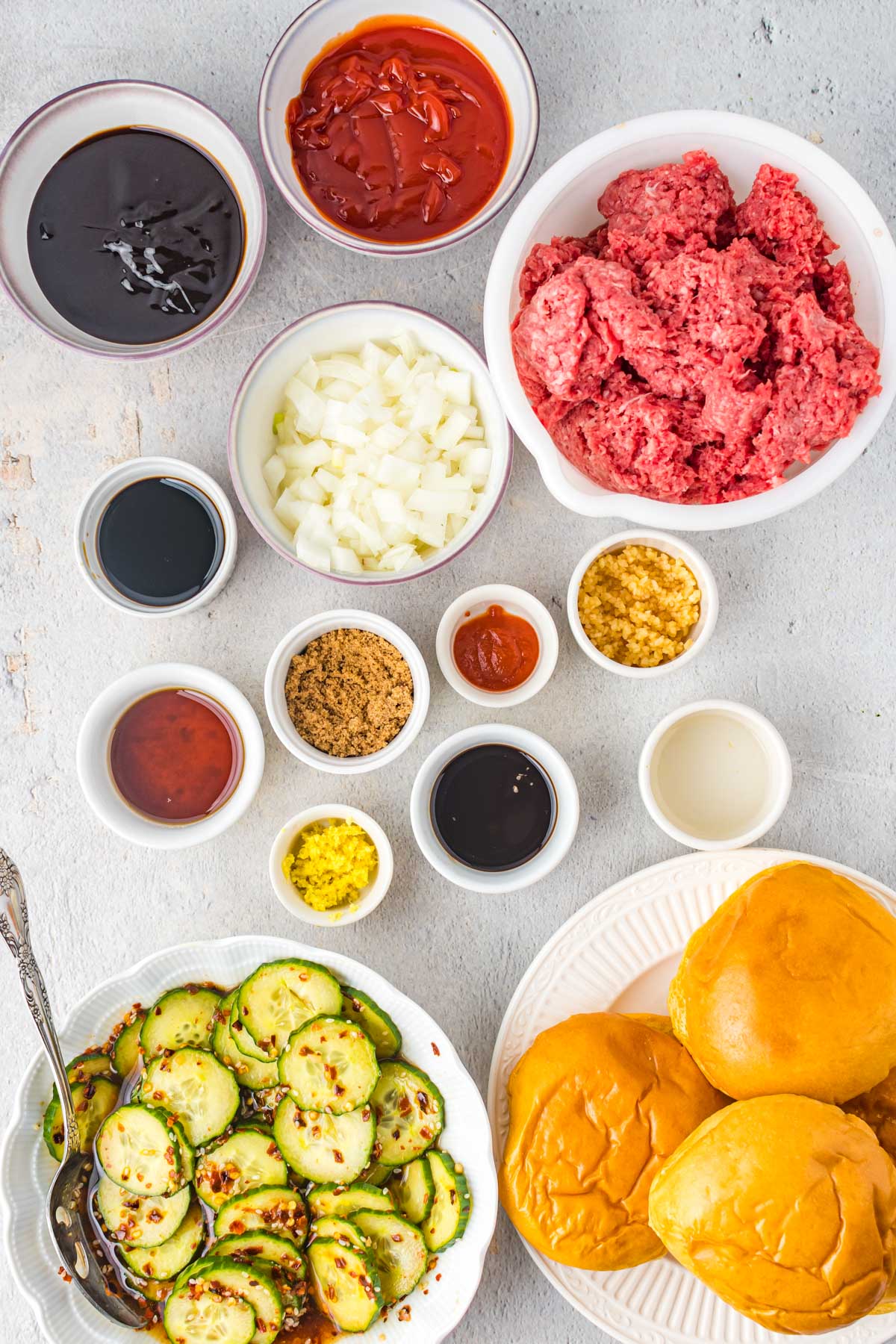 main ingredients
Ground beef – 85/15 is best and less greasy
Sesame oil– made from sesame seeds and perfect for Asian flare
Onion – white or yellow onions are best
Minced garlic– garlic powder will also work
Ginger root– fresh ginger is best
Ketchup– any brand works
Hoisin– hoisin sauce is similar to bbq, but less sweet and saltier
Soy sauce, rice wine vinegar, Worcestershire sauce– any brand
Light brown sugar-adds a sweetness you can't resist
Sriracha– adds a bit of spice
Green onions– optional, garnish
Brioche buns– this is a must: soft, sweet, and fluffy
Korean quick pickles, optional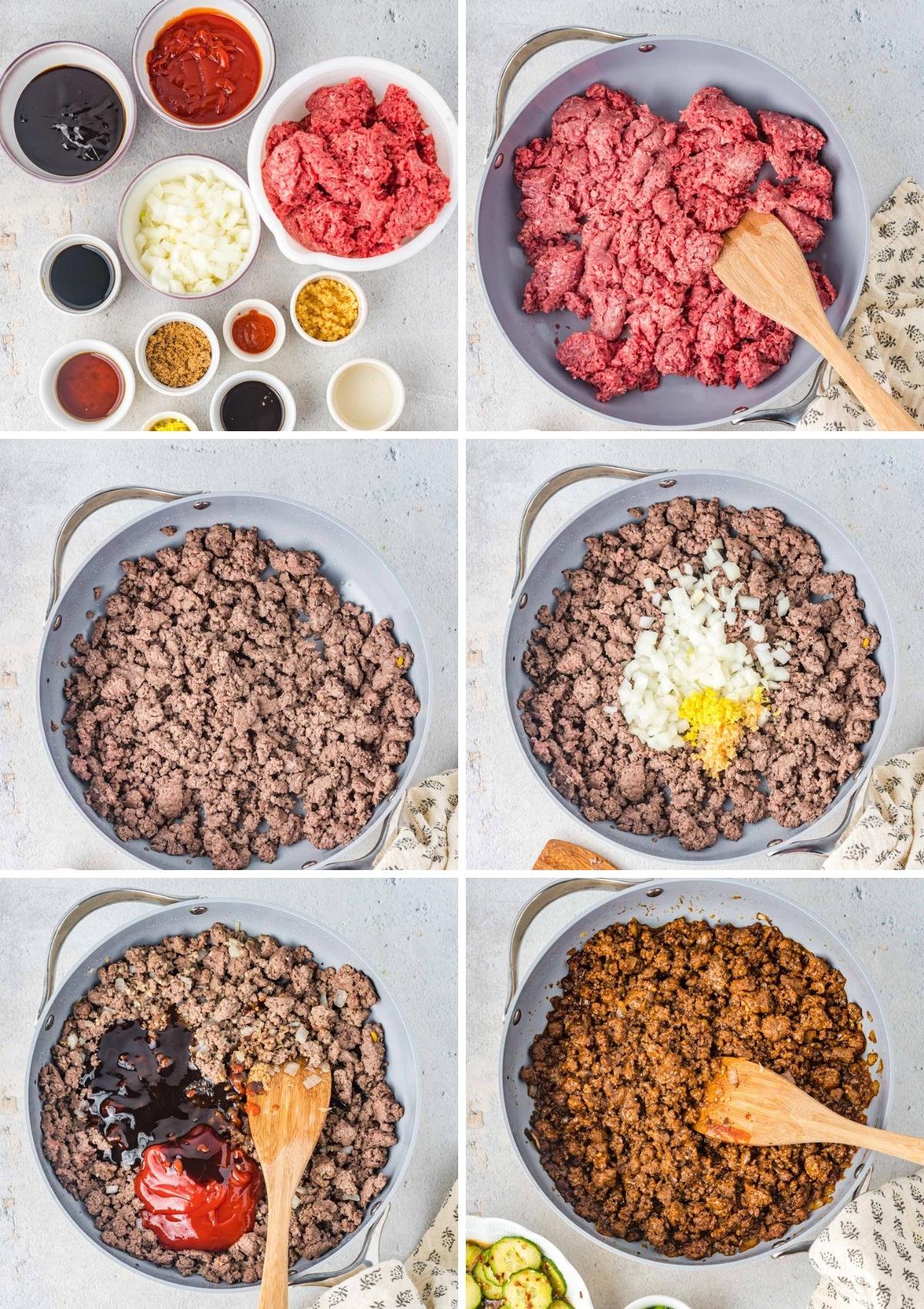 instructions
Equipment needed: pan for sautéing
In a large sauté pan, cook the hamburger until it is no longer pink.
Push the beef to the outside borders of the pan and pour the sesame oil into the pan to coat it.
After that, simmer for 4 minutes while adding the onions and garlic.
Except for the sliced green onions, combine all of the remaining ingredients and add to the pan.
Continue to cook for another 10 minutes before serving on the hamburger (Brioche) buns with pickles and green onions.
How do I make this recipe in advance?
Follow these steps to save time
combine all ingredients except for the beef, buns, and green onions.
Add the sauce mixture to a large canning jar and store in the refrigerator until ready to cook the beef.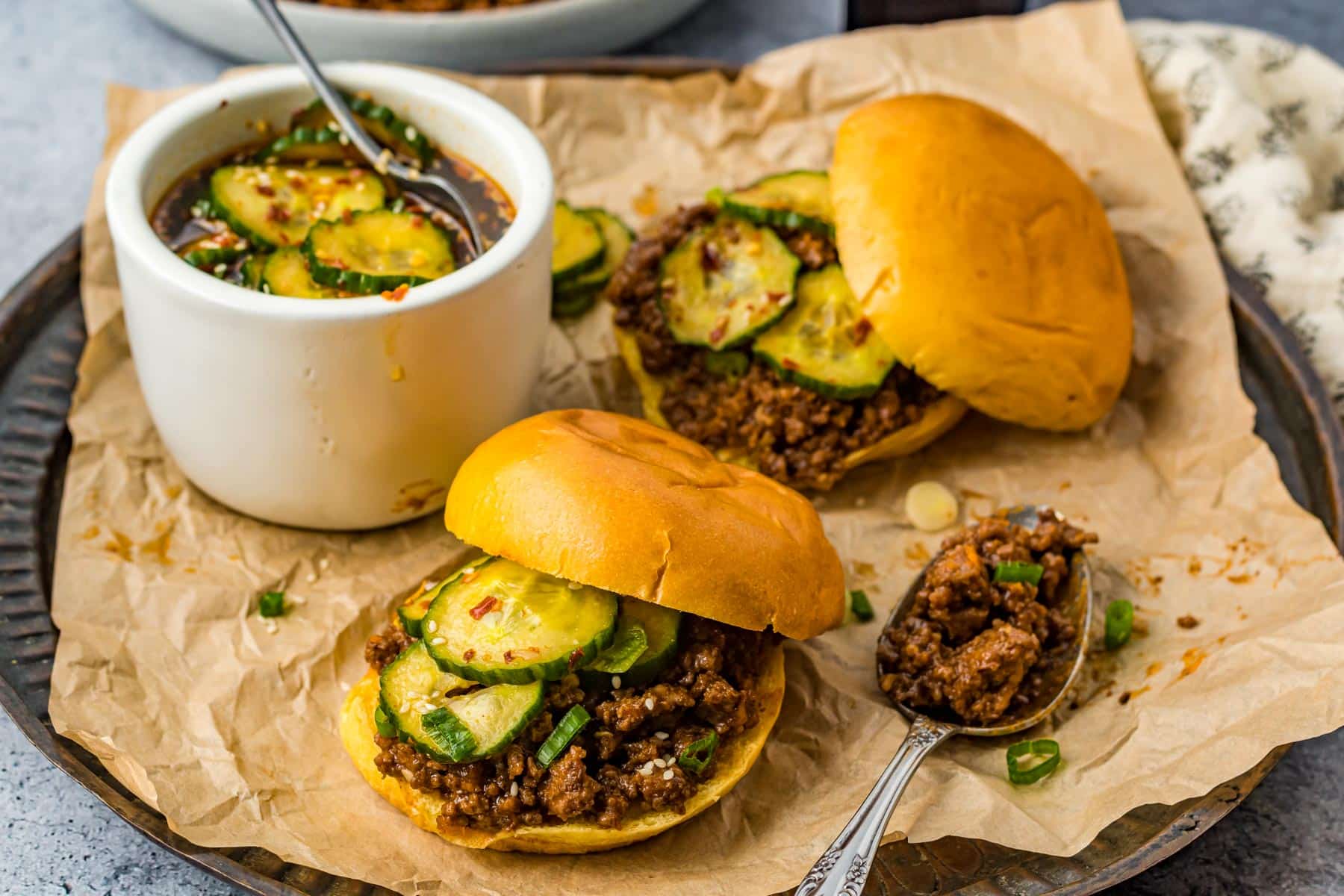 tips
Follow these tips for the best Korean sloppy joes
You can simmer the Sloppy Joes for up to 20 minutes for extra flavor. I especially love leftovers because the beef has had time to collect the flavors of the other ingredients.
Make a Korean quick pickle (takes less than 10 minutes) to serve on the sloppy Joes, or use your favorite pickles.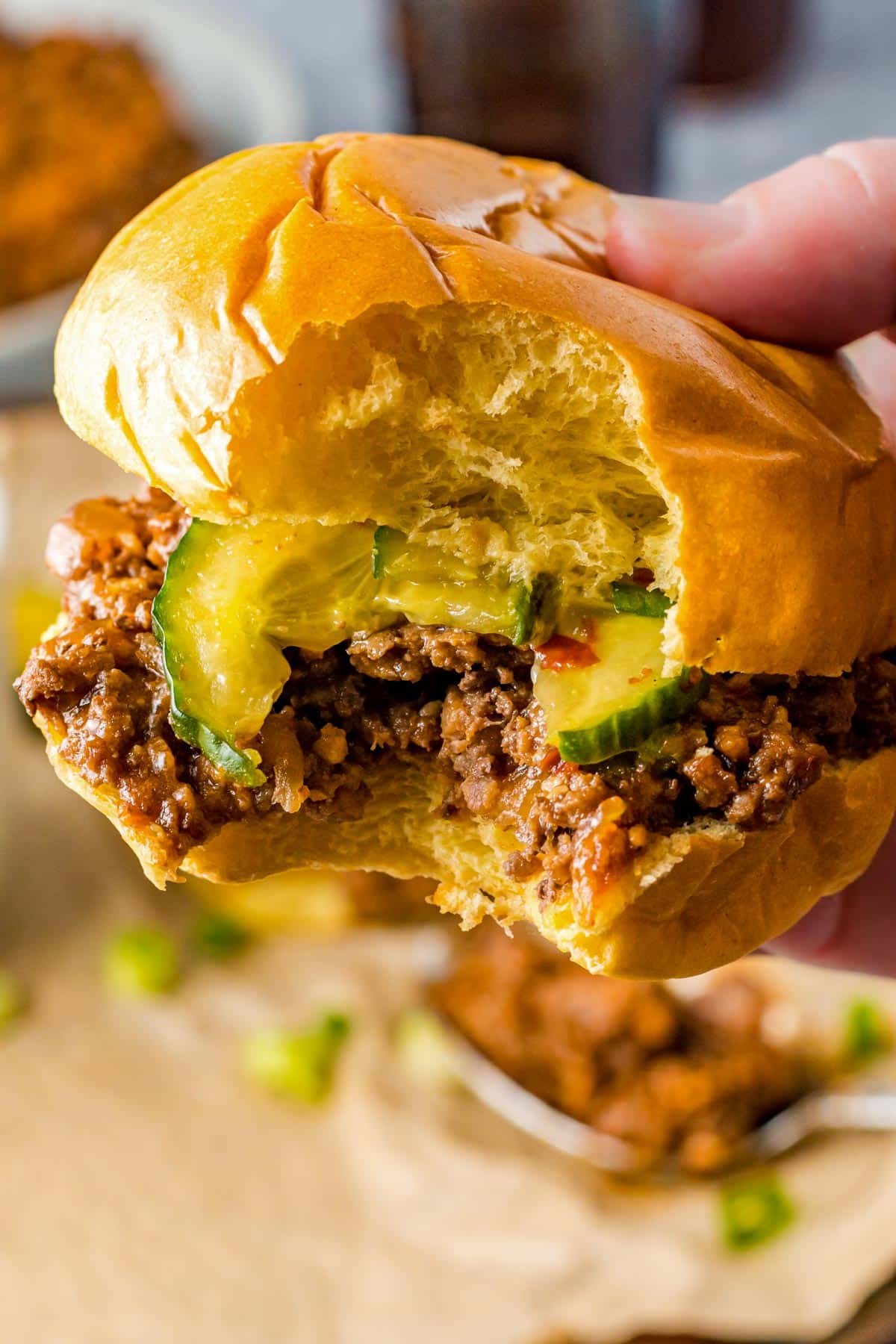 recipe substitutions
Make it vegan by using a combo of black beans and mushrooms instead of beef.
Hamburger beef may be substituted for ground pork, chicken or turkey.
Add-ons: Top off your Korean Manwhich with bean sprouts or coleslaw.
Make it low-carb by ditching the bun for lettuce boats or stuffing mushrooms.
No buns? Add the beef mixture to a rice bowl with avocado.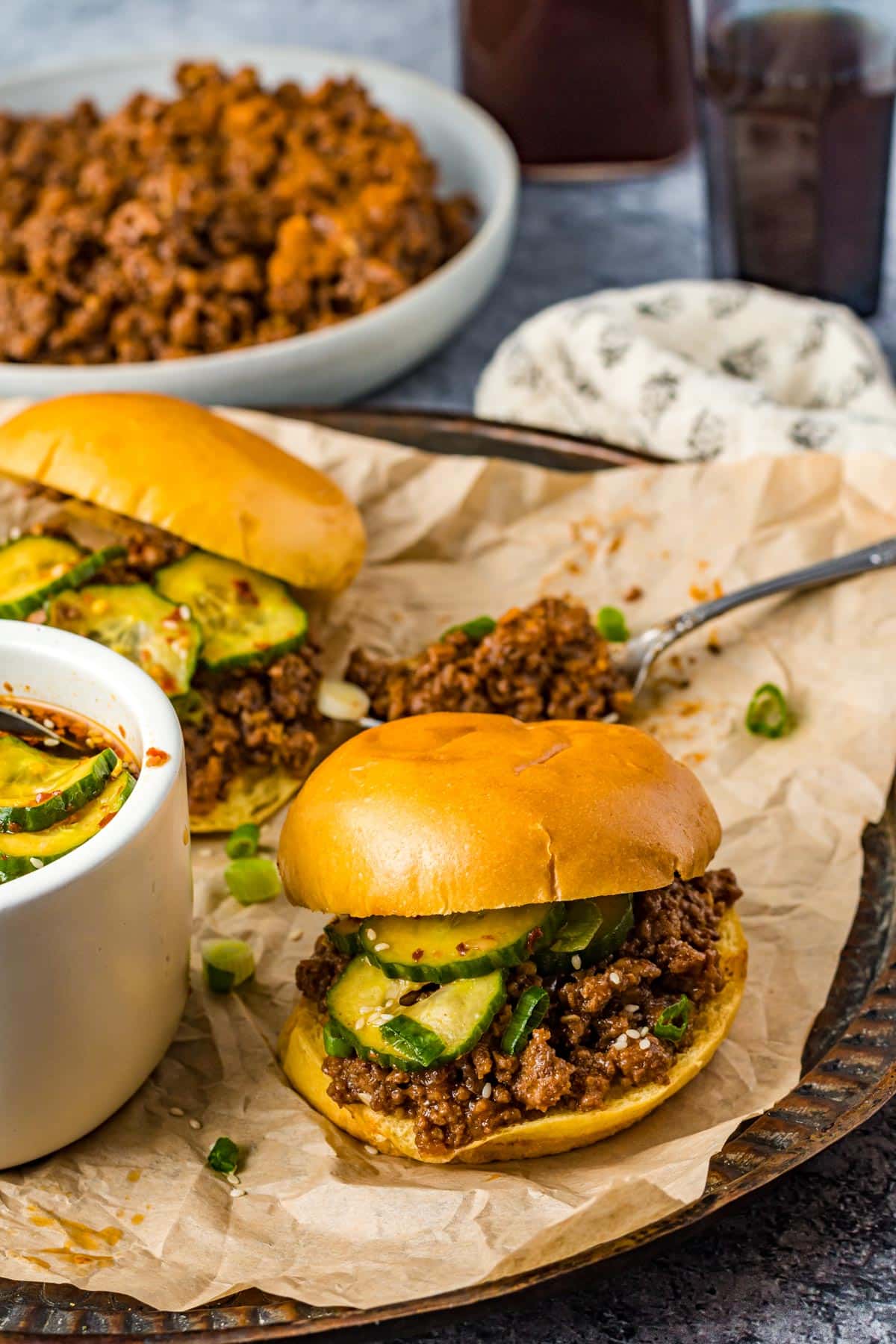 FAQs
How to store leftover sloppy joes
Store in an airtight container in the refrigerator for up to 4 days.
Can I freeze sloppy Joe leftovers for later?
Yes, in fact, leftovers make great meal-prep for later. The cooked meat and sauce sloppy Joe mixture can be frozen in a zippered air-tight bag for up to 3 months.
Simply thaw overnight in the fridge and re-heat on the stovetop or microwave in a bowl to re-heat.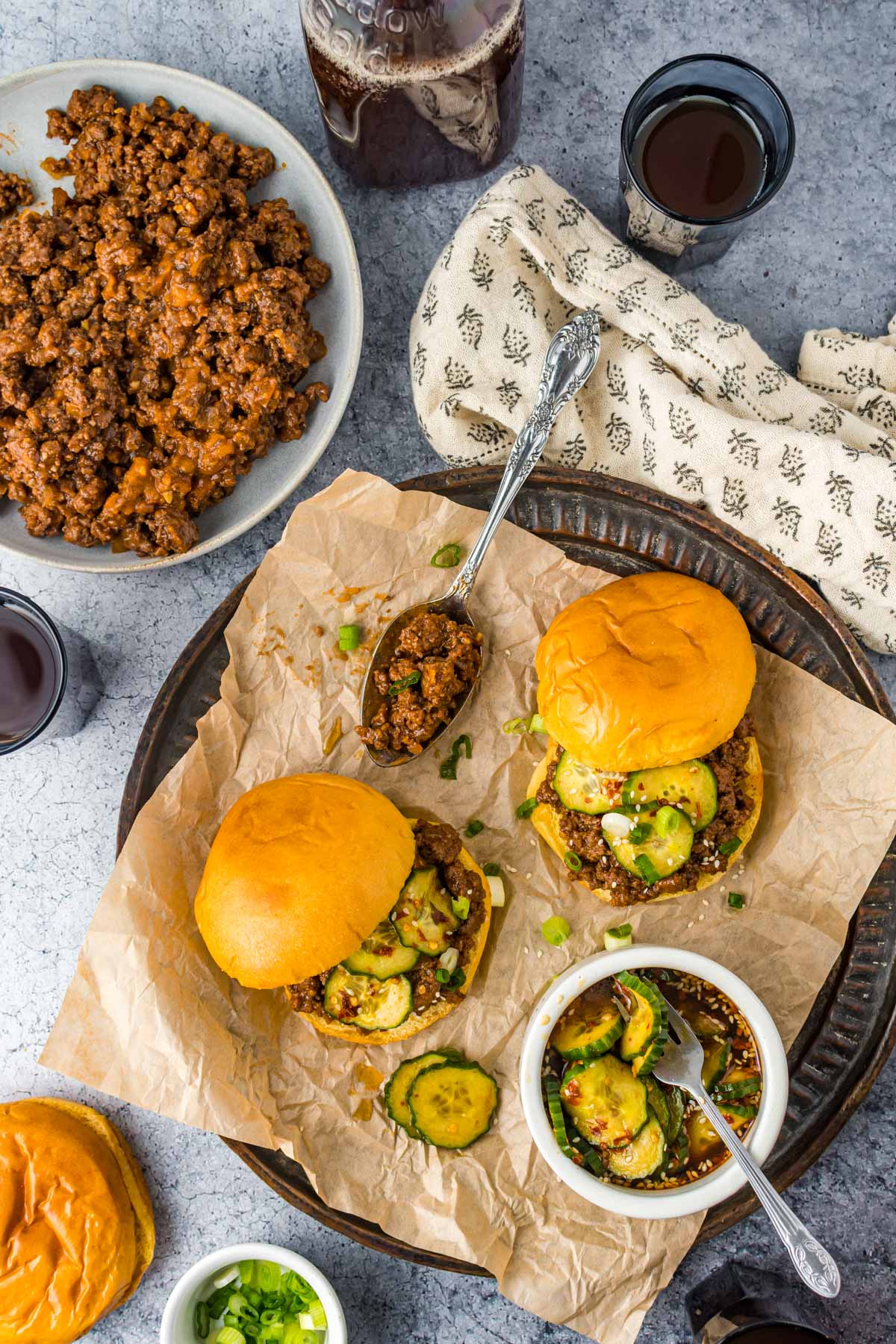 best sides for sloppy joes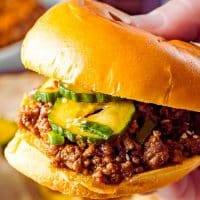 Korean Sloppy Joes
This 20-minute recipe for Korean Sloppy Joes is perfect for busy weeknights. Whip this easy dinner up in no time and serve on a light and fluffy Brioche bun for the ultimate dinner winner!
Print
Pin
Rate
Instructions
Cook the hamburger in a large pan until no longer pink.  

Push the beef to the edges and pour the sesame oil in the pan.  Then add the onions and garlic and cook for 4-6 minutes.

Add the remaining wet ingredients.

Simmer for 5-10 minutes, then serve on buns with pickles and green onions.
Nutrition
Calories:
771
kcal
|
Carbohydrates:
73
g
|
Protein:
49
g
|
Fat:
31
g
|
Saturated Fat:
15
g
|
Polyunsaturated Fat:
2
g
|
Monounsaturated Fat:
5
g
|
Trans Fat:
1
g
|
Cholesterol:
250
mg
|
Sodium:
2071
mg
|
Potassium:
869
mg
|
Fiber:
2
g
|
Sugar:
24
g
|
Vitamin A:
975
IU
|
Vitamin C:
7
mg
|
Calcium:
113
mg
|
Iron:
6
mg
BEST SIDES FOR THIS DISH…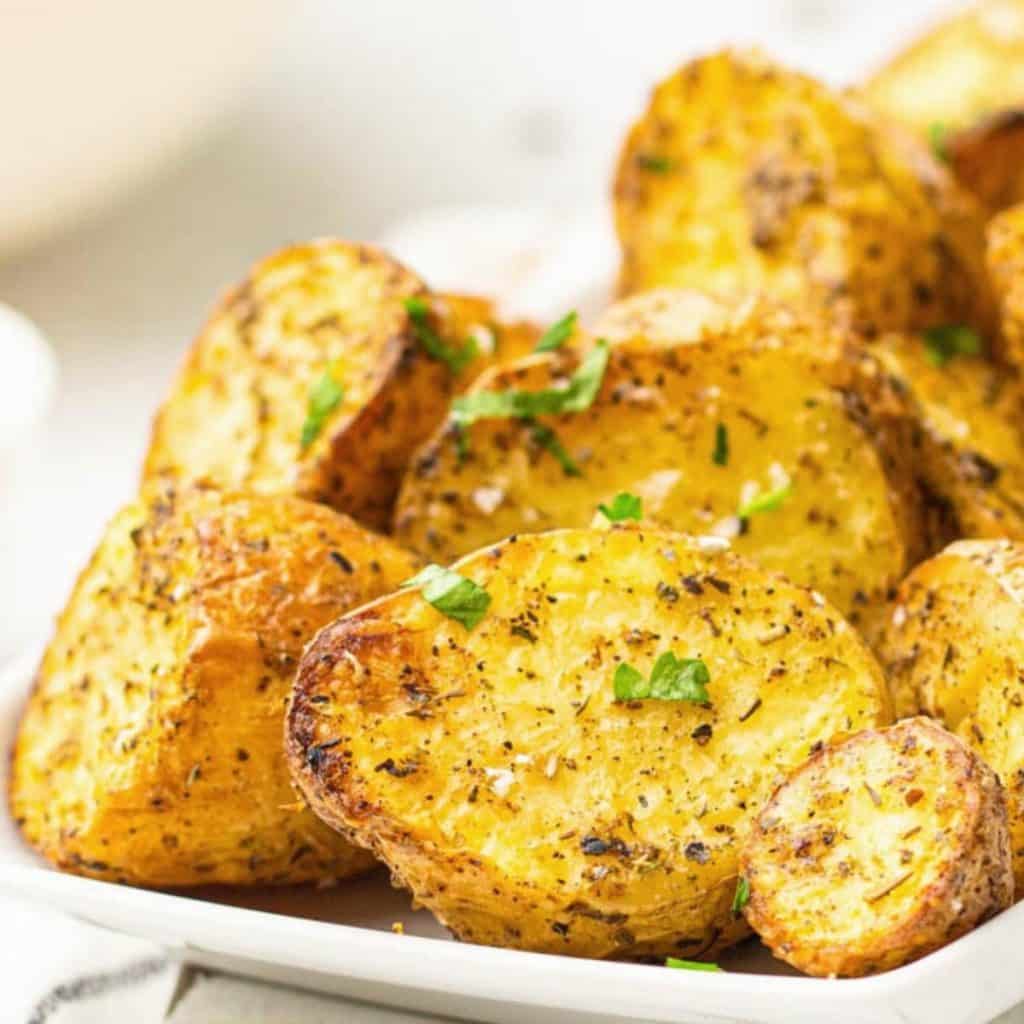 Air Fryer Potatoes