Tender, bouncy, airy chocolate cake layers are soaked in a sweet, Kahlua simple syrup for added moisture as well as additional Kahlua flavor. The cake is frosted with a thick, soft strawberry buttercream that perfectly balances and compliments the chocolate and kahlua flavors.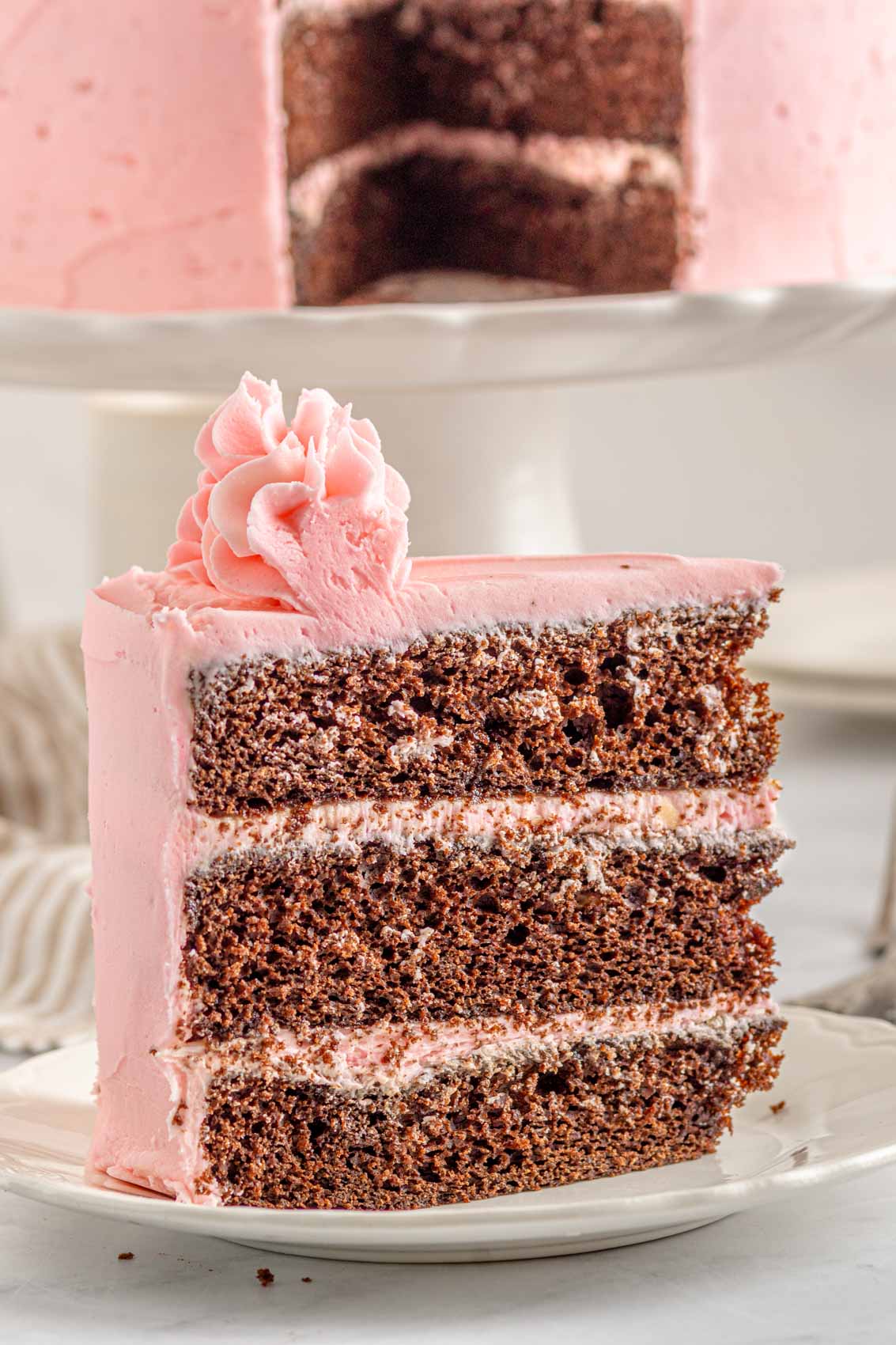 strawberry chocolate kaluah cake
This is my family's favorite Spring dessert. This delicious cake is perfect for holiday potlucks, Valentine's Day, anniversaries, Easter, engagement parties and birthdays. This recipe is awesome because…
who doesn't love chocolate and coffee?
its gorgeous and decadent pink strawberry snack
RUM

– need I say more?

can be customized with fresh fruit or chocolate shavings
it's fancy– your friends and co-workers will drool over this amazing recipe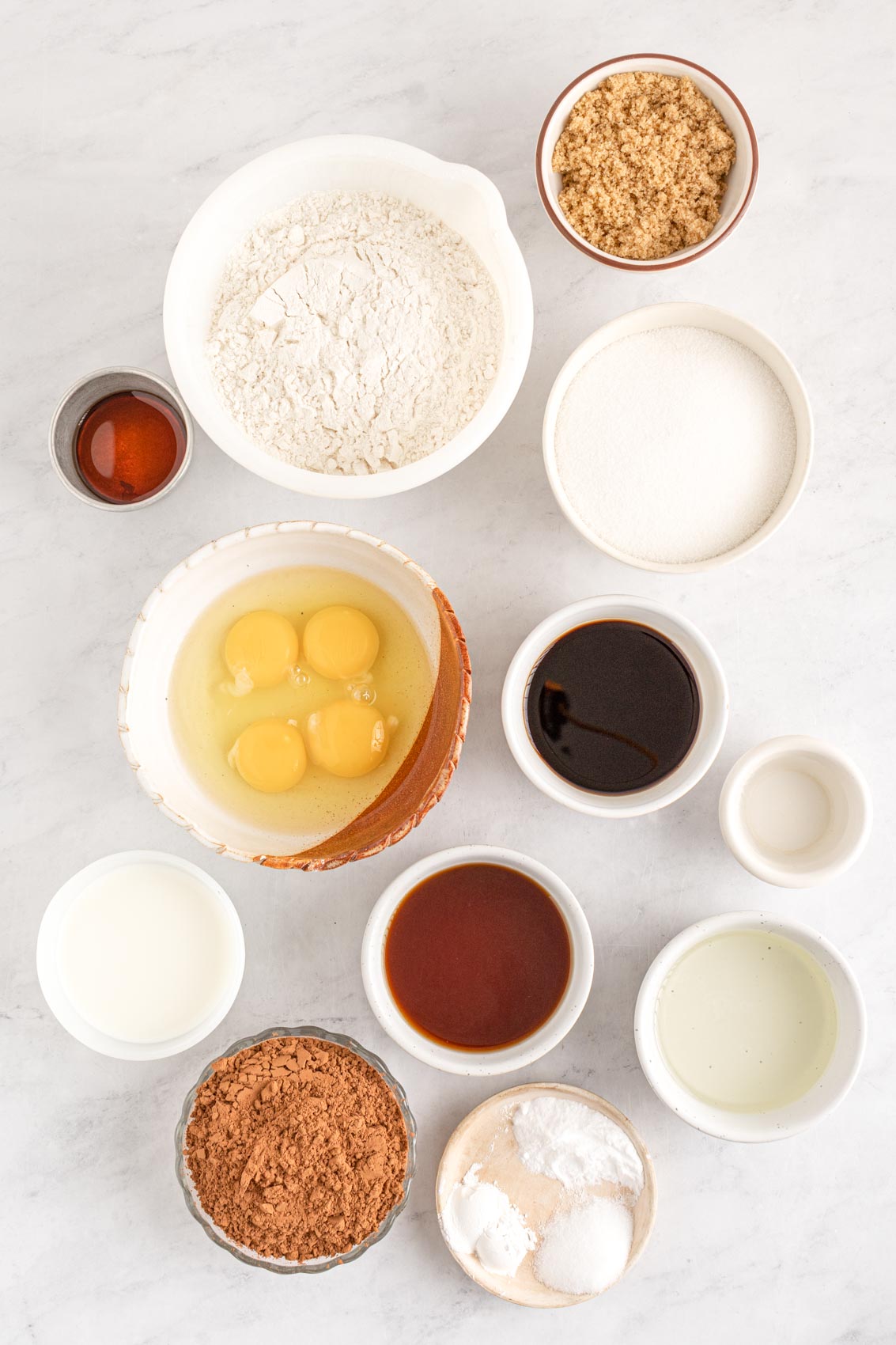 ingredients
For this recipe, you'll need 3- 9" cake pans and the following ingredients:
Cake
flour– all-purpose
baking soda
baking powder
salt
sugar
brown sugar
vegetable oil
3 eggs + 1 yolk
milk
Kahlua– Made with 100 percent Arabica coffee beans and rum, Kahlúa coffee liqueur is one of the major ingredients in many of the world's favorite drinks and cocktails.
white vinegar
tsp vanilla
cocoa
hot coffee- use your favorite brand of coffee for this recipe
Simple syrup
sugar
water
Kahlua– only name brand coffee liqueur will do
brown sugar
Buttercream frosting
powdered sugar
butter- room temperature
strawberry extract
vanilla
salt
Pink food coloring– one drop at a time
cake instructions
This cake has three parts:
cake batter
simple syrup (for an extra moist center)
the strawberry buttercream frosting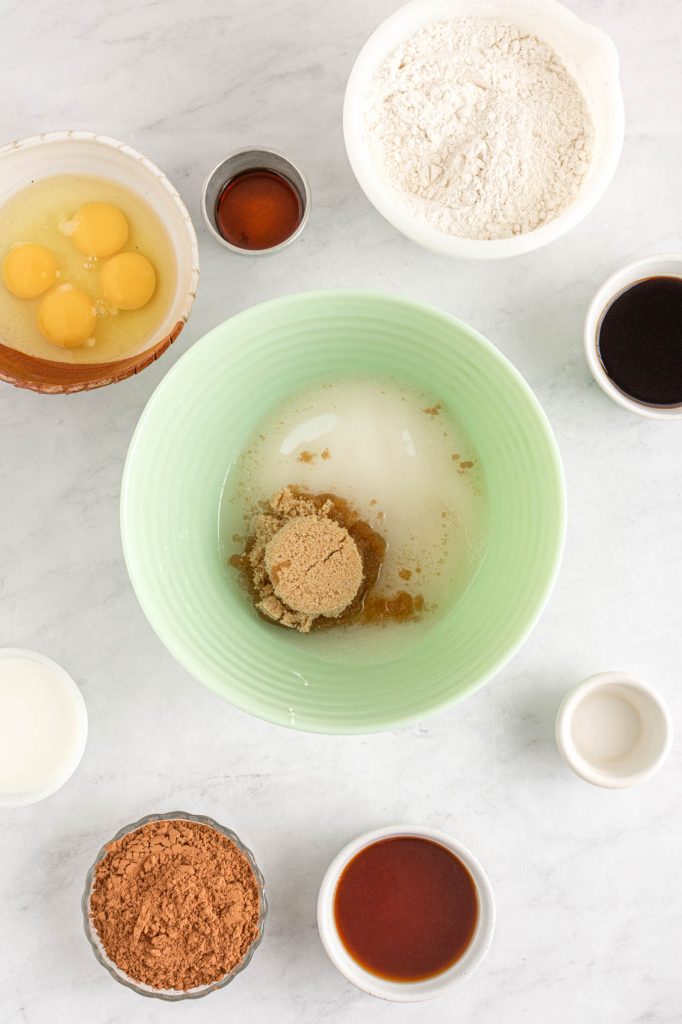 Simple Syrup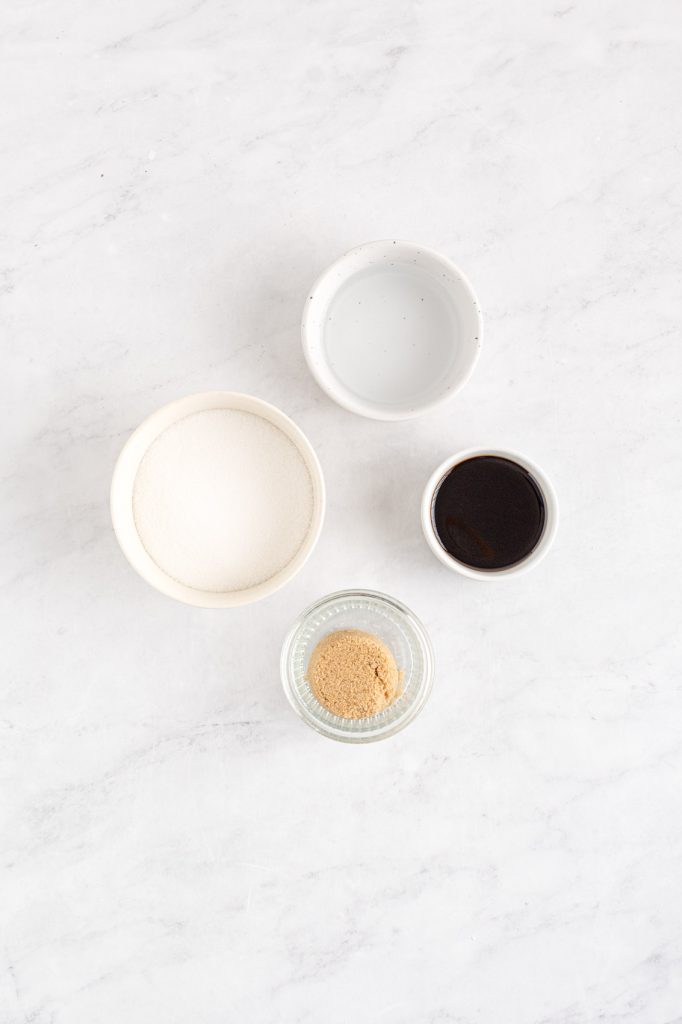 Buttercream Frosting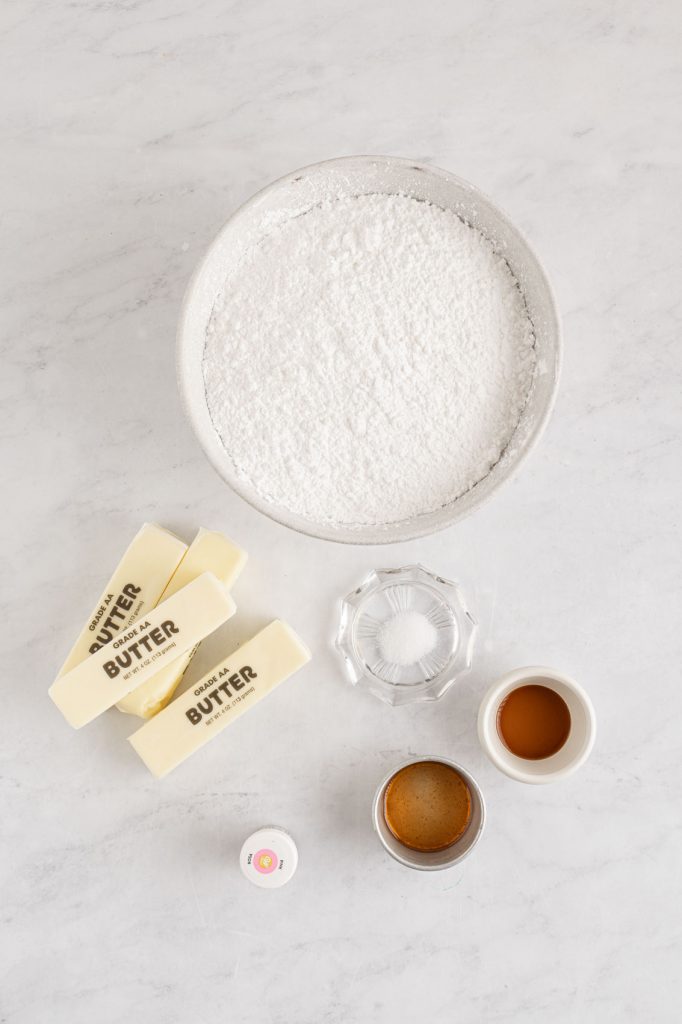 Decorating the Cake
Decorating this pretty pink cake is so fun!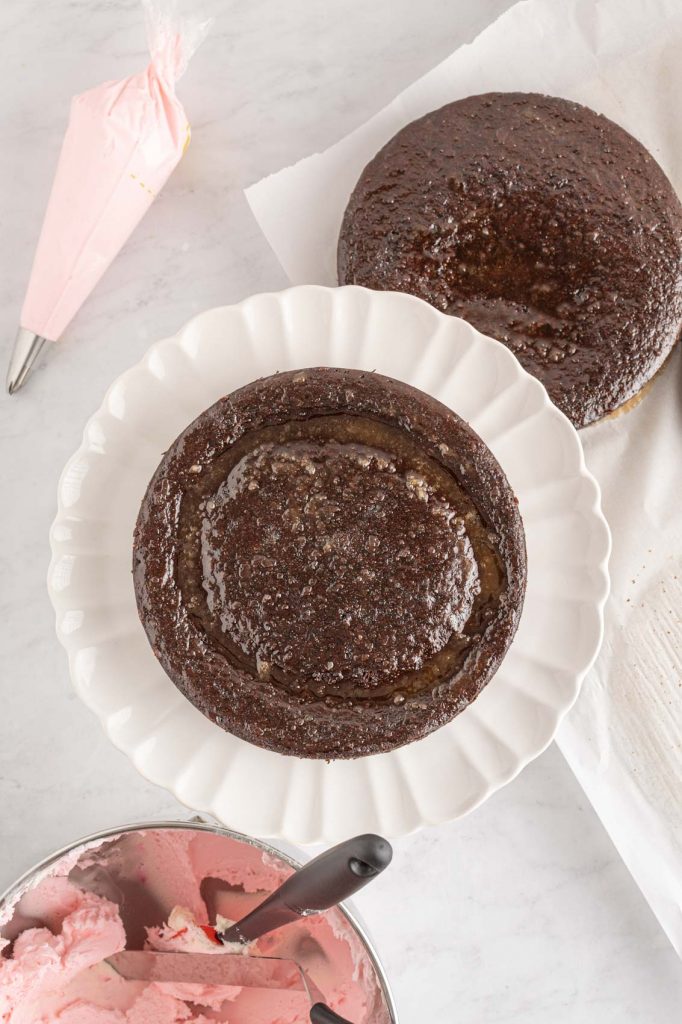 Decorating this cake is really easy; follow along with these steps or customize! I sometimes like to add sliced strawberries to this cake.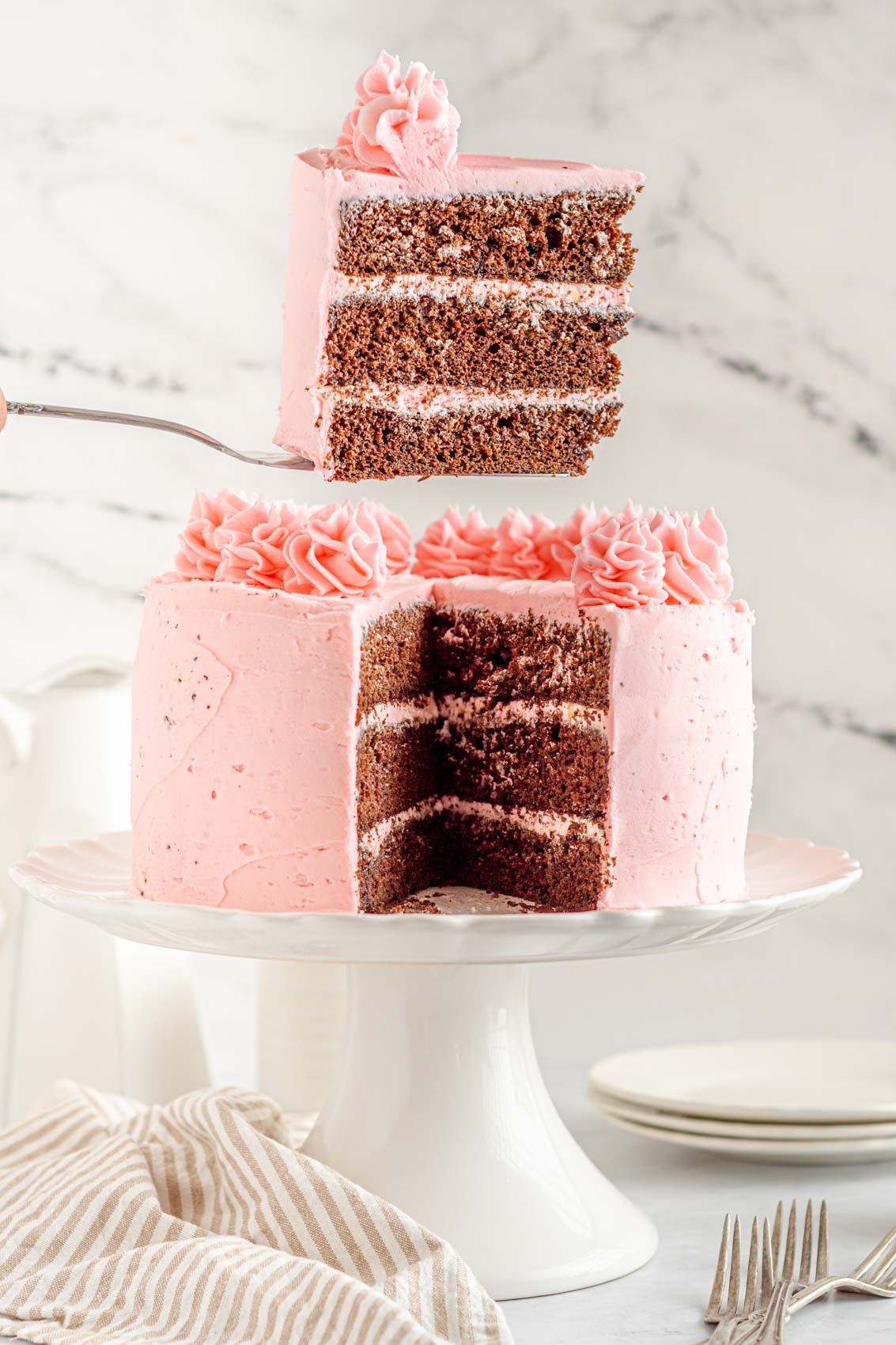 expert tips
Do not over mix the cake mix as this will cause the gluten to over develop in turn causing the cake to be rubbery or crumbly. Only mix until the flour has become incorporated.
Cake strips are a great tool for making cakes rise as evenly as possible with a flat surface. These are the ones I use.
Kahlua simple syrup is delicious when added to coffee. Simply stir it in in place of your regular sweetener. Since the syrup is cooked, there is no alcohol present.
If the frosting is too thick, simply mix in 1-2 tsp of milk at a time until you have reached an agreeable consistency. If the frosting becomes too thin, mix in 2-3 Tbs of powdered sugar at a time until it is thick enough.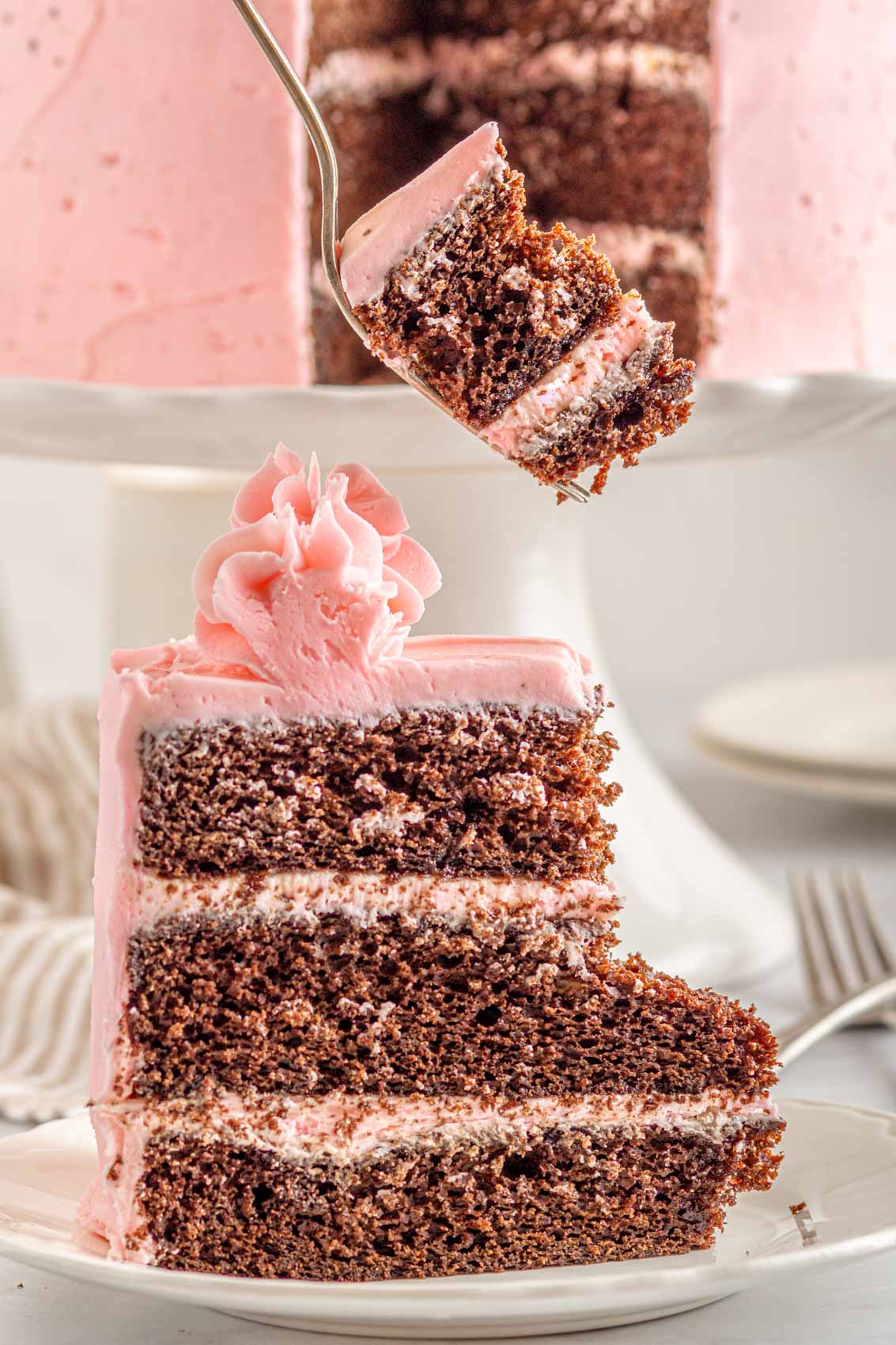 FAQ
Substitutions

Brown sugar – Regular granulated sugar can be used instead with a slight flavor difference as the consequence.
Vegetable oil – Canola oil will work just as well.
Hot coffee – Hot water may be used instead. Coffee simply enhances the chocolate flavor.
how long does chocolate cake last in the fridge?
If you have leftovers, store the cake in a sealed container for up to 3 days or 5 days in the refrigerator.
Freeze in a zippered air-tight bag for up to 3 months.
Thaw overnight in the fridge, then at room temperature for a few hours before indulging.
what to serve with chocolate cake
fresh strawberries or other fruit
chocolate shavings
tall glass of ice cold milk
coffee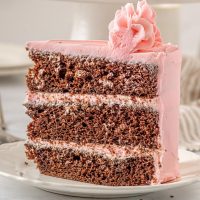 Kahlua Chocolate Strawberry Cake
Velvety Kahlua chocolate cake filled with juicy syrup from brown sugar and Kahlua liqueur. Indulge in this sweet strawberry coffee cake for Easter, Spring, Valentine's Day and more.
Print
Pin
Rate
Instructions
Cake
Preheat the oven 350 F. Line the bottom of 3-9" cake pans with parchment and spray with baking spray. 

Begin by whisking the flour, baking soda, baking powder and salt together in a medium sized bowl. Set aside.

In a large mixing bowl, whisk together the sugar, brown sugar and vegetable oil. Add in the eggs and whisk until well incorporated.

Next, whisk in the milk, kahlua, vinegar and vanilla. Mix in the flour mixture just until incorporated. Add in the cocoa and stir to combine. Lastly, whisk in the hot coffee until the batter is smooth. 

Evenly divide the cake batter into the prepared cake pans. Place the pans into the preheated oven to bake for 42 minutes or until a toothpick inserted comes out clean or with slightly moist crumbs. Once baked, remove from the oven and place the pans onto a cooling rack to cool while you make the simple syrup. 
Simple Syrup
Add all of the simple syrup ingredients to a medium sized saucepan. Place the pan over medium heat. Whisk constantly while the sugar is melting. Once the sugar has melted and the mixture has begun to boil, reduce the heat and let the mixture simmer for about 10 minutes or until it has thickened, stirring occasionally. Remove the pan from the heat and let cool for just 10 minutes. The syrup must be warm for the cooled cakes to soak it in. 

Once the cakes have cooled, carefully remove them from the pans and place them onto a large parchment lined baking sheet. Spoon about 3 Tbs of simple syrup onto each cake layer and spread to cover the surface. Reserve the remaining simple syrup for other recipes. Let the cakes stand for 30 minutes to soak up the simple syrup. 
Frosting
To make the frosting, add all of the ingredients except the food coloring to the bowl of a stand mixer fitted with a paddle attachment. Beat together on medium high speed for 3 minutes or until a smooth and fluffy frosting has formed. Scrape the sides of the bowl down occasionally to ensure that all of the ingredients are incorporated. Add a dot of pink food coloring to the bowl and whip together until the frosting is evenly colored. Spoon 1 cup of frosting into a piping bag fitted with a star tip.
Assembly
To assemble the cake, place one cake layer onto a cake stand. Spread about ¾ c of frosting over the surface of the cake layer. Place a second layer of cake directly on top of the bottom layer. Spread another ¾ c of frosting onto the second layer. Place the last cake layer on top. Spread the remaining frosting onto the top and sides of the cake. Pipe swirls around the top edge of the cake in a circle. Slice and serve. 
Nutrition
Calories:
700
kcal
|
Carbohydrates:
157
g
|
Protein:
7
g
|
Fat:
4
g
|
Saturated Fat:
2
g
|
Polyunsaturated Fat:
1
g
|
Monounsaturated Fat:
1
g
|
Trans Fat:
1
g
|
Cholesterol:
63
mg
|
Sodium:
647
mg
|
Potassium:
244
mg
|
Fiber:
3
g
|
Sugar:
132
g
|
Vitamin A:
164
IU
|
Calcium:
121
mg
|
Iron:
3
mg
More cake recipes…..