This Southern-inspired lemon pound cake is flavored with lemon zest and lemon juice, is the ultimate dessert for lemon lovers. Drizzled with a sweet lemon cream cheese frosting and lemon glaze, your guests will devour this summery dessert in no time!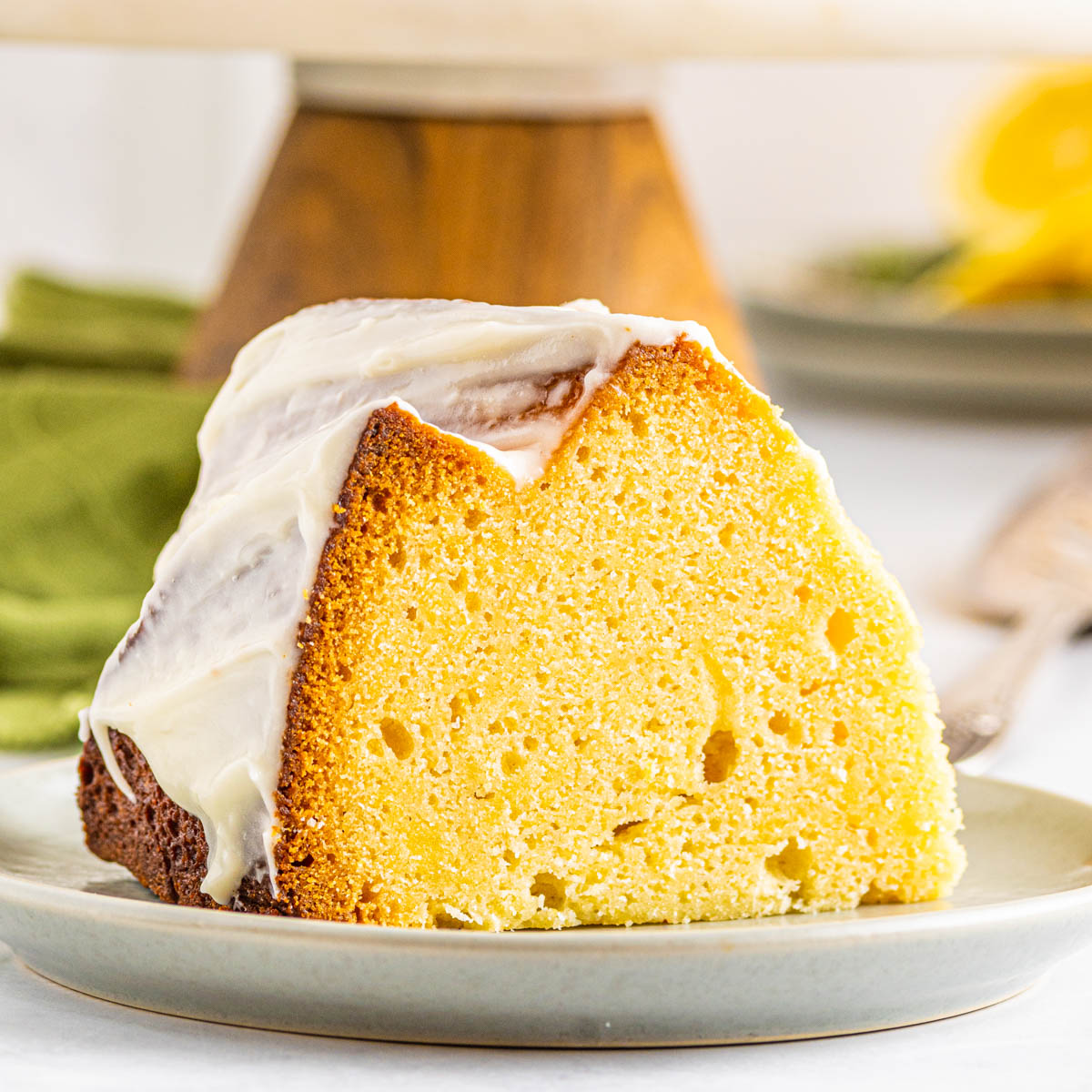 why we love this recipe
This lemony pound cake is the best dessert for those who adore the flavor of lemon. In the spring and summer months, you can find me enjoying this delicious lemon dessert and other Southern favorites, like peach cobbler. This cake is the best because:
Lemon zest and lemon juice are added to the dough, which gives the cake a faint lemon fragrance during baking.
This refreshing citrus bundt cake is an amazing treat for Spring, Easter, BBQs, and summer gatherings.
The cake will keep for several days on the kitchen top, and it will also freeze well.
ingredients
Soft, slightly dense, ultra moist and tender pound cake is filled with a bright lemon flavor and topped with a smooth, lemony cream cheese glaze.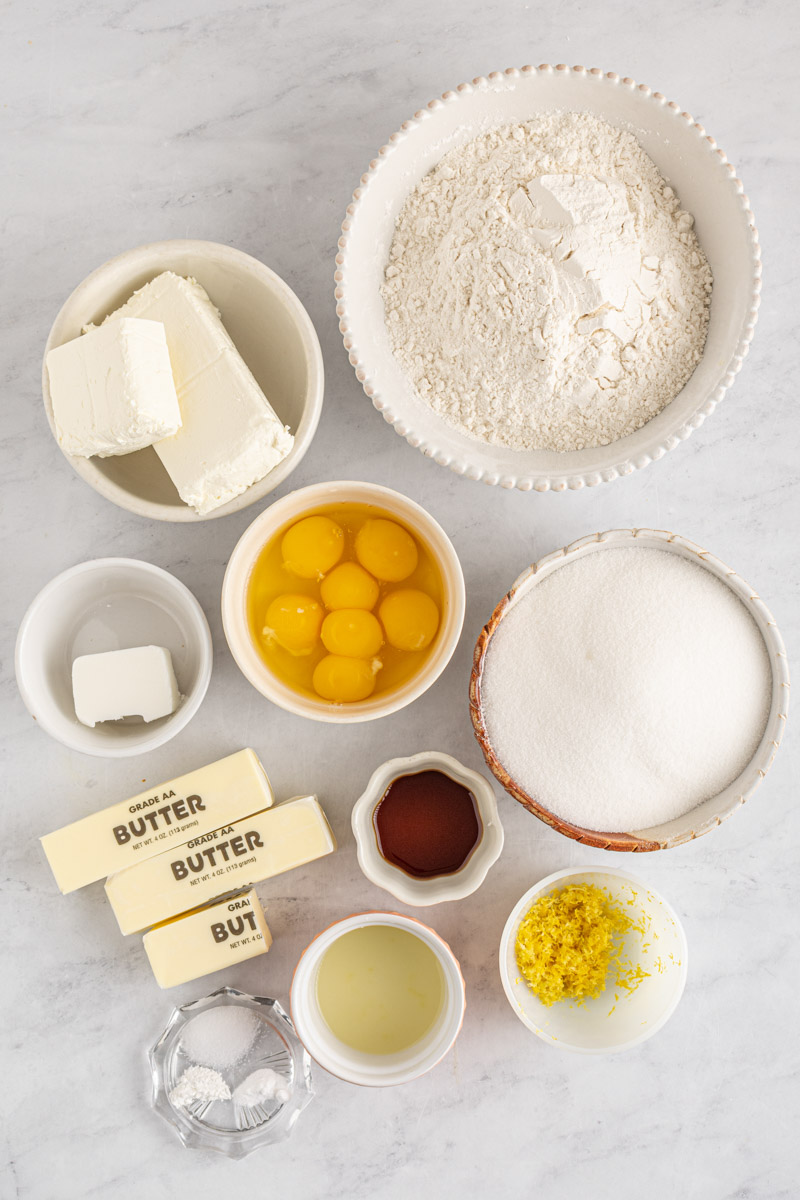 For this recipe, we have ingredients for both a thick and dense pound cake with a light and sweet lemony frosting.
Here's what you'll need for the cake
Dry ingredients: flour, salt, baking powder, baking soda, and sugar
butter– room temperature is best
cream cheese– adds density to the cake
shortening–
4 eggs + 3 yolks
lemon zest– you can't skip on this ingredient, as it's the main source of that amazing lemon flavor for this cake!
lemon juice– fresh lemon zest is best, no substitutes
vanilla extract– adds amazing flavor complimentary to the citrus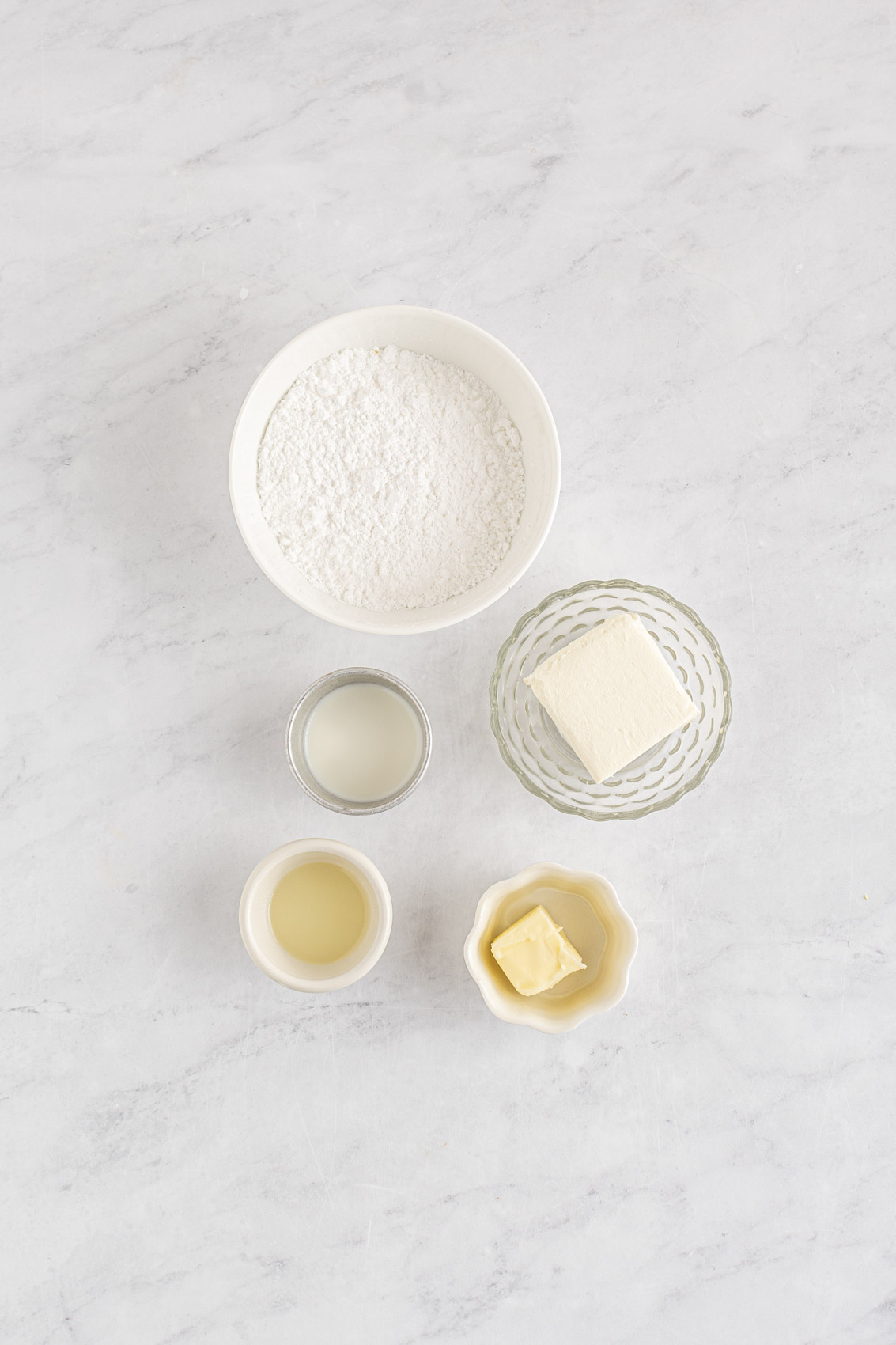 Glaze
powdered sugar– for sweetness
cream cheese– full fat or low fat will do
butter– butter is a must, and gives a perfect flavor to this icing
lemon juice– fresh-squeezed is best
milk– half and half or nut milk may be used
instructions
Follow these instructions for the best lemon pound cake.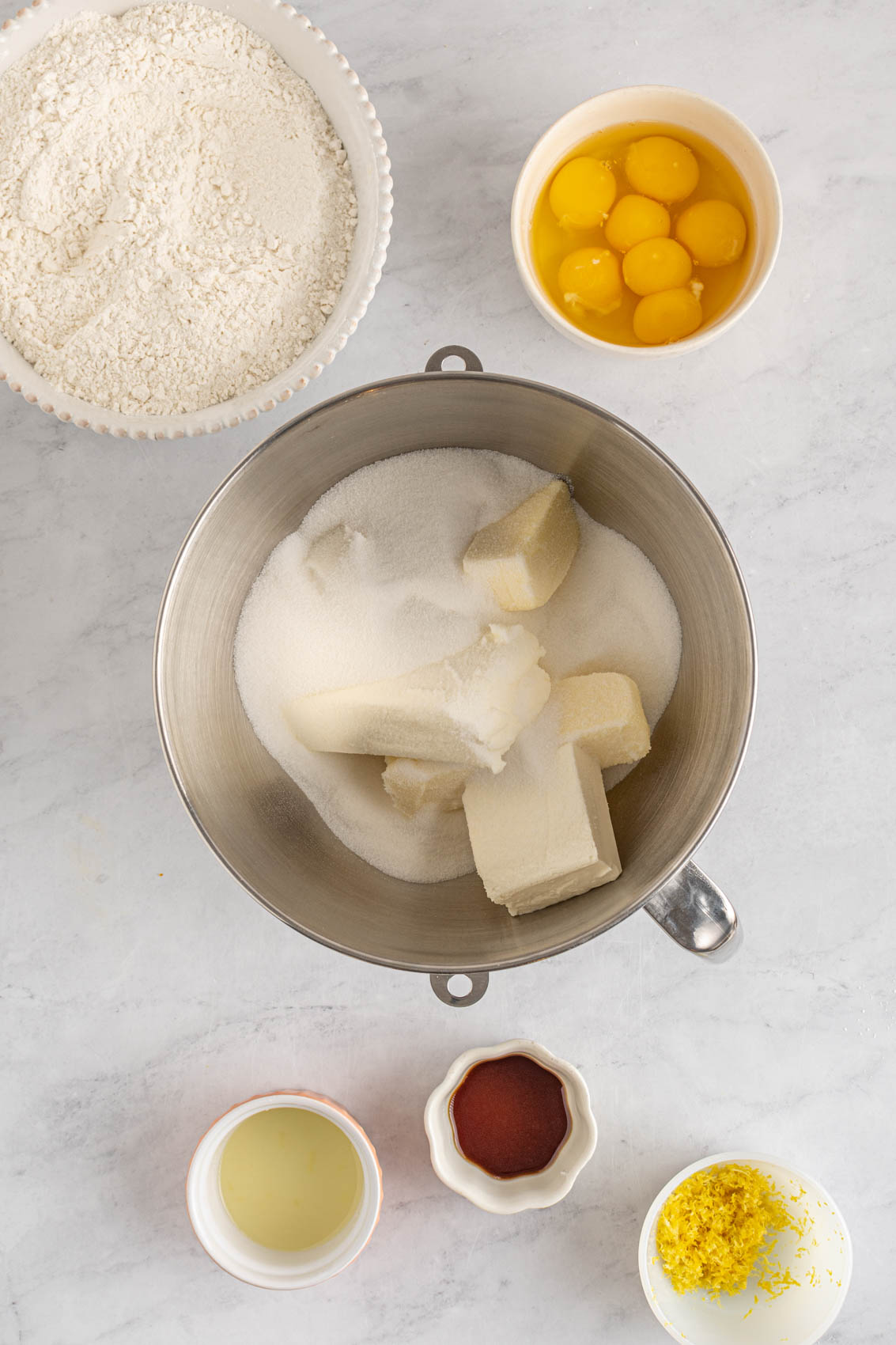 tips
For prep, make sure to zest the lemons before you juice them; otherwise, it will be more difficult to zest them after they have been juiced. A rasp grater is the most effective instrument for zesting, although any fine grater will suffice.
Flipping the bundt cake

Invert the cake onto a wire rack to cool completely, but only after allowing the cake to cool first. Place a piece of parchment paper, aluminum foil, or paper towels underneath the pan to make cleanup a breeze.

Prevent a crumbly cake

Do not over mix the batter once the flour has been added as this causes the gluten to over develop creating a crumbly cake. 

Glaze too thick?

If the glaze is too thick, simply mix in 1-2 tsp milk until the desired consistency has been achieved. If the glaze is too thin, mix in 1-2 Tbs powdered sugar until the desired consistency has been achieved.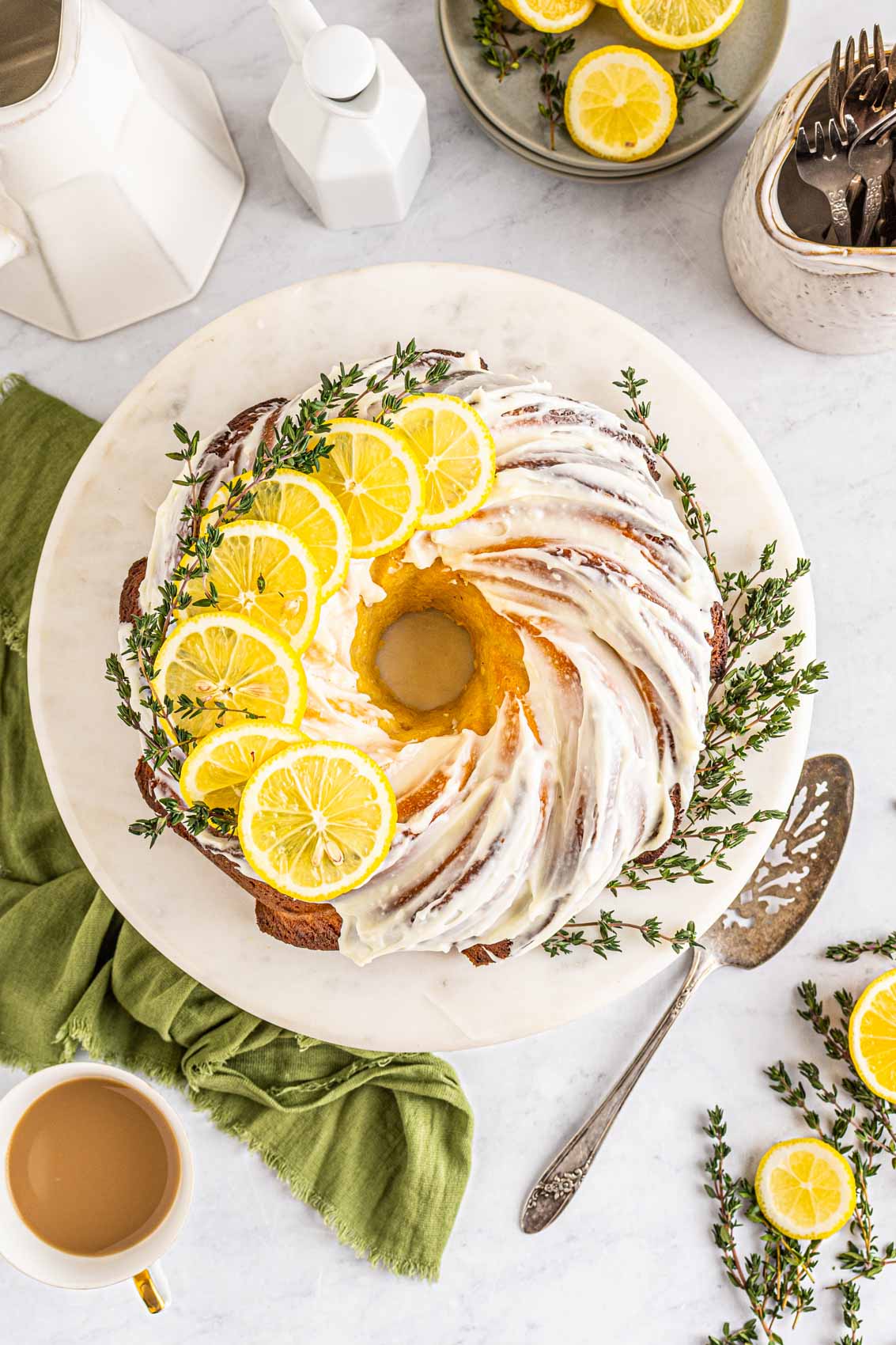 FAQs
Substitutions

Shortening – Room temp butter may used instead. 
Cream cheese – In the glaze, mascarpone cheese can be used instead for a lighter flavor.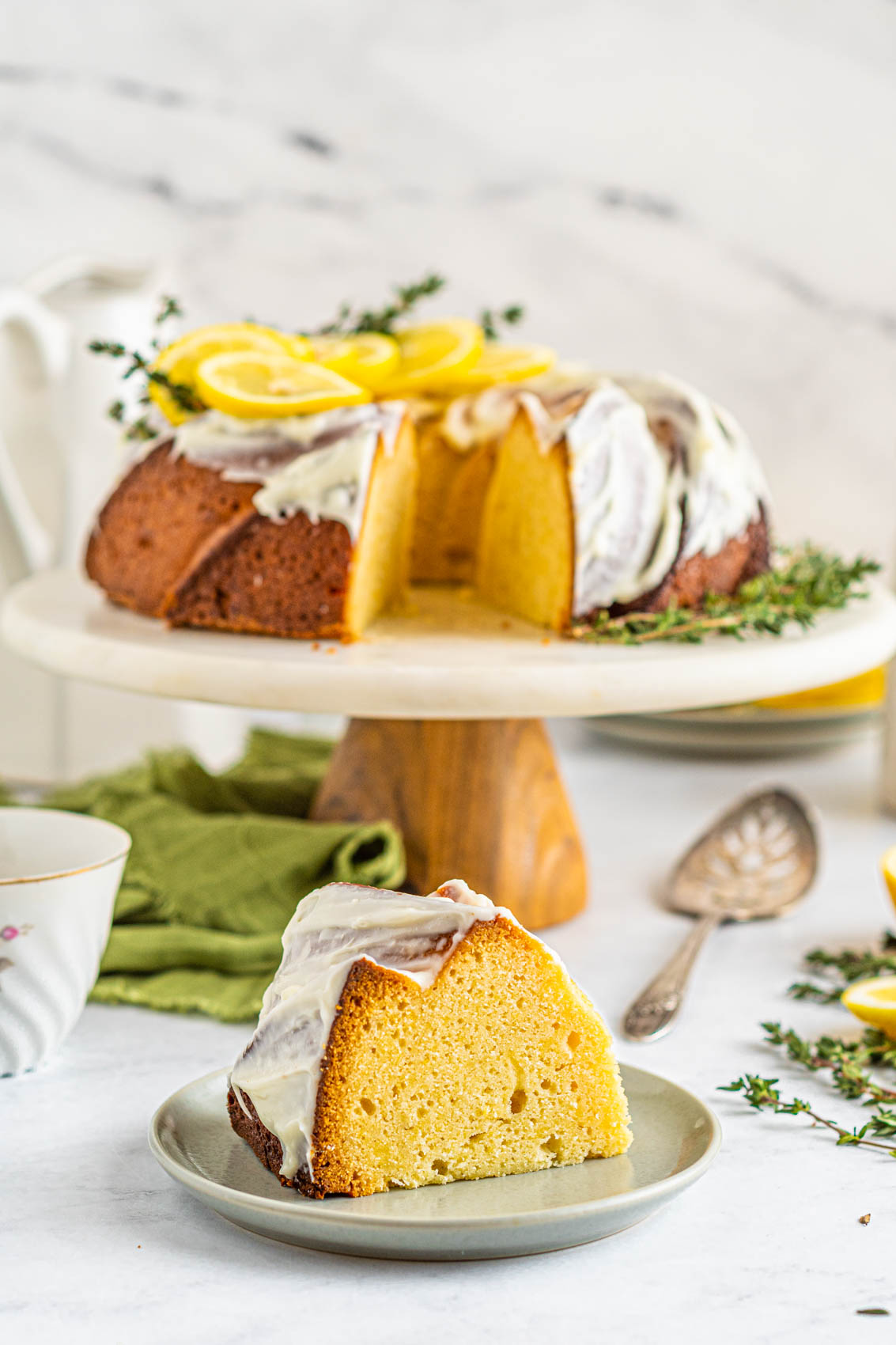 how to tell when bundt cake is done
When the top is golden brown and a cake tester comes out clean when inserted in the center, the cake is finished baking.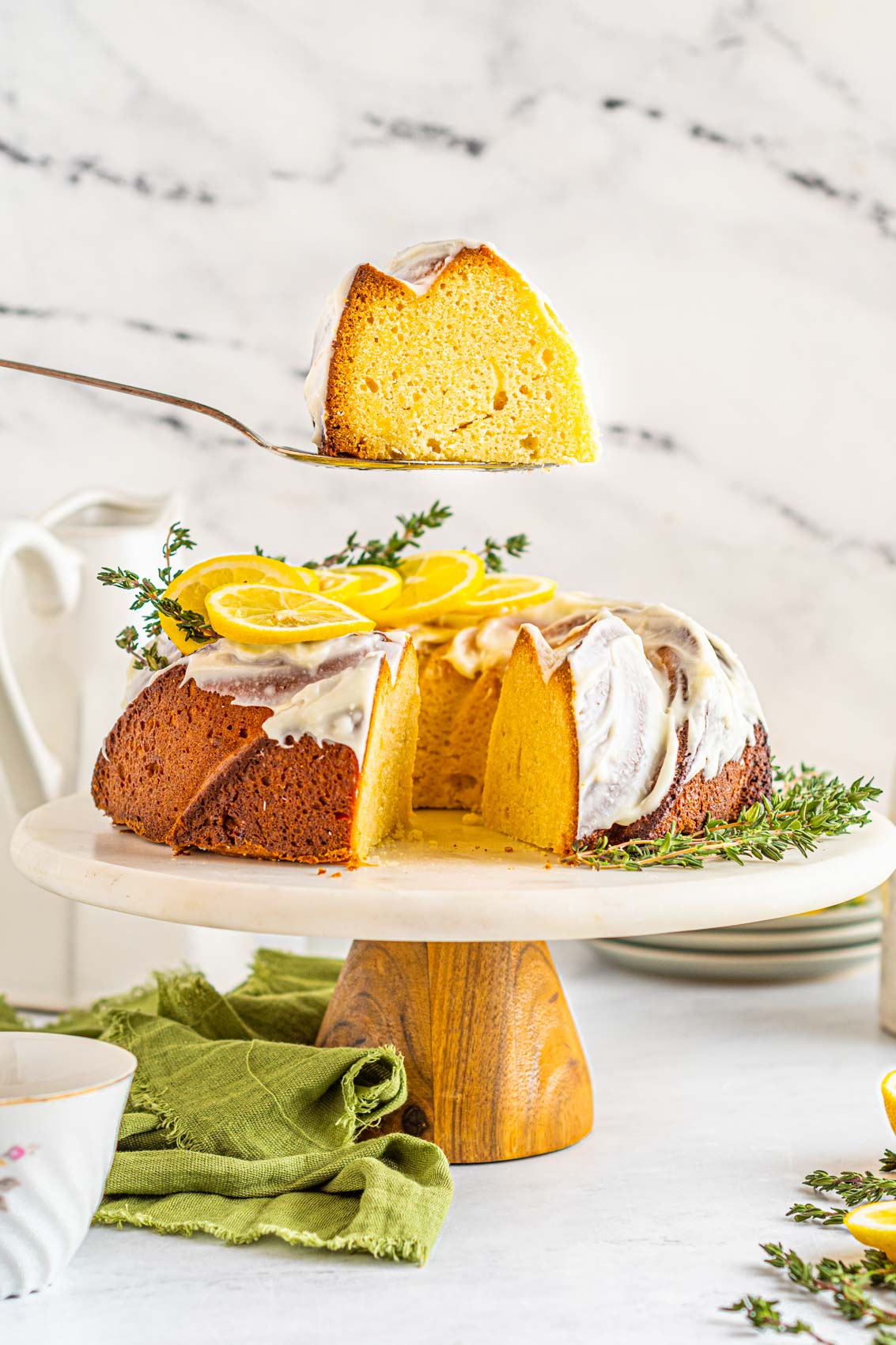 how to keep the cake from sticking to the bundt pan
With a rubber spatula, smooth up the cake batter in the bundt pan that has been previously prepared. Grease the pan with vegetable shortening and then dust it with sugar to prepare it for the cake. It works flawlessly and leaves no floury residue on the outside of the cake, which is a major plus.
Remember to remove the cake from the pan after ten minutes, as allowing it to cool in the pan for an extended period of time will cause the cake to stick.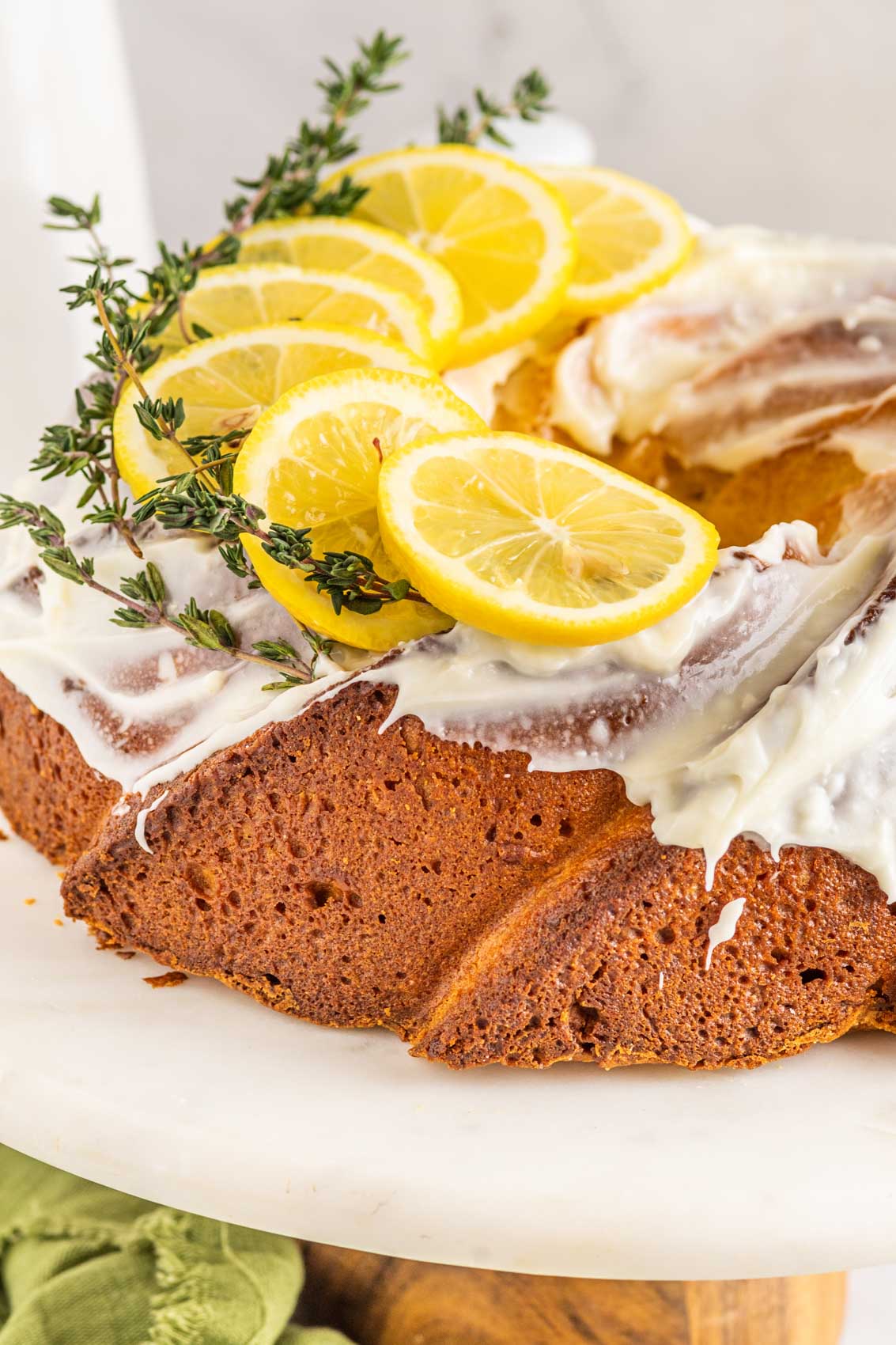 Toppings for lemon pound cake
Alternative toppings for lemon pound cake include berry glaze, a dusting of confectioner's sugar, or pre-made cream cheese frosting.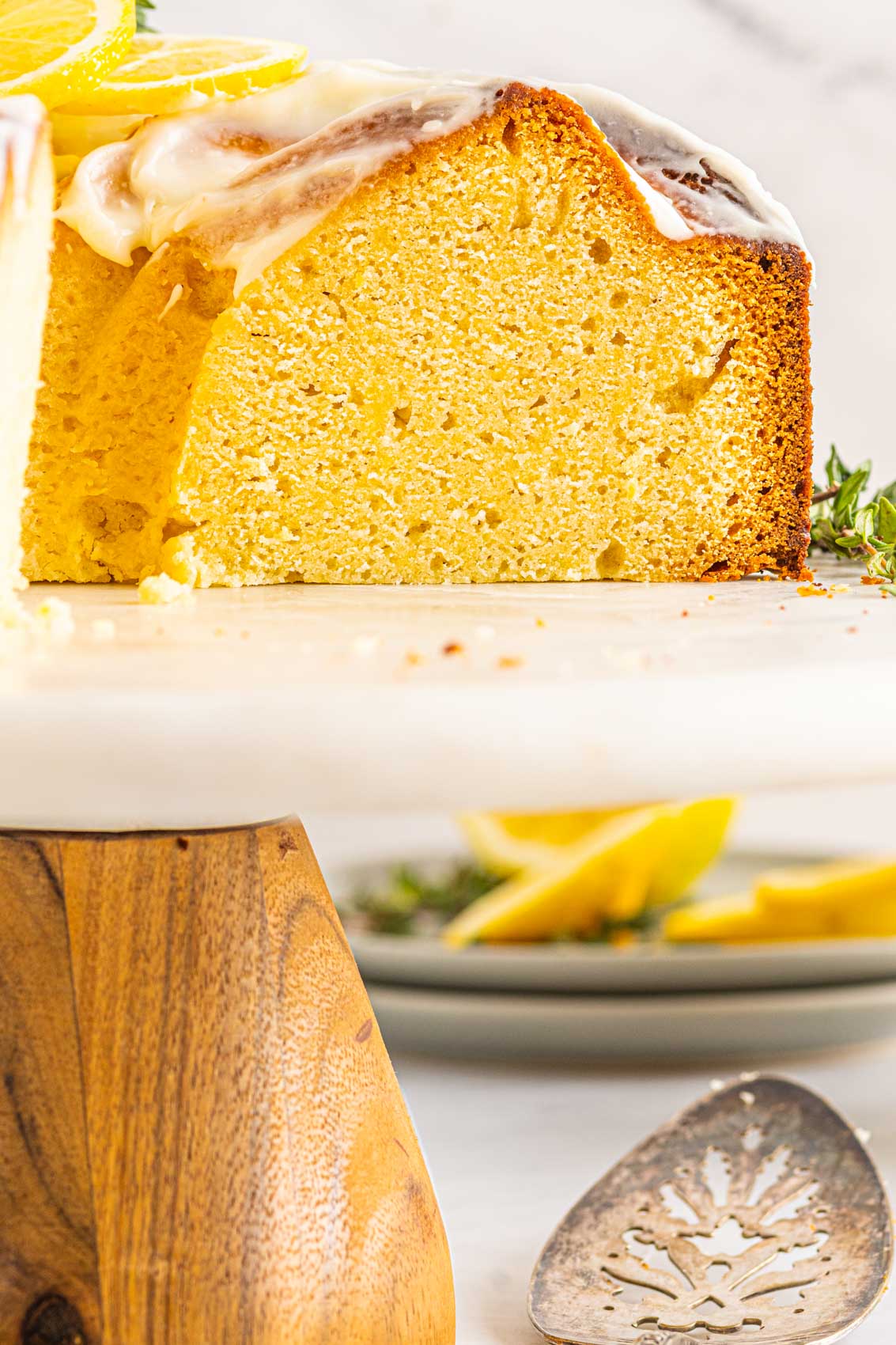 leftovers
Cake may be stored in an airtight container at room temp without glaze up to 5 days or in the fridge with glaze for up to 5 days. 
freezing
The cake can be stored in the freezer for up to 3 months without the icing. After it has completely cooled, wrap individual slices tightly in aluminum foil, then plastic freezer bags.
Before serving, allow the cake to thaw overnight on the counter.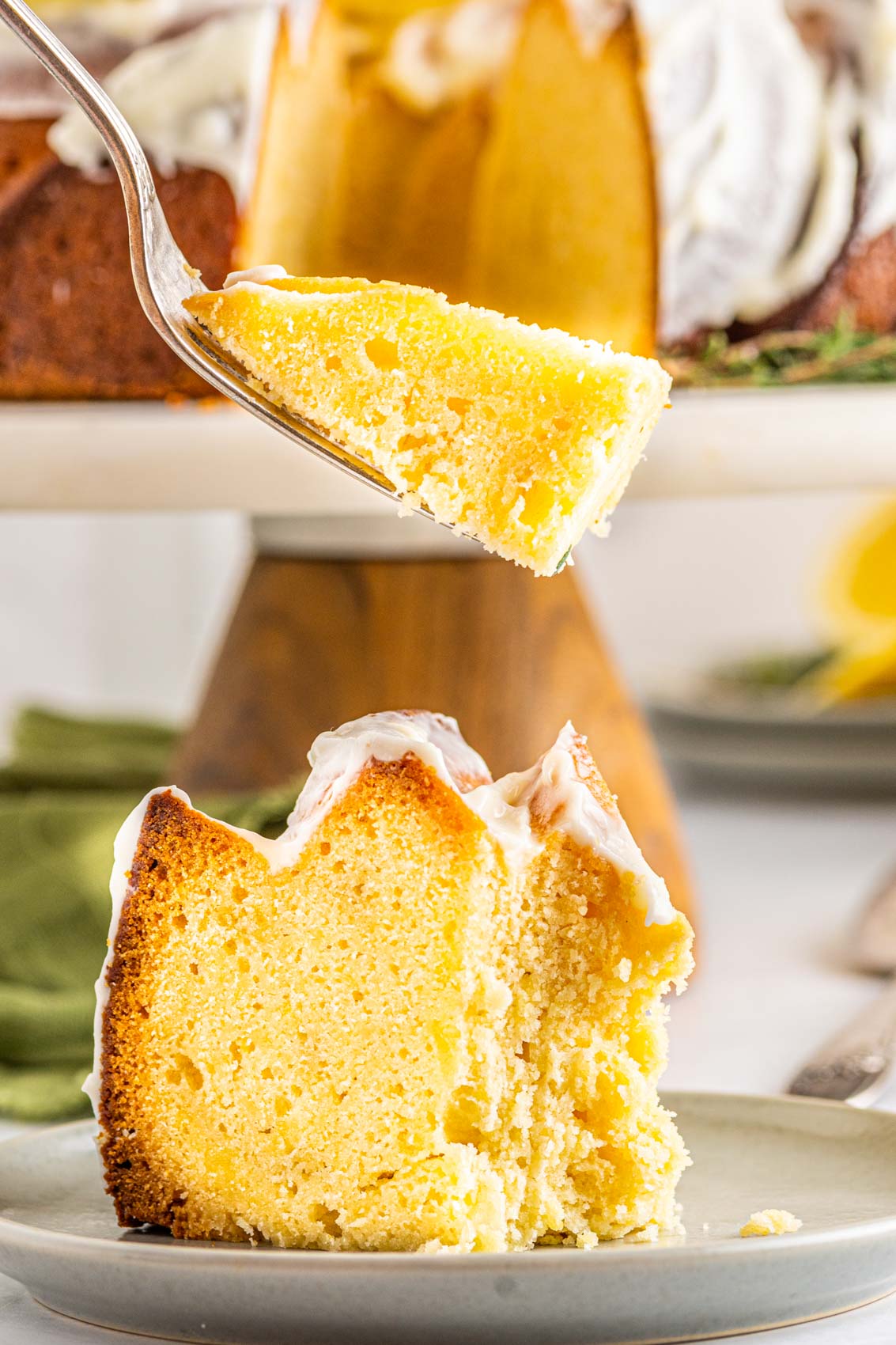 what to serve with lemon cake
Lemon cake may be served with
a tall glass of milk
scoop of ice cream
fresh berries
extra frosting
coffee or tea for breakfast/brunch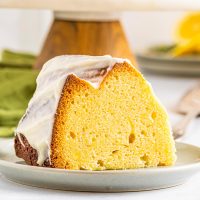 Southern-Style Lemon Bundt Cake
This Southern-style inspired lemon bundt cake is filled with amazing fresh citrus flavor and perfect for spring and summer gatherings. Topped with a delicious lemon cream cheese frosting, this cake is perfect for breakfast or dessert.
Print
Pin
Rate
Instructions
Preheat the oven to 350 F. If using a traditional bundt pan, grease and flour thoroughly. If using a silicone bundt pan, lightly spray with baking spray. 

To make the cake, begin by whisking together the flour, salt, baking powder and baking soda together in a medium sized bowl and set aside. Place the sugar, butter, cream cheese and shortening in the bowl of a stand mixer fitted with a paddle attachment. Beat together at high speed for 1 minute. Scrape the sides of the bowl down intermittently. Next, add in the eggs and beat together until incorporated. Add in the lemon zest, lemon juice and vanilla and mix until combined. Lastly, add in the flour mixture and mix just until incorporated. 

Pour the cake batter into the prepared bundt pan and smooth out. Place the pan into the oven to bake for 2 ½ hours or until a toothpick inserted comes out clean or with slightly moist crumbs. Once baked, remove from the oven and place it onto a cooling rack or hot pad to cool completely. 

While the cake is cooling, make the glaze. Add all of the ingredients to the bowl of a stand mixer fitted with a paddle attachment. Beat together on high speed for 2 minutes or until a smooth glaze has formed. 

Once the cake has cooled, carefully turn the pan over onto a cake stand. Gently pull the pan up off of the cake. Spread the glaze over the cake. Optionally, garnish with fresh lemon slices. Slice and serve. 
Notes
Storage: Cake may be stored in an airtight container at room temp without glaze up to 5 days or in the fridge with glaze for up to 5 days.
Nutrition
Calories:
442
kcal
|
Carbohydrates:
67
g
|
Protein:
7
g
|
Fat:
17
g
|
Saturated Fat:
8
g
|
Polyunsaturated Fat:
2
g
|
Monounsaturated Fat:
5
g
|
Trans Fat:
1
g
|
Cholesterol:
119
mg
|
Sodium:
243
mg
|
Potassium:
126
mg
|
Fiber:
1
g
|
Sugar:
47
g
|
Vitamin A:
561
IU
|
Vitamin C:
2
mg
|
Calcium:
77
mg
|
Iron:
2
mg
More cakes to love…