These Churro French Toast Roll-Ups are a delightful, finger-friendly treat for breakfast or brunch that everyone will enjoy. These portable, and simple to prepare French Toast Roll Ups are filled with delectable Churro flavors, rolled in cinnamon sugar sweetness, sautéed till golden brown, and then dunked in dulce de leche.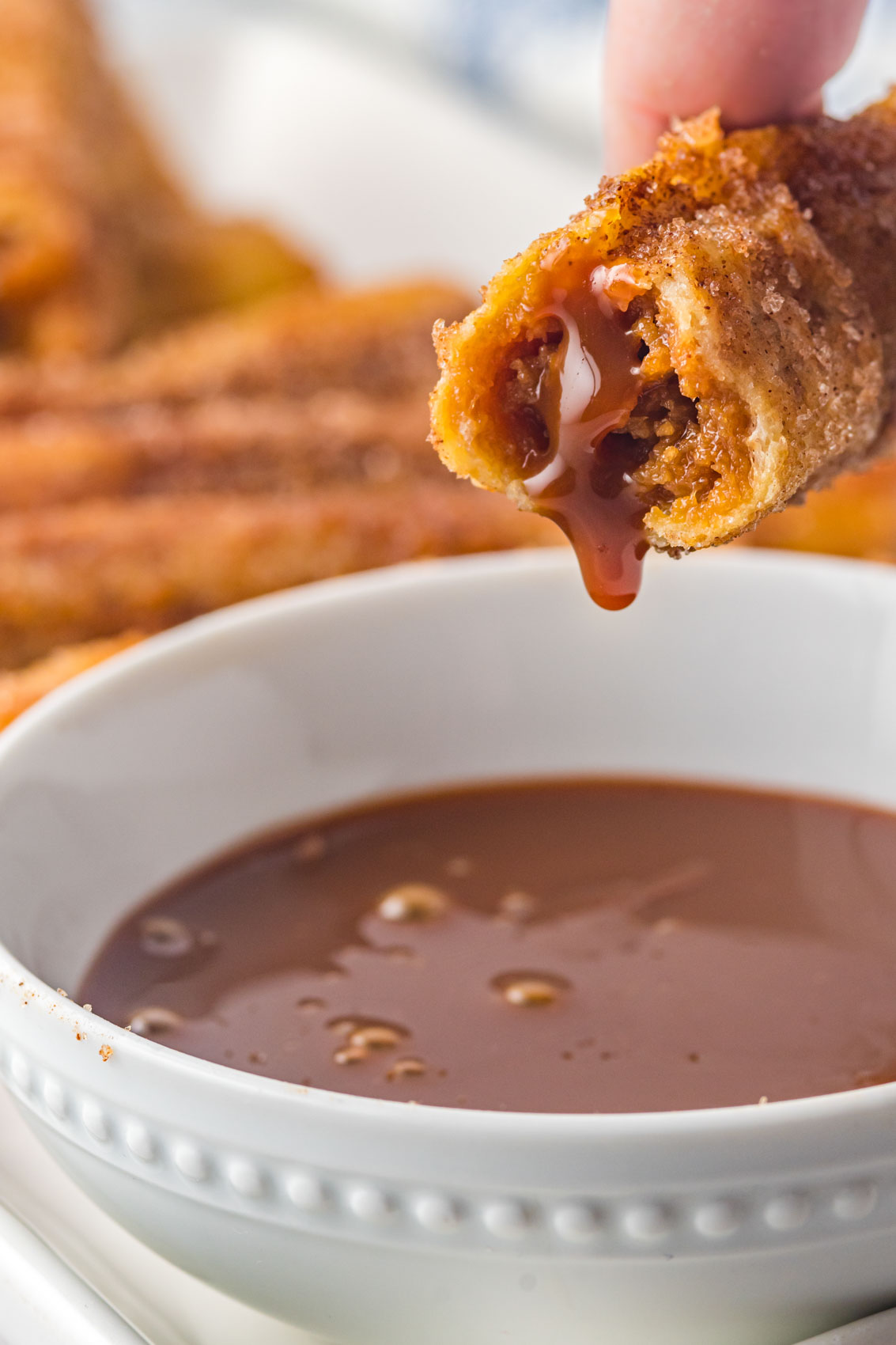 WHAT ARE CHURROS?
Churros are a traditional dessert and Mexican delicacy and can be customizable for this amazing breakfast dish.
The sweet breakfast consists of a type of dough/bread coated in egg and fried in a skillet before being sprinkled with cinnamon sugar.
Although typically served for dessert, serving this dish with a side of dulce de leche, caramel or melted chocolate is a great way to enjoy a sweet breakfast treat.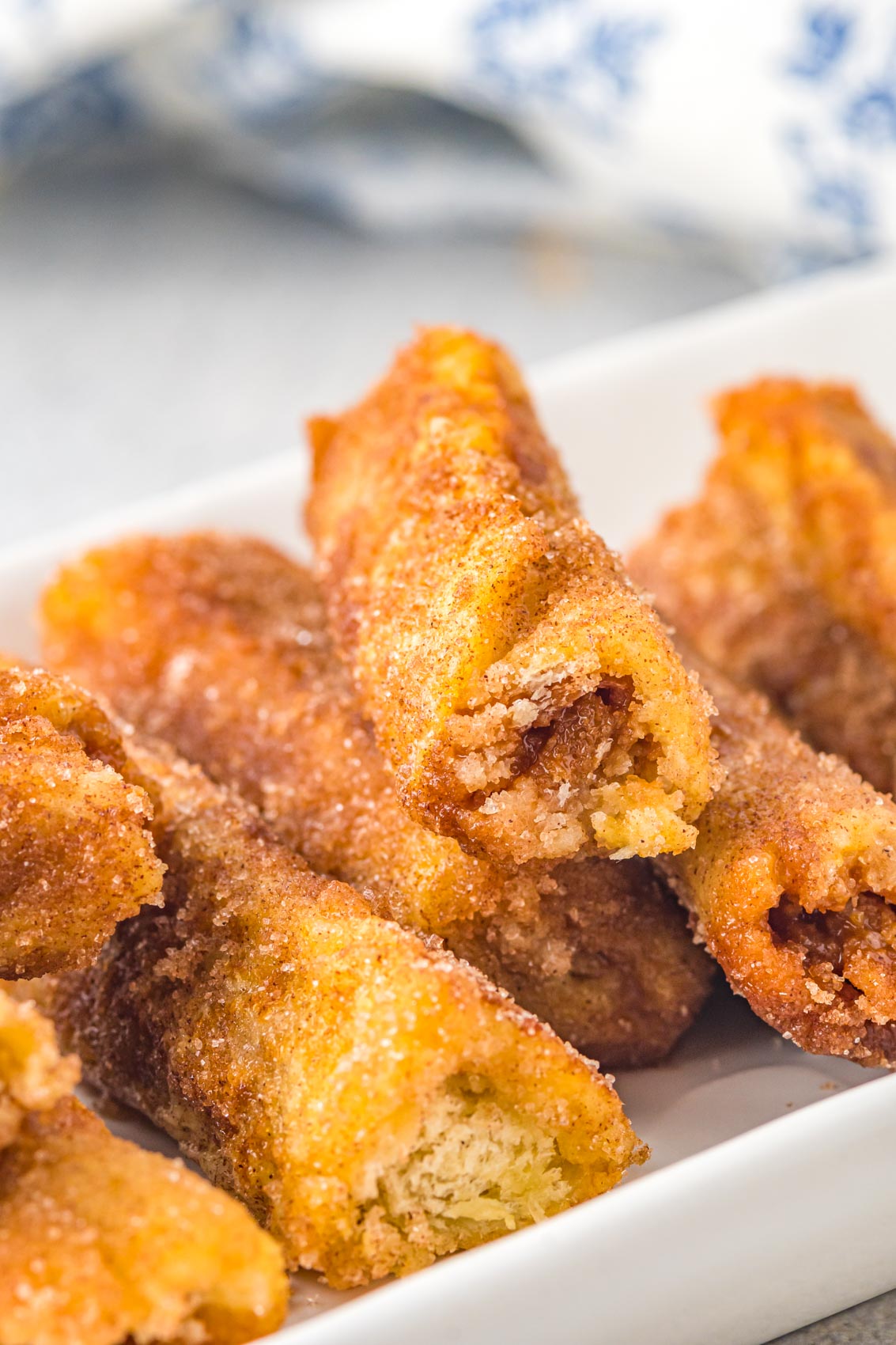 WHY WE LOVE THIS RECIPE
It doesn't matter if you like breakfast or classic French toast; you'll like these delectable Churros French Toast Roll-Ups.
They are brimming with taste, and they are a lot of fun to consume. They are also portable, such as these Baked Cinnamon French Toast Muffins, which make them the ideal treat to serve during brunch parties and gatherings.
Churro rolls are made with only a few simple items (which you probably already have in your kitchen).
INGREDIENTS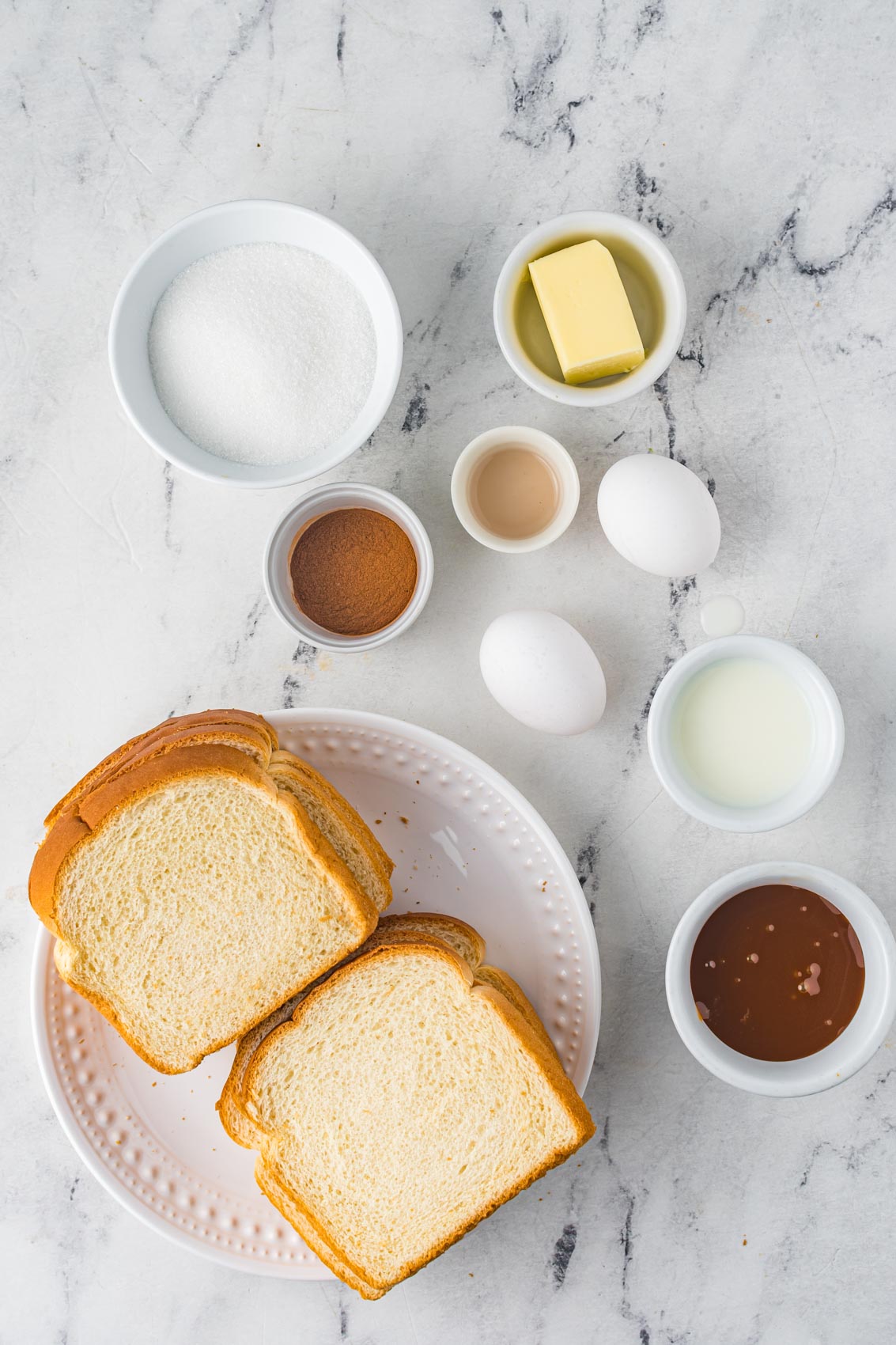 White bread – any brand
Eggs
Milk– half and half or heavy cream may be substituted
Vanilla 
Dulce de Leche– (Cajeta) is a thick sweet caramelized milk mixture (similar to caramel)
Butter – you will fry the French toast rolls in butter, real butter is best
Sugar – granulated
Cinnamon
INSTRUCTIONS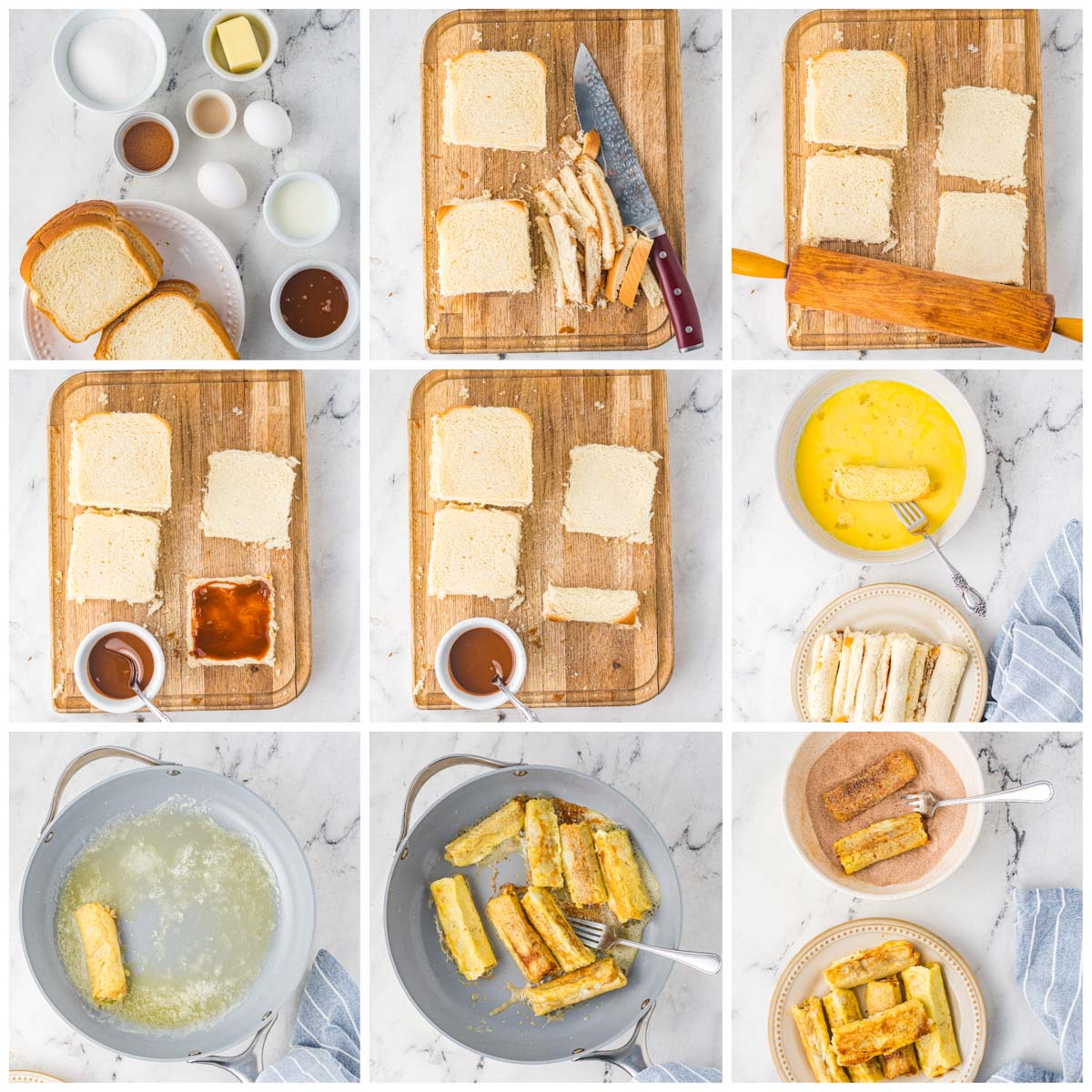 This recipe is a fun and easy to make Mexican- inspired breakfast.
To begin, cut each slice of bread in half and discard the crust. Once you have the bread pieces flattened, grab a rolling pin and begin to work. There's no need to work out your frustrations here because the bread is relatively soft and requires little effort.
Churro mix should be spread on both sides of each slice of bread. Each piece of bread should be tightly rolled.
Set aside a small bowl to whisk together the milk, egg, sugar, and vanilla extract. Sugar and cinnamon should be combined in a separate bowl or pan.
Pour the milk and egg mixture onto a shallow dish and dip each Churro French Toast Roll-Up into it.
A brief dip is all that's required! Ideally, we do not want to absorb too much of the liquid.
Fry each roll in hot butter until golden brown and slightly crispy, about 2 minutes per side.
Remove from the pan and roll each roll-up in the cinnamon sugar until completely smothered.
Your kitchen will have a wonderful aroma and you will be more than ready to begin eating. I know they are difficult to resist, but not as difficult to resist as these Pumpkin French Toast Sticks.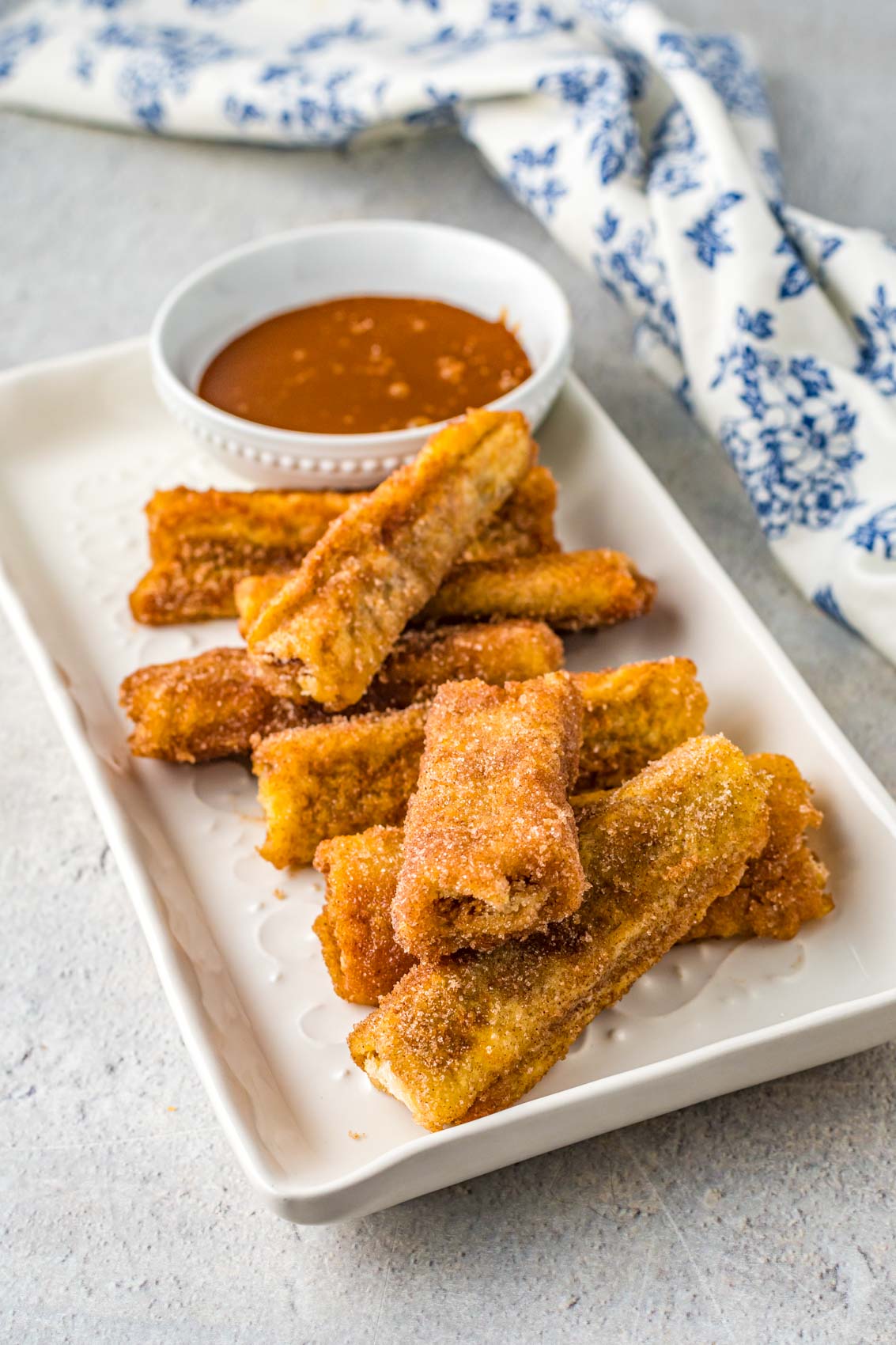 EXPERT TIPS
These are very rich and make a great snack or easy dessert as well.
The best sauce for this recipe is dulce de leche, which is made by slowly heating sugar and milk over a period of several hours for a delicious topping. You may also use caramel and/or whipped cream, if preffered.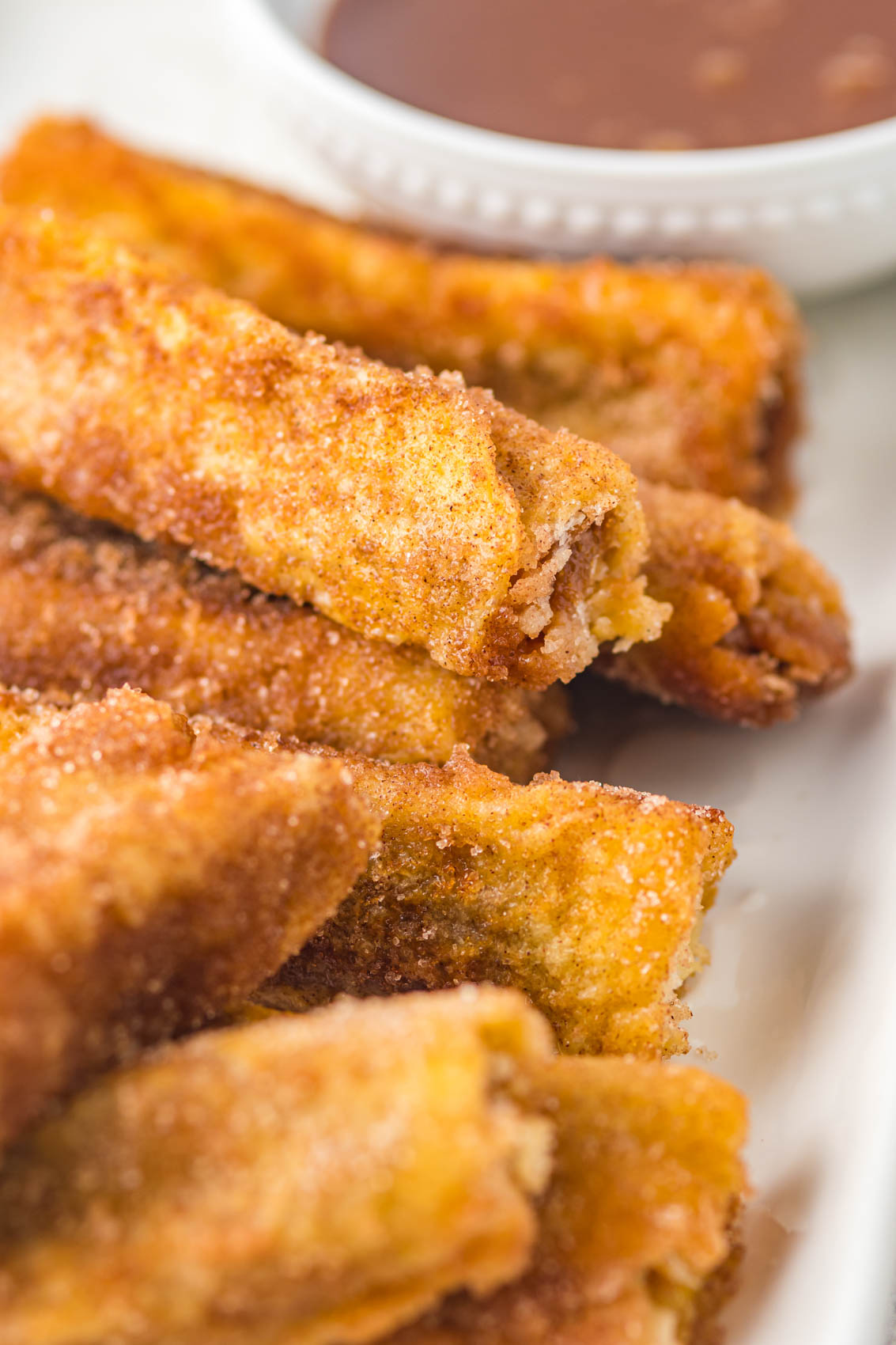 Adjustments
Bread– When making this dish, I prefer to use white sandwich bread, although wheat or whole-grain bread will also work well.
Seasonings– These churros are especially delicious in the fall. I even add a bit of pumpkin spice to mine during the autumn months.
Toppings-In addition to dulce de leche, top off these amazing treats with apple pie filling, fried apples, whipped cream, caramel, Nutella, peanut butter, jam, or chocolate sauce. You can use any spread you like in these Churro Rolls.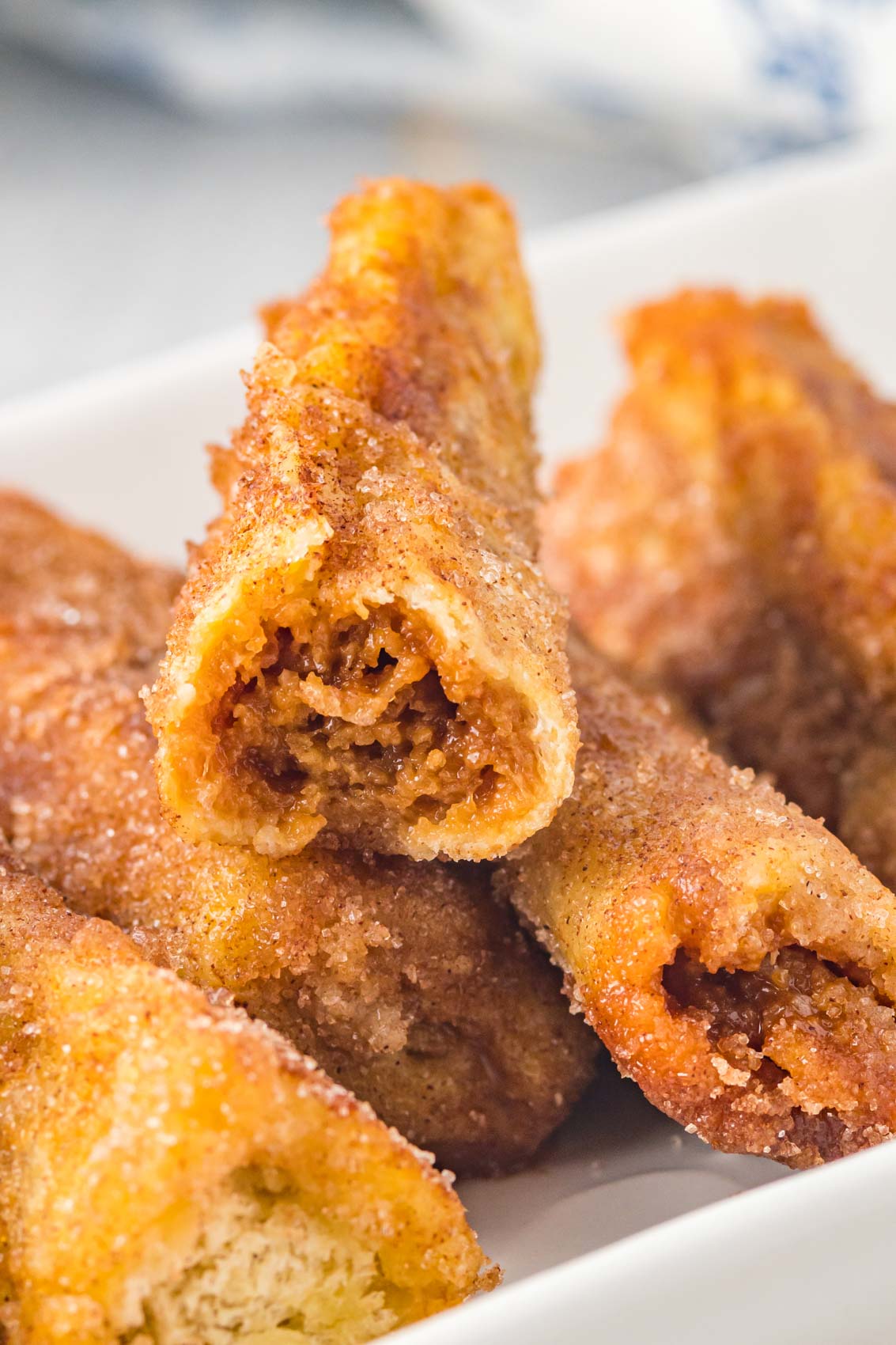 FAQ
Can I freeze french toast for later?
Yes, you can! Freeze these rolls individually on a sheet pan, then transfer to a zippered, air-tight freezer bag.
Can I make this recipe in the air fryer?
Yes, this recipe can be made in the air fryer at 350 degrees for 8-9 minutes, like these french toast rolls.
LEFTOVERS
Store in an airtight container in the refrigerator for up to 5 days. To reheat them place in an oven at 350 degrees F for about 10 minutes, or until they are warm.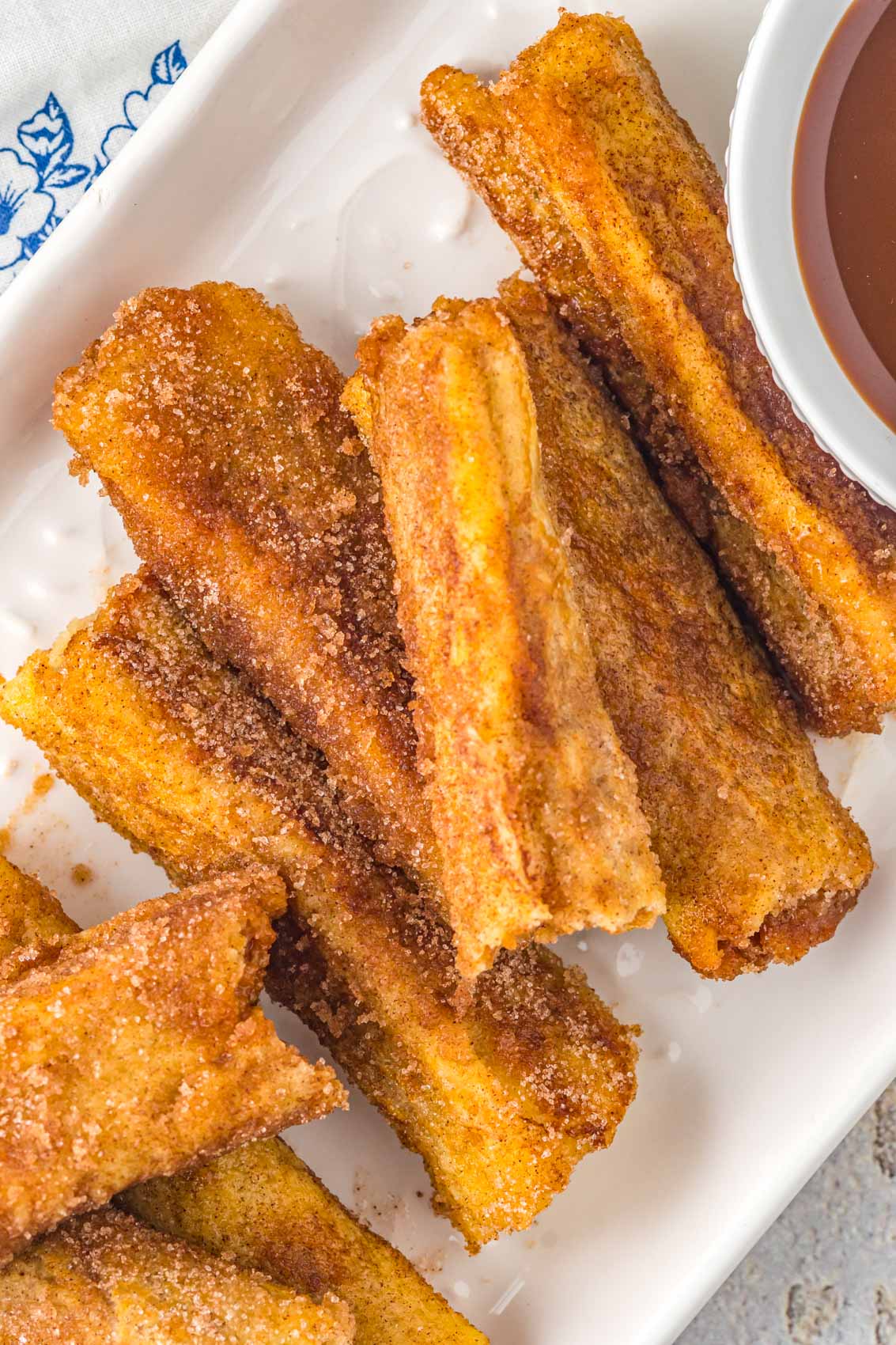 WHAT TO SERVE WITH CHURROS
These Churro French Toast Roll-Ups are delicious served on its own or dipped into some warm maple syrup or dulce de delche for a special treat. You can serve them for breakfast or brunch with fresh berries, or as an appetizer at a children's party as an alternative. More serving suggestions include:
coffee
breakfast platters
hot cocoa
ice cream (for dessert).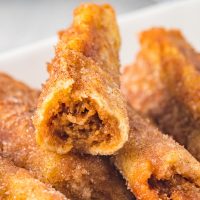 Churro French Toast Rolls
Churro French Toast Rolls made easy with white bread, and a rich butter, cinnamon and sugar coating. Dip in dulce de leche or caramel syrup for the ultimate breakfast treat!
Print
Pin
Rate
Instructions
Cut the crust off the bread, then roll each piece out with a rolling pin.

In a small bowl, whisk the eggs and add the milk and vanilla.

Melt the butter in a large sauté pan.

Dip each roll in the eggs and coat all sides.

Place the rolls in the hot butter and cook all sides.

Combine the granulated sugar and cinnamon together.

Remove the rolls from the pan and roll each French toast roll in the cinnamon sugar.
Notes
These are very rich and make a great snack or easy dessert as well.
You can use any spread you like in these French toast rolls. Some great options are Nutella, peanut butter, jam.
Storage:
Store in an airtight container in the refrigerator for up to 5 days.
Nutrition
Serving:
4
rolls
|
Calories:
577
kcal
|
Carbohydrates:
105
g
|
Protein:
17
g
|
Fat:
9
g
|
Saturated Fat:
3
g
|
Polyunsaturated Fat:
3
g
|
Monounsaturated Fat:
3
g
|
Trans Fat:
1
g
|
Cholesterol:
191
mg
|
Sodium:
596
mg
|
Potassium:
267
mg
|
Fiber:
5
g
|
Sugar:
58
g
|
Vitamin A:
356
IU
|
Vitamin C:
1
mg
|
Calcium:
380
mg
|
Iron:
5
mg
SWEET BREAKFAST RECIPES TO TRY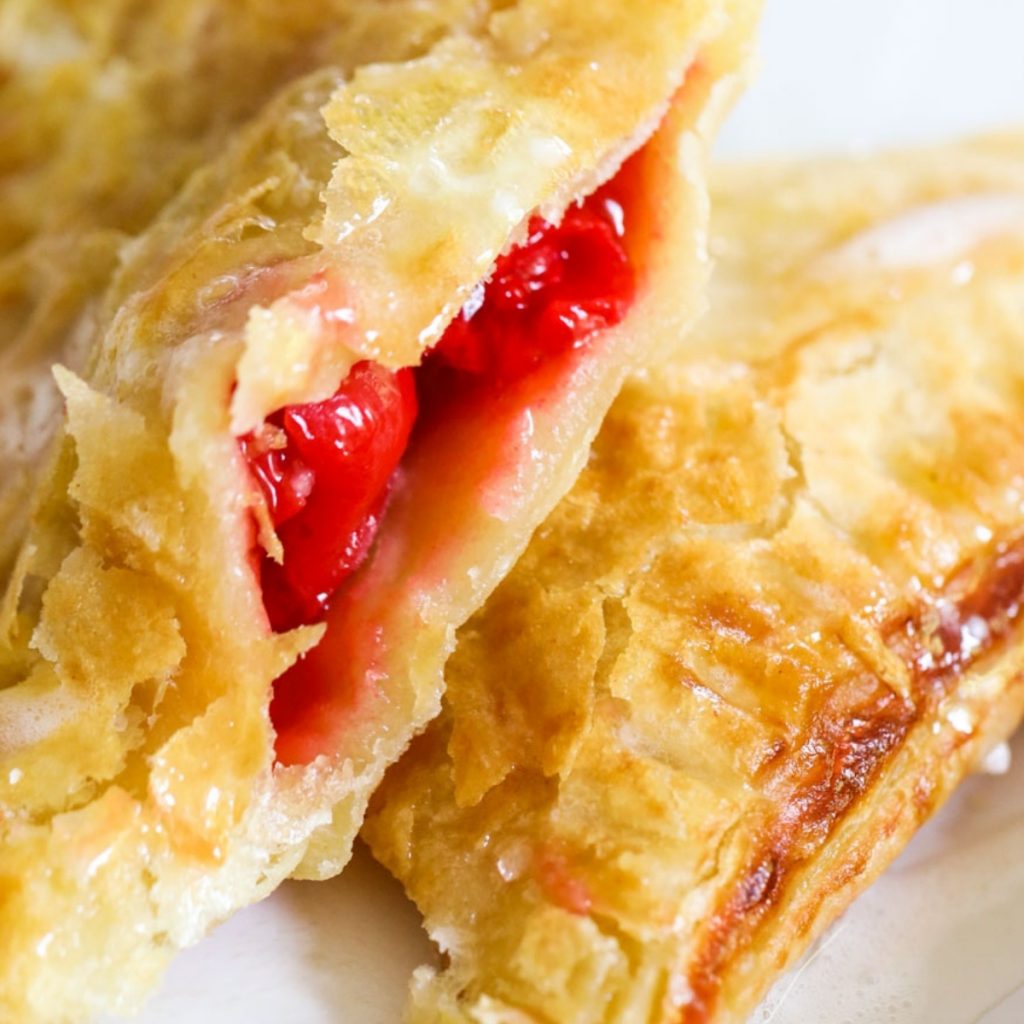 Air Fryer Turnovers
You may also like…