Shrimp Alfredo from Olive Garden is popular for its creaminess and richness. Here is the thing! You don't have to dine out to enjoy this amazing seafood pasta dish.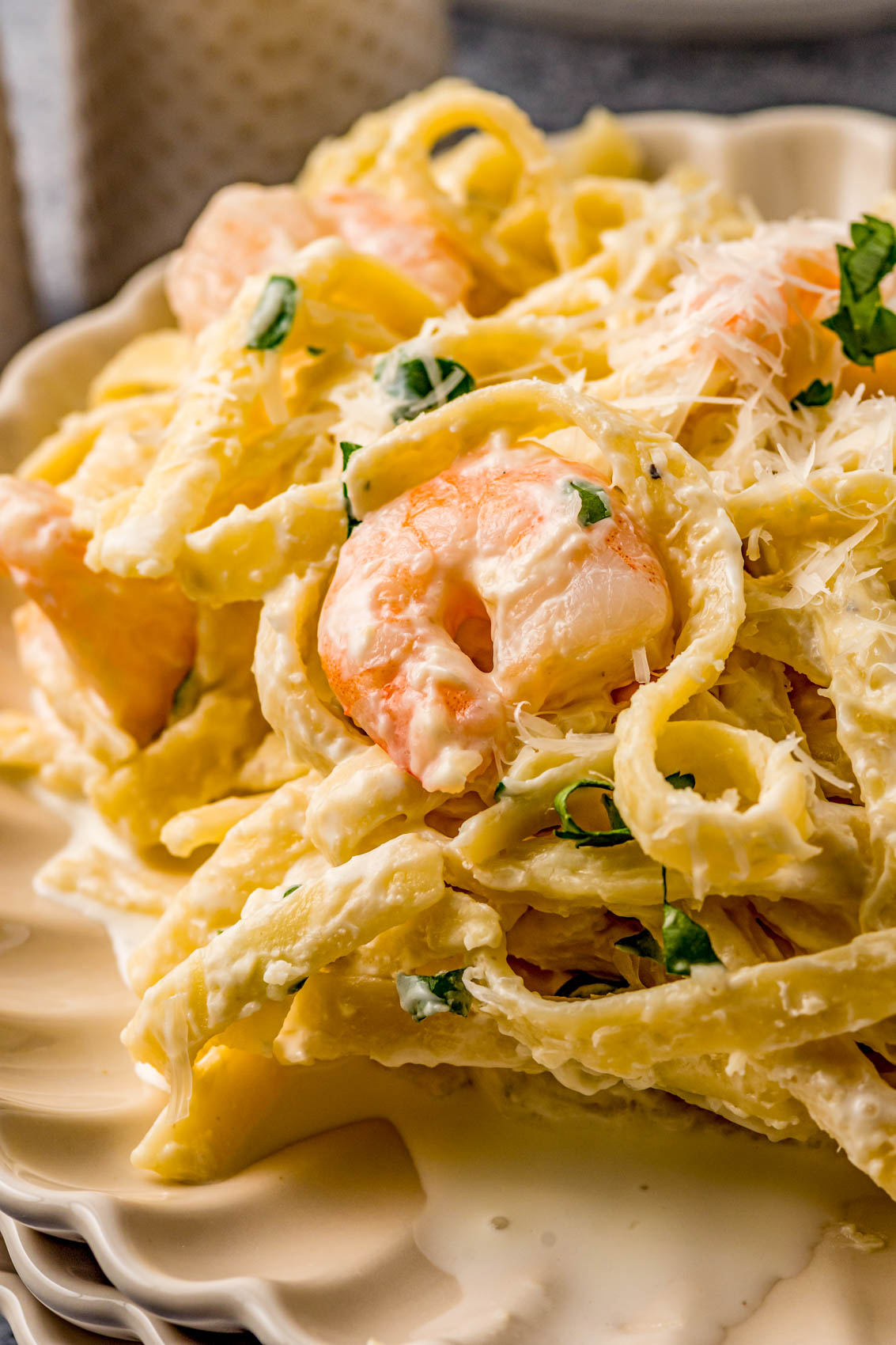 This simple and easy shrimp Alfredo recipe is a perfect copycat of Olive Garden's Shrimp Alfredo. It is just as tasteful, creamy, and rich as any other pasta dish.
And the best part, it is super easy to make. You don't need fancy ingredients, just egg, parmesan, fettuccine pasta, and shrimp.
Enjoy a rich, creamy, and heartwarming plate of shrimp fettuccine Alfredo in your home by following this recipe!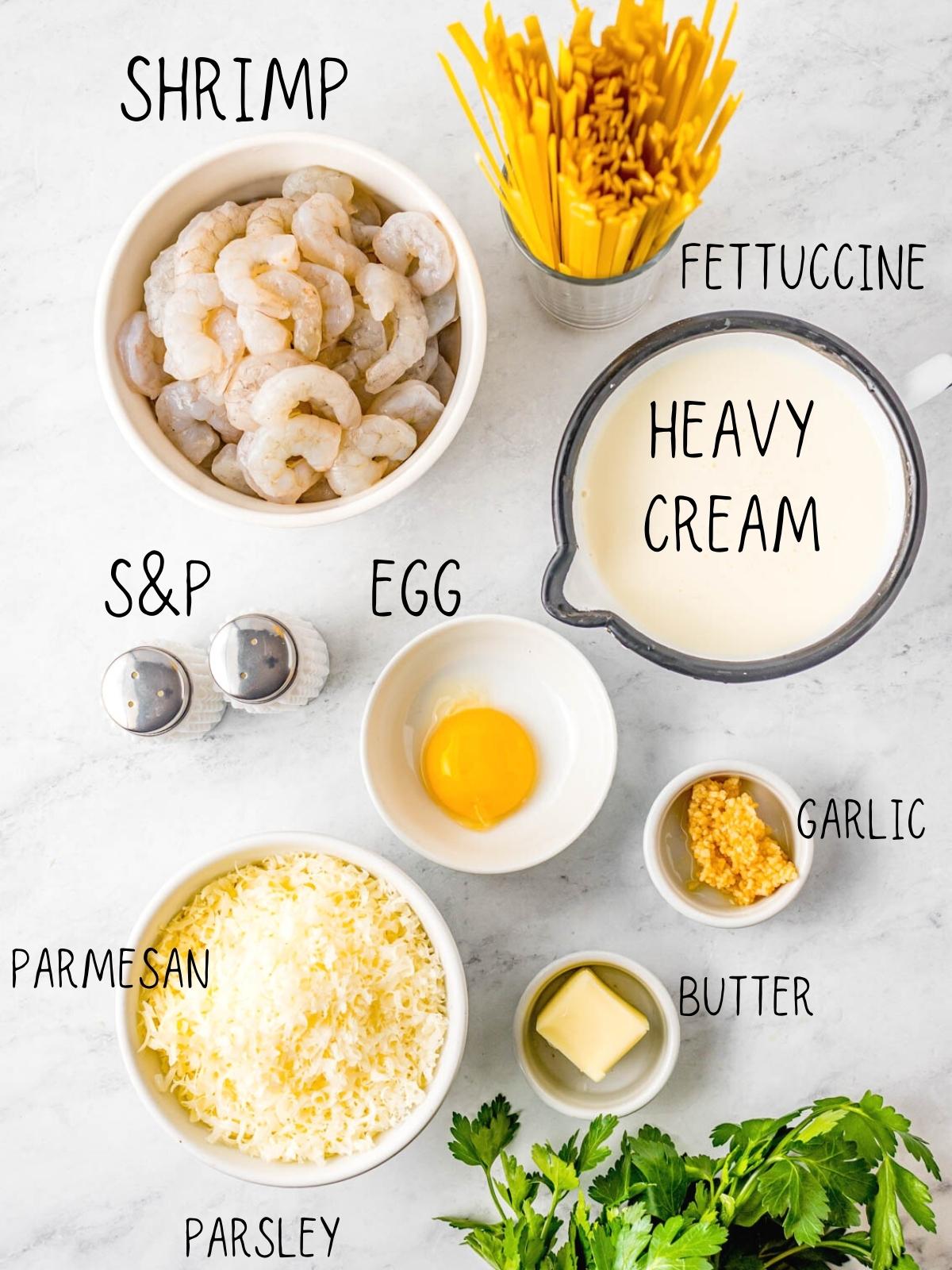 Ingredient breakdown
Fettuccine pasta: The pasta we are using for this recipe is fettuccine. It is a type of pasta made from flour and eggs. It is shaped like ribbons and goes really well with Alfredo! If you don't have fettuccine pasta, you can also use penne pasta. However, to get the feel of this recipe, I recommend you use this one.
Butter: I have used butter to cook the ingredients. That's because butter adds richness and taste to the ingredients. Make sure you are using unsalted butter for this recipe.
Shrimp: The main protein used in this recipe is shrimp. I prefer using fresh produce. Make sure you peel, devein and remove the tails before cooking them. If you are using frozen shrimp, thaw them first to get rid of extra moisture.
Garlic: It brings so much flavor to the dish. Garlic has a deep savory flavor which is just right for this recipe.
Heavy cream: It is the hero of the dish. Heavy cream makes this dish creamy, rich, and delicious.
Hot spaghetti water: Adding hot pasta water will aid in giving the sauce consistency without making it too thick.
Egg yolk: Egg yolk is the secret to a creamy and rich shrimp Alfredo sauce. Not many of us use it in Alfredo's recipe. Try it, and I am sure you will feel the difference.
Parmesan cheese: It adds a nutty and fruity flavor to the dish. Plus, it also makes the Alfredo creamy, cheesy and delicious.
Black pepper: Season the dish with black pepper according to your liking.
Salt: A dash of salt balances out the flavors of the dish.
Parsley
how to make shrimp Alfredo
First, cook your fettuccine according to directions, minus one minute (they'll cook more later).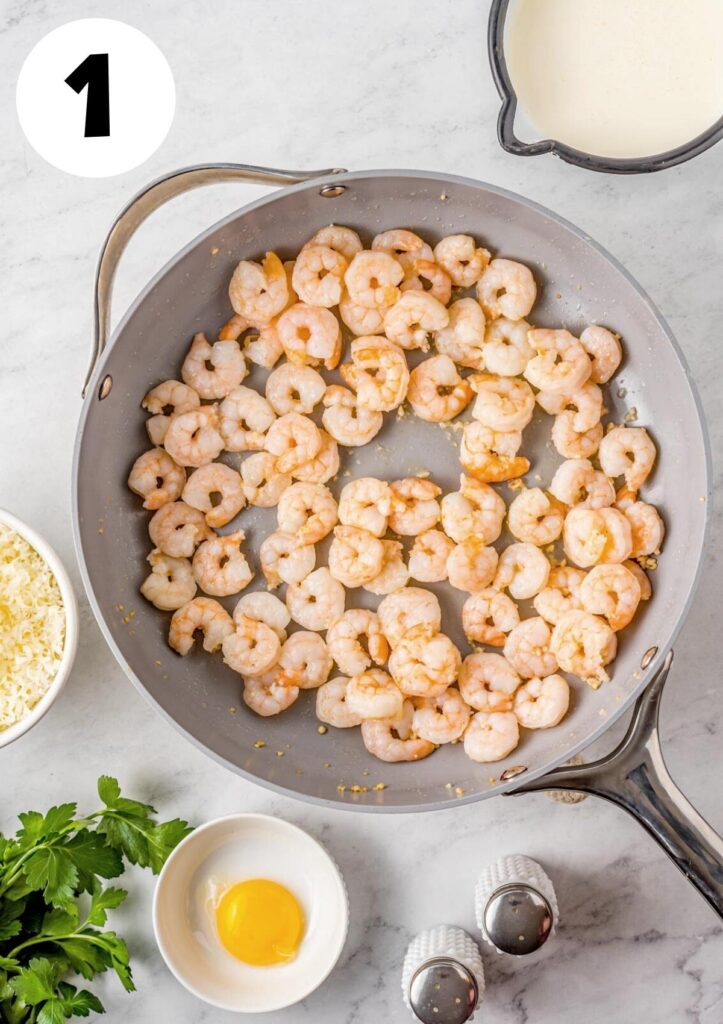 Tips to remember
When making shrimp fettuccine, keep these tips in mind:
When cooking pasta, make sure you don't overcook it. The pasta will also cook in the sauce, so take it out at least 3 minutes before it is done. Otherwise, it will get mushy.
Keep an eye on the shrimp when cooking it. Shrimp cooks fast, so you don't want to overcook it. Otherwise, it will turn rubbery. As soon as the color changes to light pink, remove it from the heat.
When adding egg yolk, whisk it vigorously; otherwise, it will turn into a scrambled egg, and you won't get a creamy sauce.
When using parmesan cheese, make sure you opt for freshly grated cheese.
If using frozen shrimps, thaw them first and pat them dry. Adding frozen shrimps directly to the pan will turn them soggy.
You can adjust the consistency of the sauce by adding pasta water. If you find the sauce too thick, add pasta water until you get desired consistency.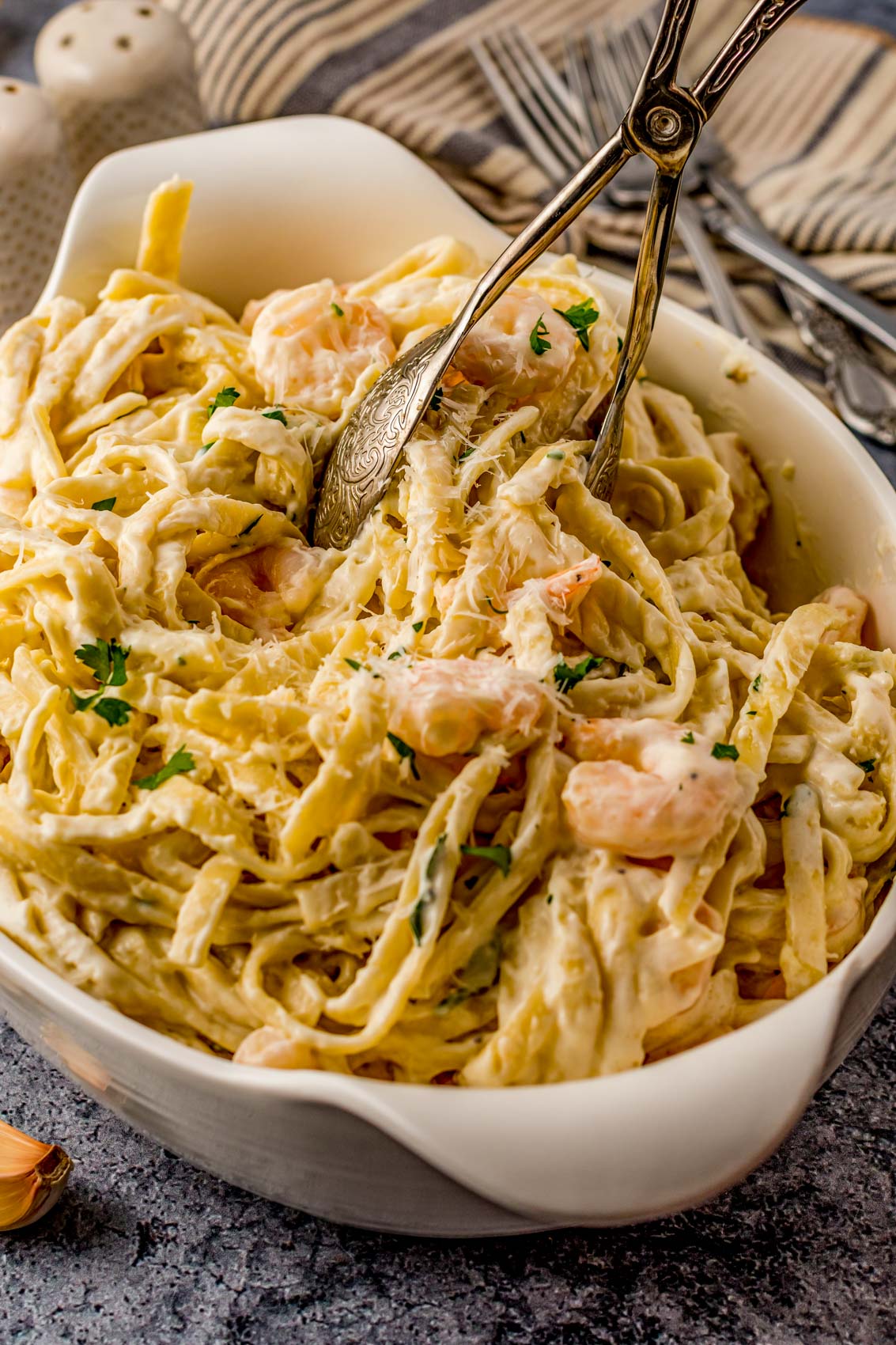 Recipe substitutions
Here are a few ways you can change the recipe:
You can use leftover or fresh chicken instead of shrimp.
Add vegetables like corns and bell pepper o add a bit of color.
You can also use cheddar cheese instead of parmesan cheese, but do remember it will change its flavor.
Add Italian seasoning or a dash of paprika powder for more flavor.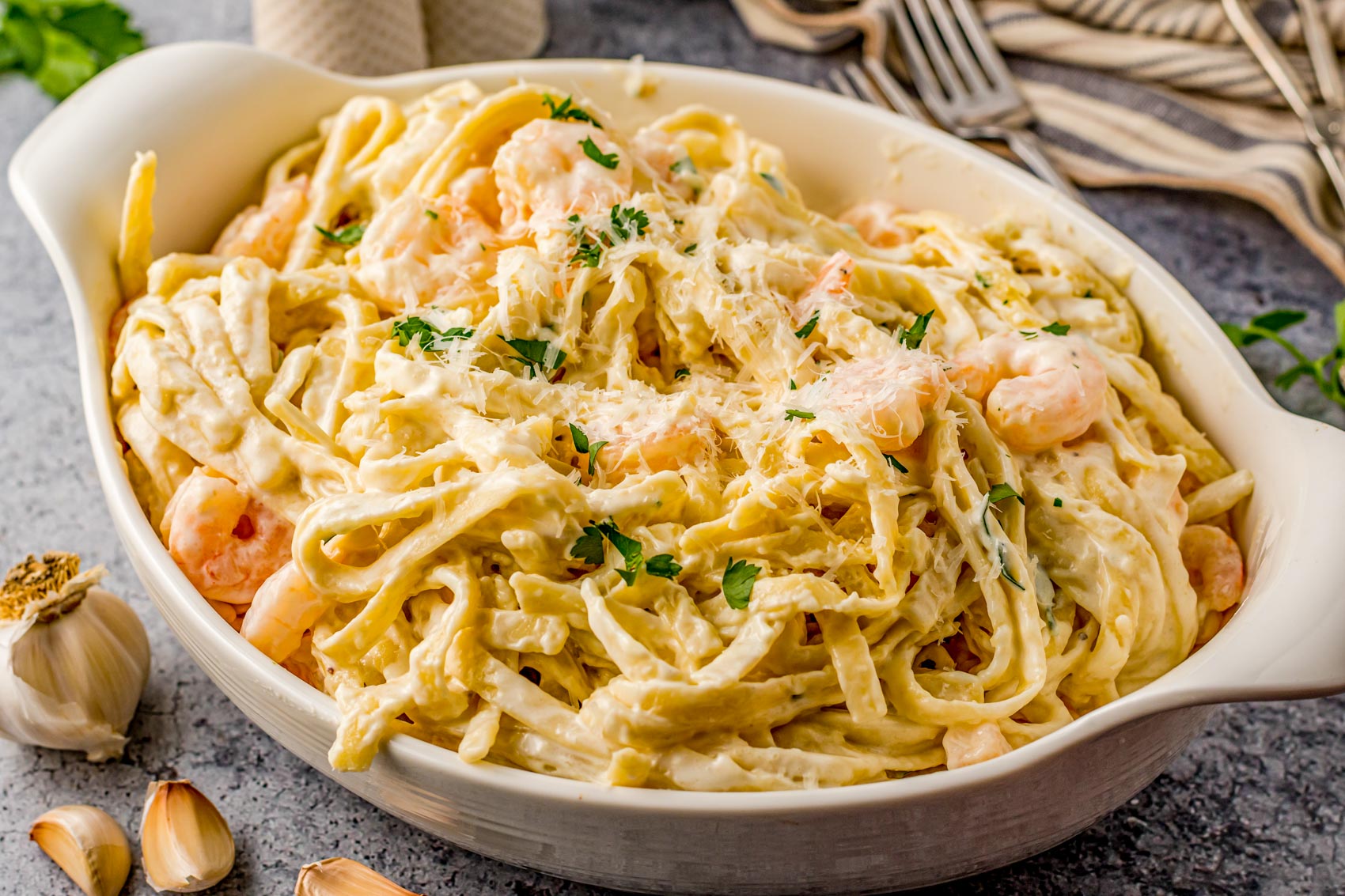 What to serve with shrimp Alfredo?
You can enjoy this easy shrimp Alfredo with a variety of sides. Here are a few to name:
Bread: Alfredo pasta goes well with freshly baked garlic bread.
Salads: you can serve it with fresh green salads as well.
Roasted vegetables: try it with roasted vegetables like broccoli, potatoes, and carrots. I am sure you will enjoy the combination.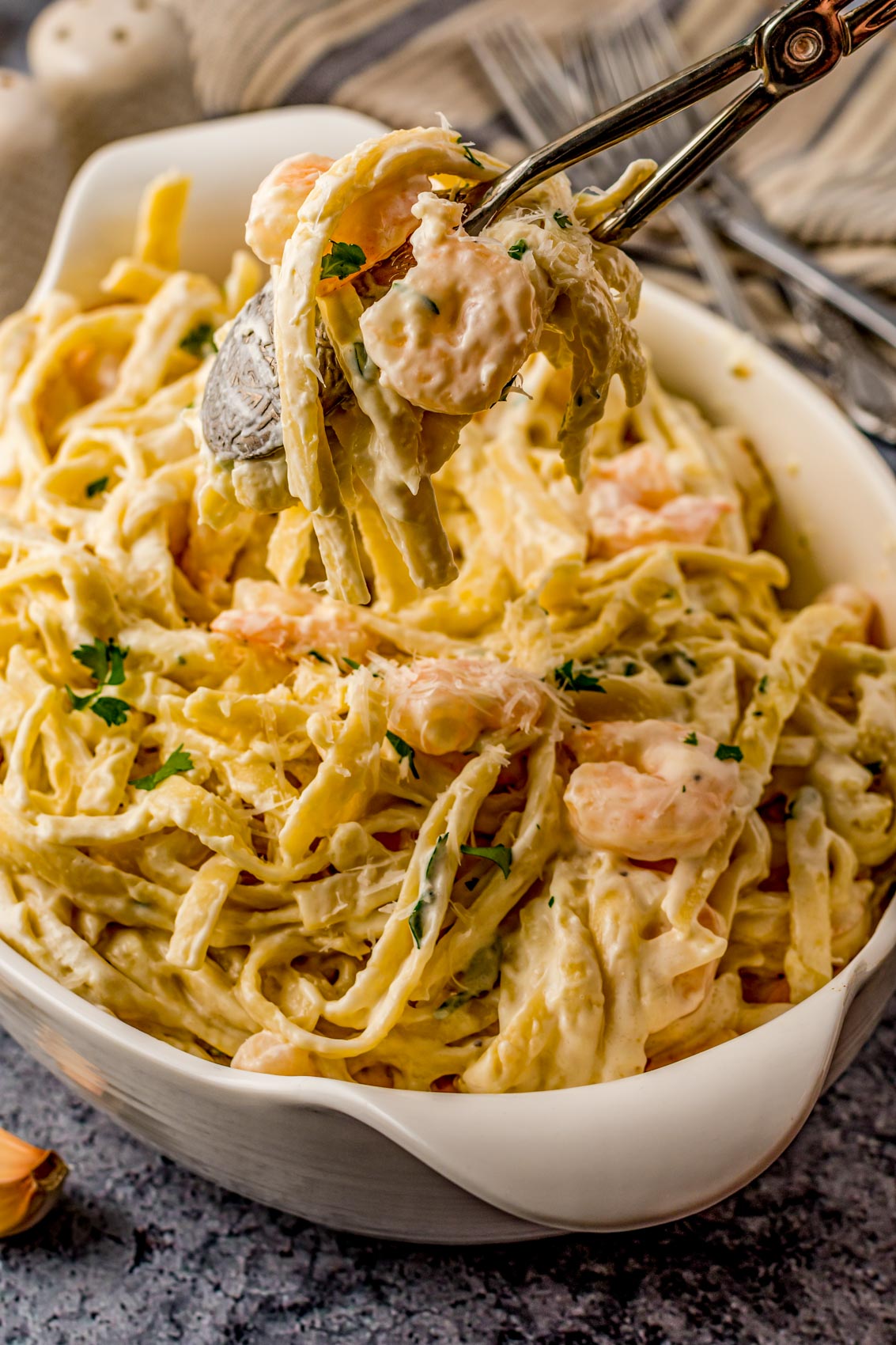 Frequently Asked Questions
How to make creamy Alfredo sauce?
You can make Alfredo sauce creamy by adding heavy cream to it. Plus, adding freshly grated parmesan cheese also makes the sauce creamy. Lastly, adding and whisking egg yolk in the Alfredo sauce makes it rich and creamy.
How to Store leftover shrimp, Alfredo?
Once it is cool, wrap the dish with aluminum foil and refrigerate for up to 3 days. Moreover, you can freeze it for up to 3 months as well.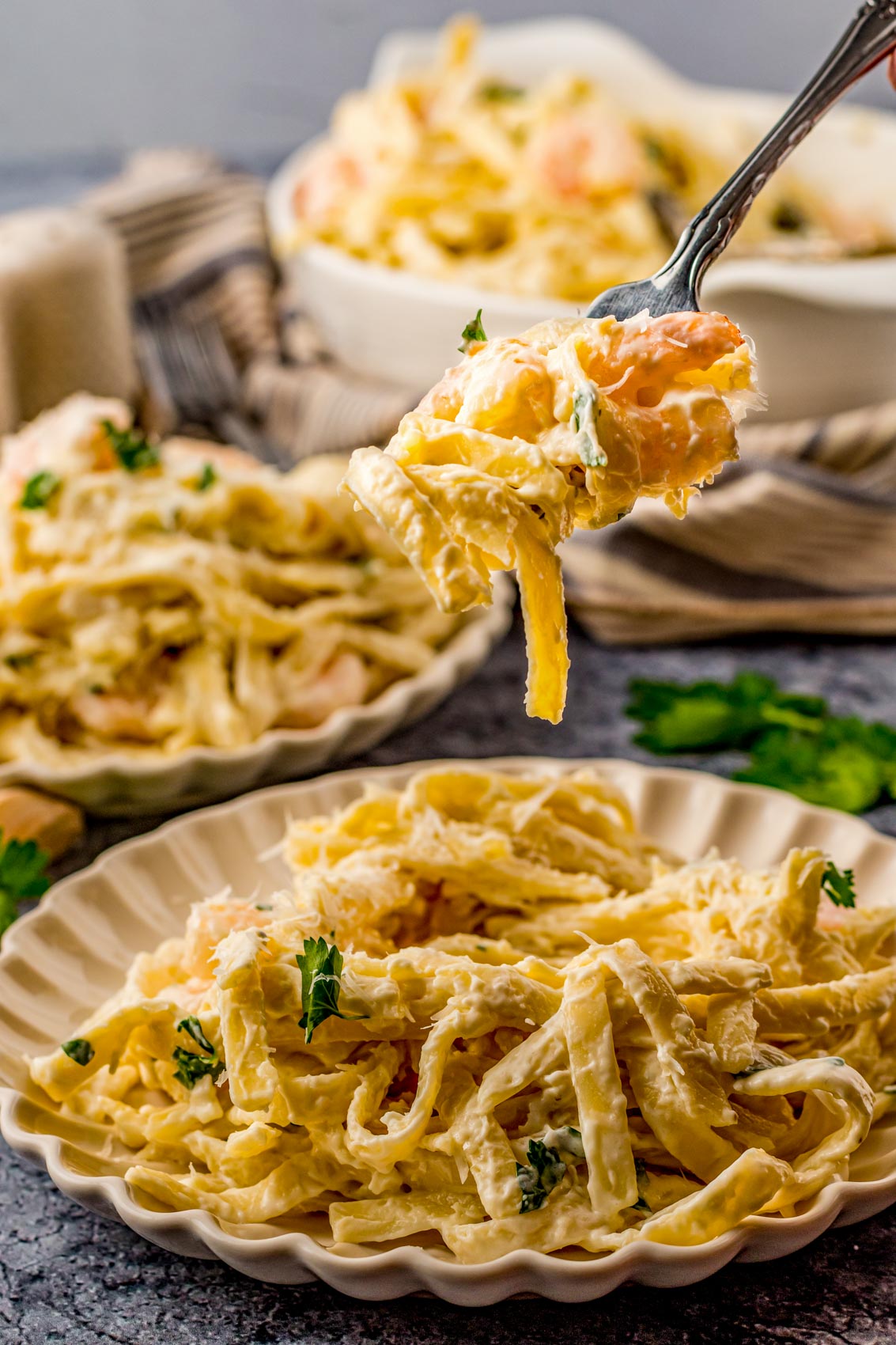 Can you make Alfredo sauce ahead of time?
Yes, you can make Alfredo sauce ahead of time and store it for later use. Once it is cool, place it in an airtight jar and refrigerate for three days. Or you can freeze it for up to 3 months. Thaw it to use it again.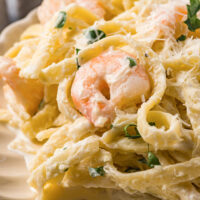 Olive Garden Shrimp Fettuccini Alfredo
Copycat Olive Garden Shrimp Fettuccini Alfredo is simply the creamiest fettuccine out there and tastes even better than the restaurant.
Print
Pin
Rate
Ingredients
1

lb

fettuccine pasta

4

tbsp

unsalted butter

divided

1

lb

shrimp

raw

½

tsp

salt

½

tsp

black pepper

2

cups

heavy cream

1

tbsp

garlic

minced

½

cup

hot pasta water

1

egg yolk

1½

parmesan cheese

1

tbsp

parsley

garnish
Instructions
Cook the noodles according to the package directions, minus 1 minute.  They will cook a little more in the sauce so you don't want them overcooked.

Heat 2 tablespoons of butter in a large saute pan.  Season the shrimp with salt and pepper and add to the hot pan.  Cook for 2 minutes until it turns pink, then flip over and cook the other side till it turns pink for about 2 minutes.  Remove from the pan.

Add the remaining butter to the pan and cook the garlic for 2 minutes, whisk in the cream, making sure it doesn't heat too quickly and curdle.

In a small bowl, whisk a half cup of the hot spaghetti water into the egg, then set aside.

Add the parmesan cheese to the hot cream and stir till melted, turn on low.  Slowly whisk in the egg water, making sure not to curdle.  Remove from the heat.

Add the noodles and toss to coat, add the shrimp and garnish with parsley.
Notes
Do not overcook the pasta – mushy pasta is disgusting, cook it to al dente only.

 

Do not overcook the shrimp – you can always use precooked shrimp instead. Shrimp cooks very quickly, as soon as they turn pink they are done, remove from the heat so they don't get rubbery.

 

Only use freshly grated Parmesan cheese. Pregrated is coated and doesn't melt right. For a creamy Alfredo sauce, using an egg yolk is key. But you don't want it to scramble, so you want to whisk, whisk, whisk so it stays smooth and creamy.

 

Medium to large raw shrimp are preferred for this recipe, and if you are using frozen, make sure they thaw and are patted dry before cooking. Never cook frozen shrimp, they will get soggy from all the moisture.

 

If the sauce is too thick, you can add a little hot spaghetti water to thin, but again, make sure to whisk continually so the egg yolk doesn't scramble.

 
Storage:
Store in an airtight container in the refrigerator for up to 5 days.

 
Nutrition
Calories:
311
kcal
|
Carbohydrates:
2
g
|
Protein:
14
g
|
Fat:
28
g
|
Saturated Fat:
18
g
|
Polyunsaturated Fat:
1
g
|
Monounsaturated Fat:
7
g
|
Trans Fat:
1
g
|
Cholesterol:
198
mg
|
Sodium:
234
mg
|
Potassium:
219
mg
|
Fiber:
1
g
|
Sugar:
2
g
|
Vitamin A:
1126
IU
|
Vitamin C:
1
mg
|
Calcium:
86
mg
|
Iron:
1
mg
more pasta recipes…