Classic, easy shepherd's pie is a humble yet hearty and delicious dish you can enjoy any time of the day. This savory mashed potato pie is made with vegetables and ground meat cooked in spices and topped with creamy, fluffy mashed potatoes.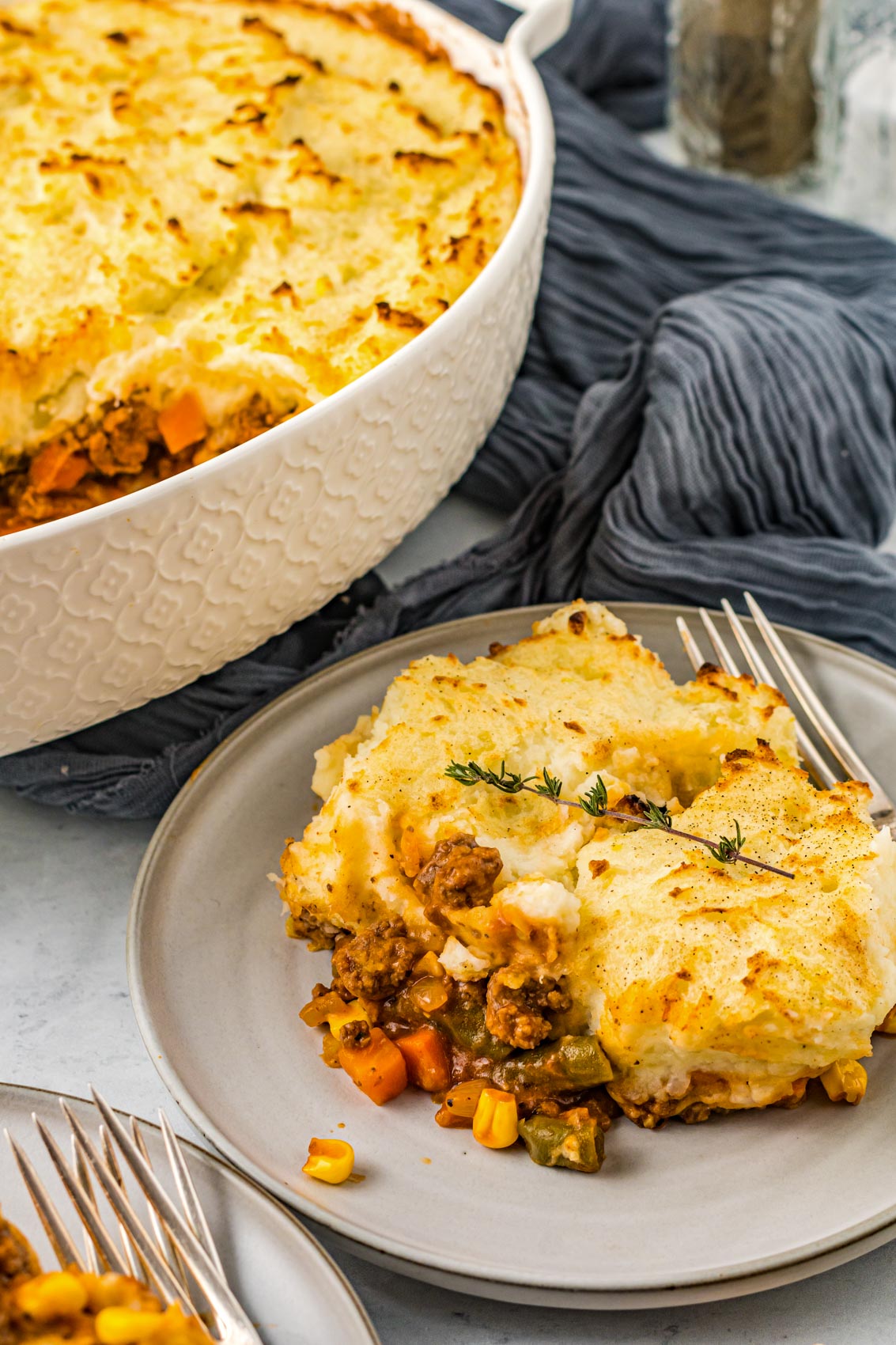 If you are looking for an easy shepherd's pie recipe, read ahead, and you will love this one!
How did shepherd's pie get its name?
Shepherd's pie is among the most widely enjoyed savory pies. It is wholesome, hearty, meaty and tasteful.
It is believed that the original shepherd's pie recipe originated in England. It is called so because it is made with layers of vegetables, gravy, meat and mashed potato (much like the sheep).
It was a very famous dinner among the shepherds or farmers back in the day. As all the ingredients were grown on their lands, they would enjoy an economical, yet comforting meal.
What do I need to get started?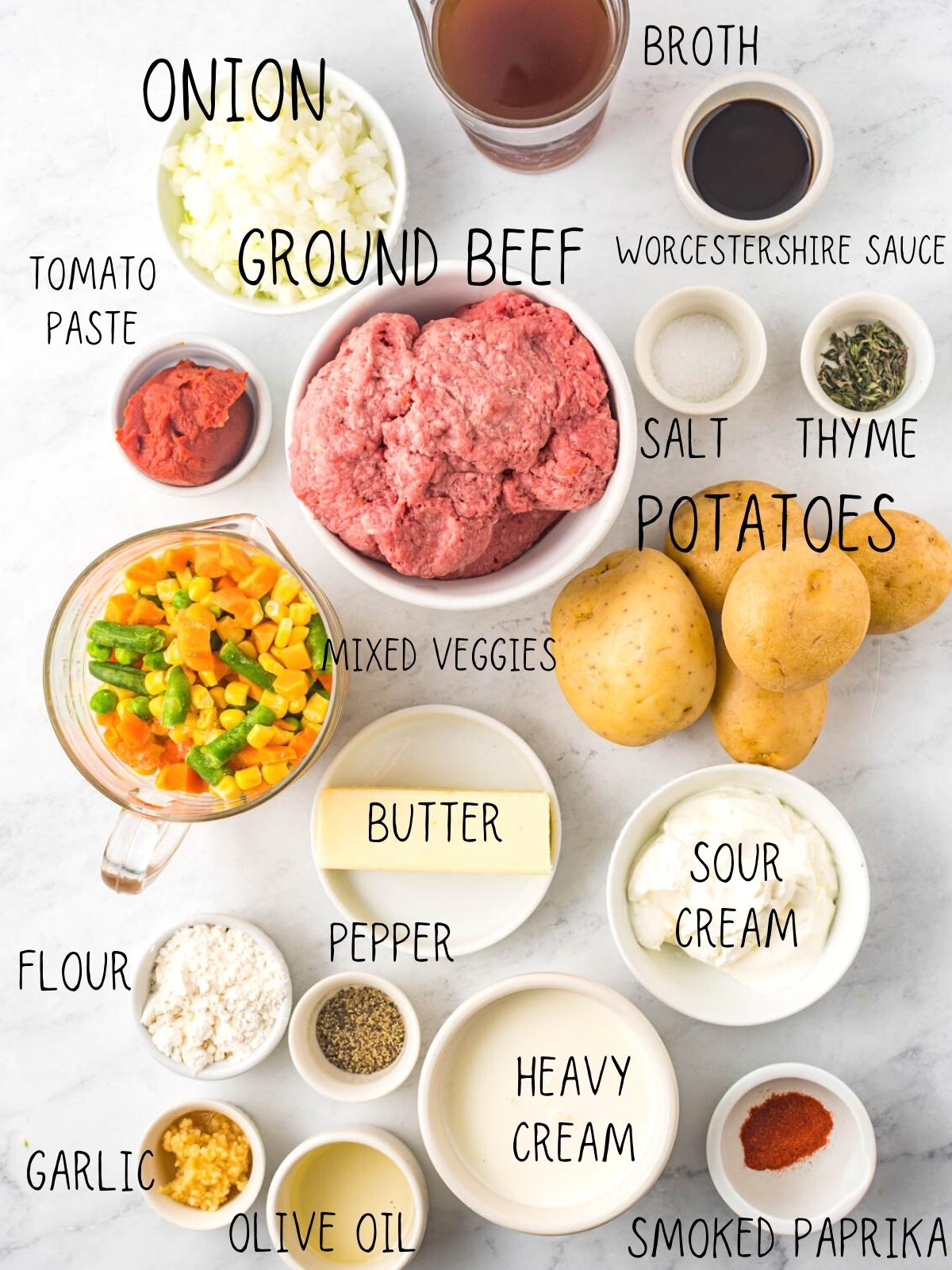 how to make mashed potatoes for shepherd's pie
To save time on this recipe, you may use pre-made or leftover mashed potatoes.
Potatoes: the main ingredient you require to make mashed potatoes is, of course, the potatoes.I prefer using russet potatoes or Yukon gold potatoes as they make the mashed potato fluffy and light. You can, however, use red potatoes with skin as well. The skin adds texture and nutrients to your dish.
Butter: the secret to a buttery mashed potato is a lot of butter. Make sure you are using unsalted butter for this recipe.
Heavy cream: adding heavy cream will make your mashed potatoes rich and creamy. You can use half-and-half as well.
Sour cream: it not just adds texture to the potatoes but also adds a slightly sour and savoury flavour.
Seasoning: add salt and black pepperto adjust the flavour of the mashed potatoes.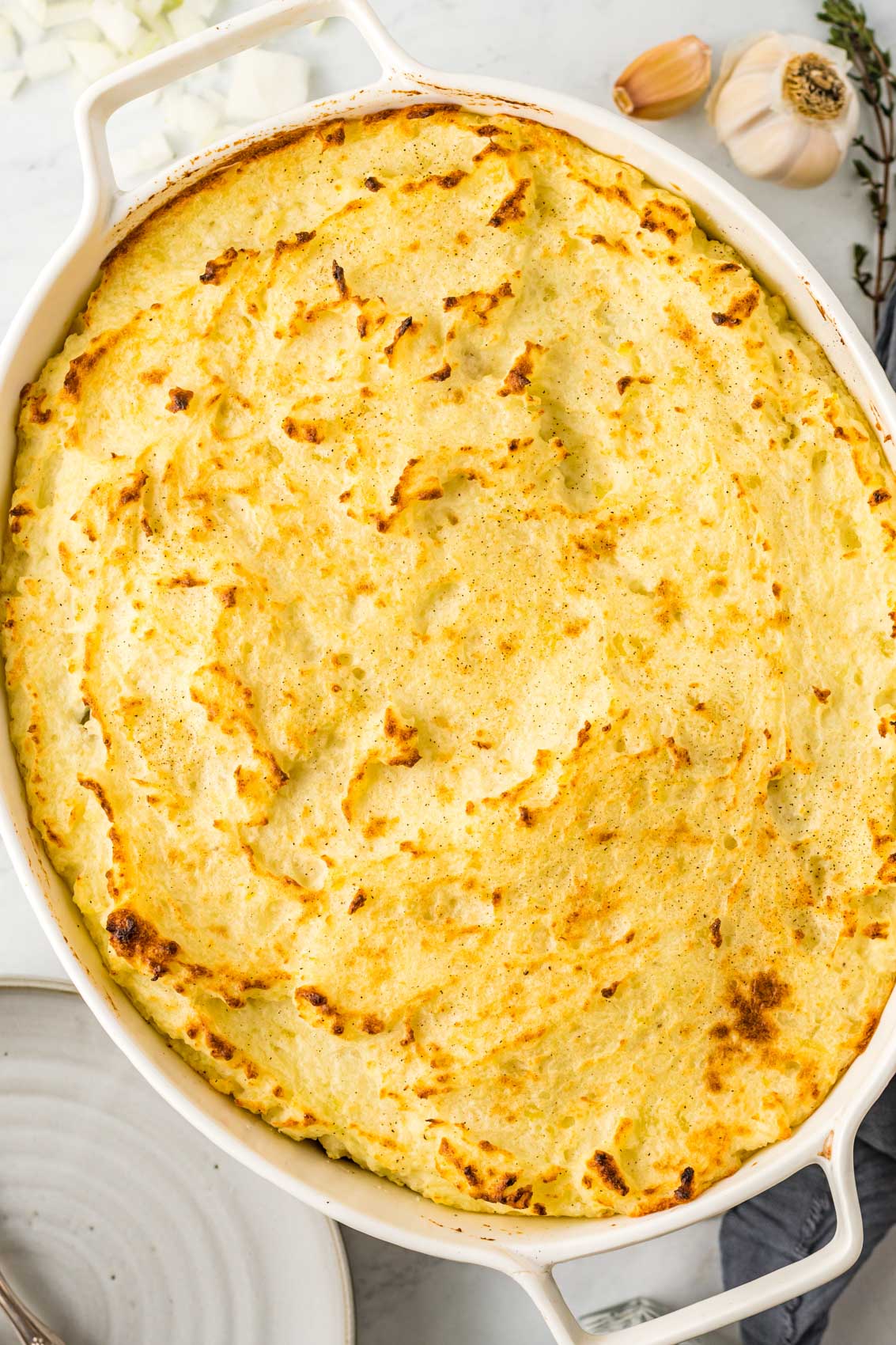 filling for shepherd's pie
Lean ground beef: I have used lean ground beef to add a beefy flavor to the filling. You can, however, use chicken, turkey or pork meat as well. 
Olive oil: a dash of olive oil cooks the filling. You can use any cooking oil instead.
Onion: I have used yellow onion for this recipe. You can use white or red onion as well.
Garlic: it adds a deep savory flavor to the dish.
Thyme: thyme has a minty flavor and aroma. Use either fresh or dry thyme. You can replace it with your favorite herbs as well. 
Butter: butter makes everything taste better. You will need butter to make the sauce.
All-purpose flour: it sets the base for the filling. It thickens up the sauce making the filling rich.
Beef broth: beef broth is loaded with beefy goodness and adds much flavor to this filling. 
Worcestershire sauce: it has the perfect blend of all the flavors, making it umami. It has the right notes and balance of sweetness, sourness, and saltiness.
Tomato paste: this concentrated paste has a rich, savory and tomato-y flavor and gives the filling a vibrant color. 
Smoked paprika: its heat with a hint of sweetness brings out the fantastic taste.
Mixed vegetables: you can use mixed frozen vegetables. These are quick and convenient to use. I love adding corn, carrots, peas and green beans to the filling. 
instructions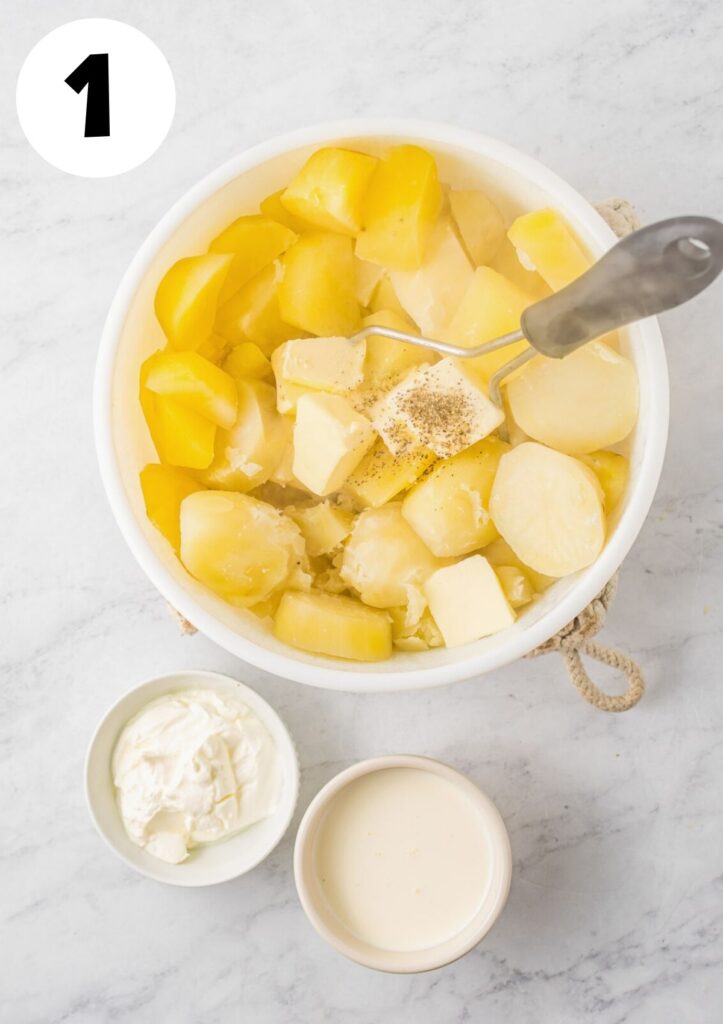 FAQ
Recipe substitutions
Here are a few substitution ideas that work well with his recipe:
Meat: you can also use ground chicken, pork, or turkey for this recipe. Moreover, you can skip adding meat altogether as well. Adding leftover chicken or steak works well as well.
Vegetables: although I have used frozen mixed vegetables, you are free to use your favourite fresh vegetables. Add bell peppers, zucchini, squash, broccoli etc. And enjoy.
Cheese: add cheddar cheese, mozzarella cheese or a combination of these two on top of the dish. As the cheese melts away, it adds flavour and richness to this recipe.
Vegan: if you are looking for a vegan version, simply replace dairy ingredients with vegan butter, coconut cream and vegetable stock. Skip meat altogether.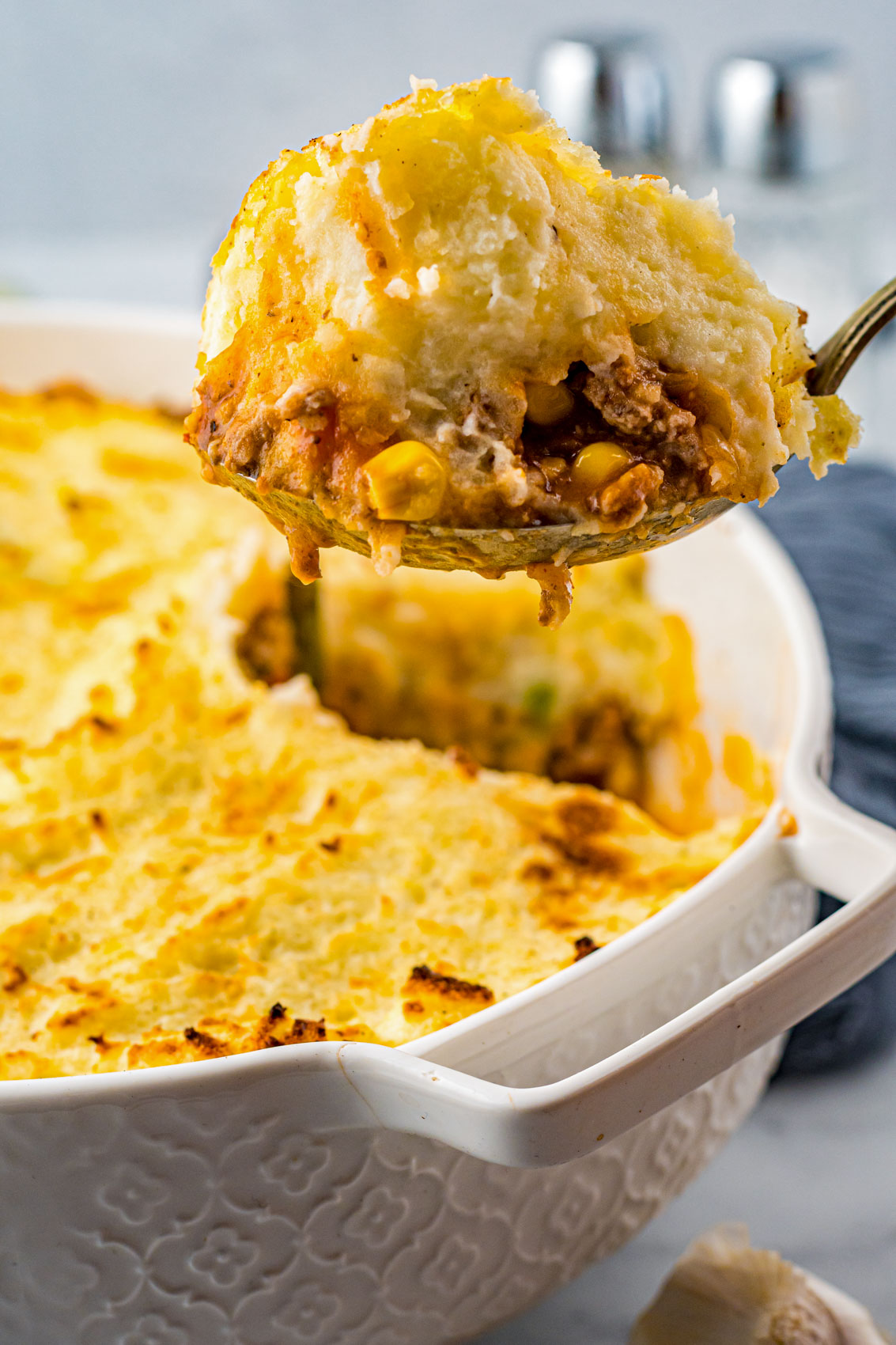 can I freeze shepherd's pie
Yes! You can freeze this shepherd's pie once it is in the dish. Cover it with aluminum foil and freeze for up to 3 months. Bake when you want to enjoy it. Also, you can freeze it after it is cooked. Once it cools down completely, freeze it for up to 3 months.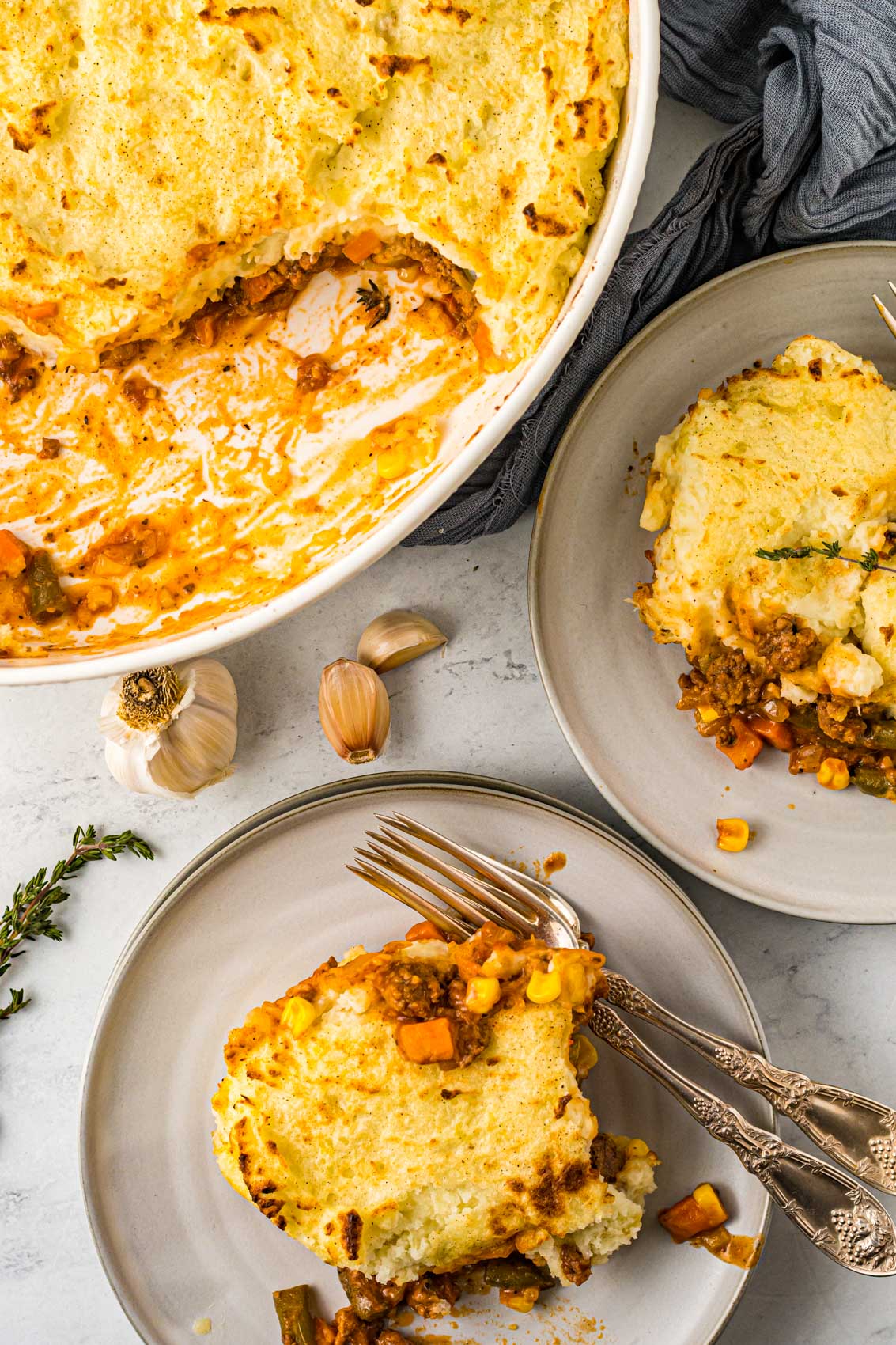 how to reheat shepherd's pie
Reheat an uncooked frozen shepherd's pie by placing it in a preheated oven until it is cooked through. Reheat the cooked frozen pie by thawing it first and then reheating it in the oven until it is warm.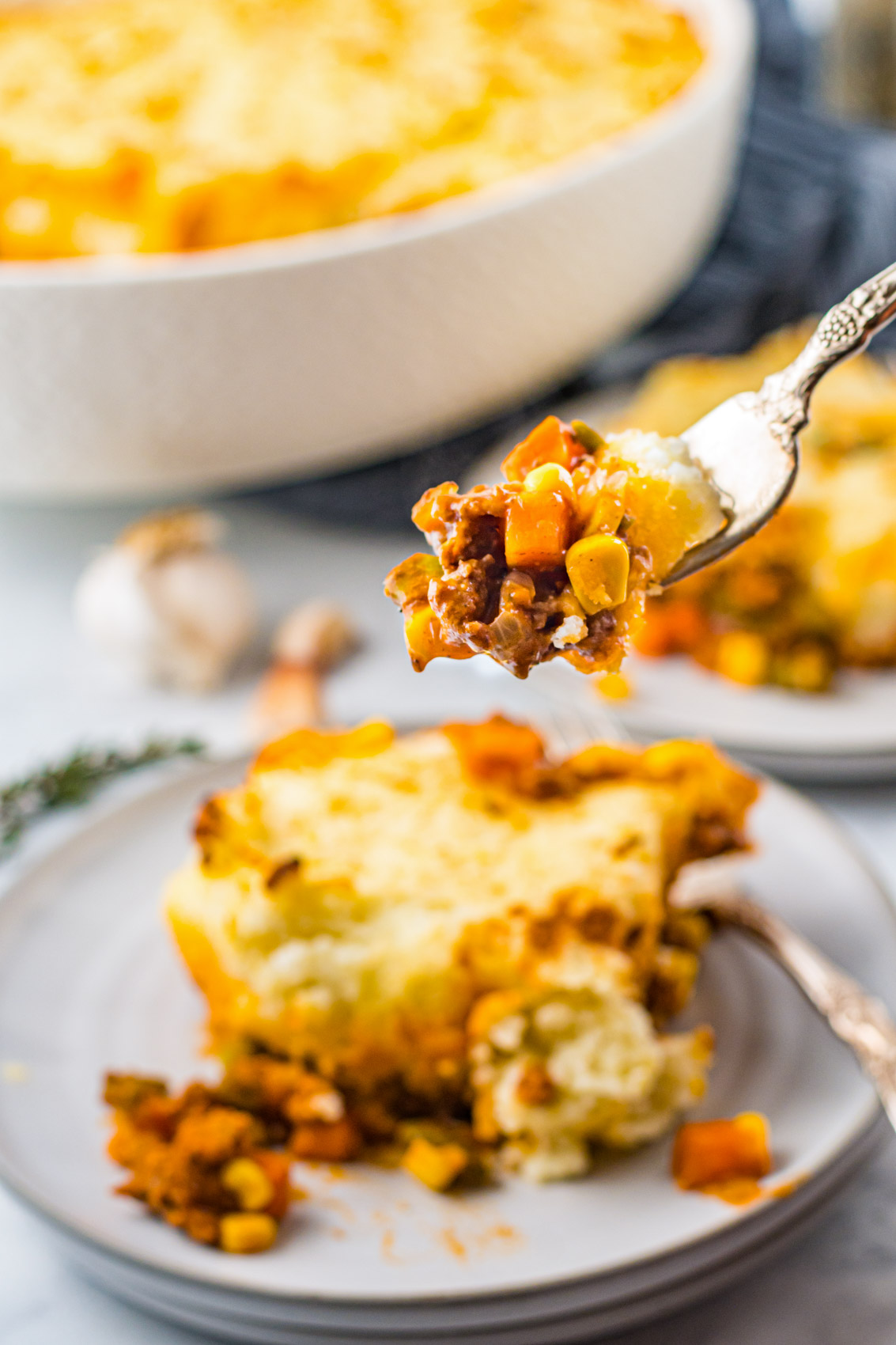 what to serve with shepherd's pie
Shepherd's pie is very wholesome; however, a few sides make it even more tasteful and fuller.
You can serve it with dinner rolls or a variety of salads. I love serving it with a fresh garden salad. Moreover, a greek salad works well too. You can also serve it with roasted vegetables like Brussel sprouts and artichokes.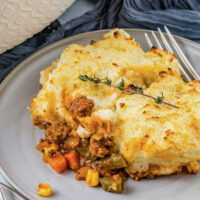 Shepherds Pie
This classic Shepherd's Pie is made with hamburger, vegetables, and seasonings, then topped with creamy mashed potatoes.   
Print
Pin
Rate
Ingredients
potato layer
1½

lb

potatoes

peeled and cubed

4

tbsp

butter

½

cup

heavy cream

¼

cup

sour cream

½

tsp

salt

½

tsp

ground black pepper
Instructions
Cover the potatoes with water and cook until fork tender, drain well.

Using a hand masher or mixer, mash the potatoes and add the butter, heavy cream, sour cream, salt and pepper.

While the potatoes are boiling, brown the ground beef.  

Add the onion, garlic and thyme to the pan and saute for 2 minutes.  Remove the meat from the pan and keep warm.

Melt the butter and stir in the flour, then cook for a minute till it no longer smells raw.

Whisk in the broth and cook till it is thickened, then whisk in the worcestershire sauce, tomato paste, and paprika.

Add the mixed vegetables and simmer for 3 minutes.

Return the meat to the pan, stirring to combine.

Preheat the broiler to 500° and move the rack up to the top of the oven.

Pour the mixture into a 9×13-inch pan.  Spread the potatoes evenly over the top and place under the broiler for 5 minutes, or until the top has lightly browned.

Remove and rest for 5 minutes before serving.
Notes
Some like to add some cheddar cheese on top of the pie before removing it from the oven.
You can add any vegetables you want.

 

It's a great way to add more vegetables to your diet.
Storage:
Store in an airtight container in the refrigerator for up to 5 days.
This dish can be frozen for 3 months.

 

Thaw and reheat in the oven before serving.
Nutrition
Calories:
418
kcal
|
Carbohydrates:
26
g
|
Protein:
20
g
|
Fat:
26
g
|
Saturated Fat:
11
g
|
Polyunsaturated Fat:
1
g
|
Monounsaturated Fat:
11
g
|
Trans Fat:
1
g
|
Cholesterol:
83
mg
|
Sodium:
401
mg
|
Potassium:
814
mg
|
Fiber:
4
g
|
Sugar:
3
g
|
Vitamin A:
2718
IU
|
Vitamin C:
26
mg
|
Calcium:
80
mg
|
Iron:
3
mg
more comfort foods to try