Oven pot roast is a delicious dish served on special occasions like gatherings or holidays. It is a meaty, rich, and wholesome dish. The perfect pot roast has tender and juicy meat, perfectly cooked vegetables, and a rich, silky gravy.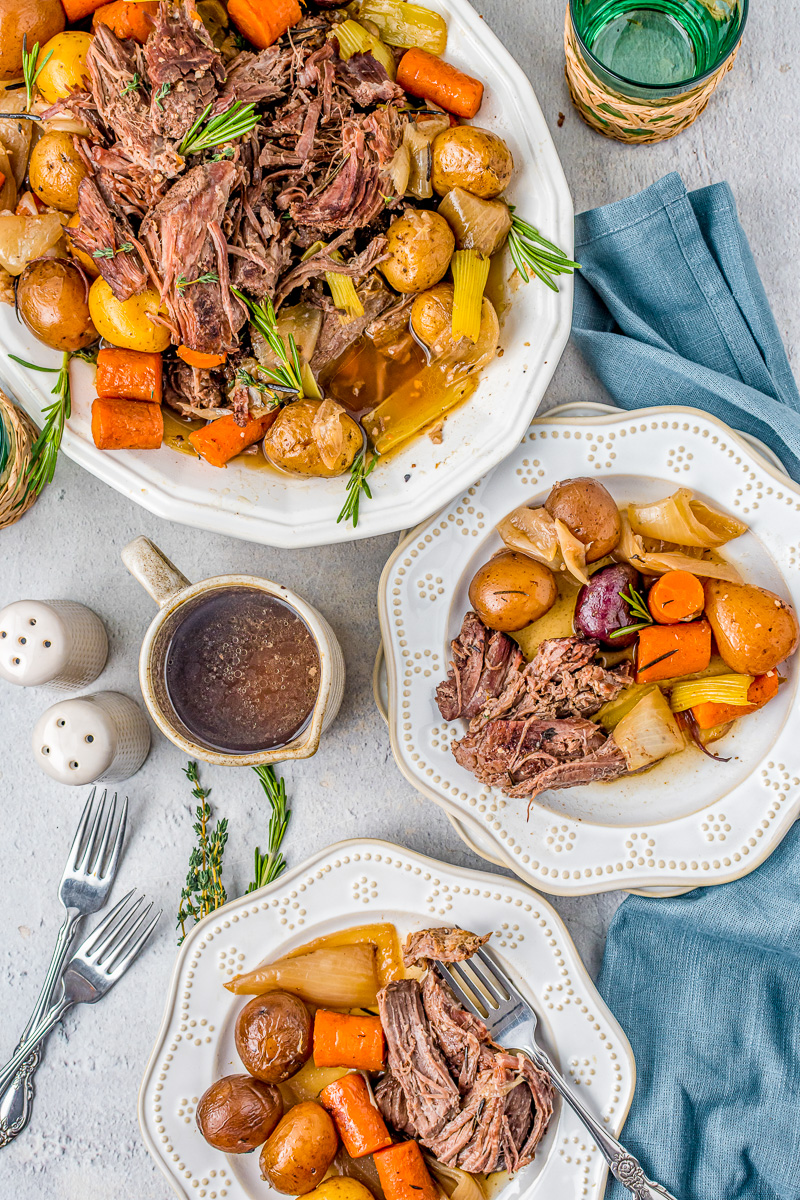 This dish is not just tasteful, but the meat literally melts in your mouth.
Chuck beef roast is easy to cook in an oven, all in one pot. Serve it with your favorite side, and enjoy! Our family is loves hearty food (also try our shepherd's pie), and this recipe is definitely full-flavor and comfort all the way.
ingredients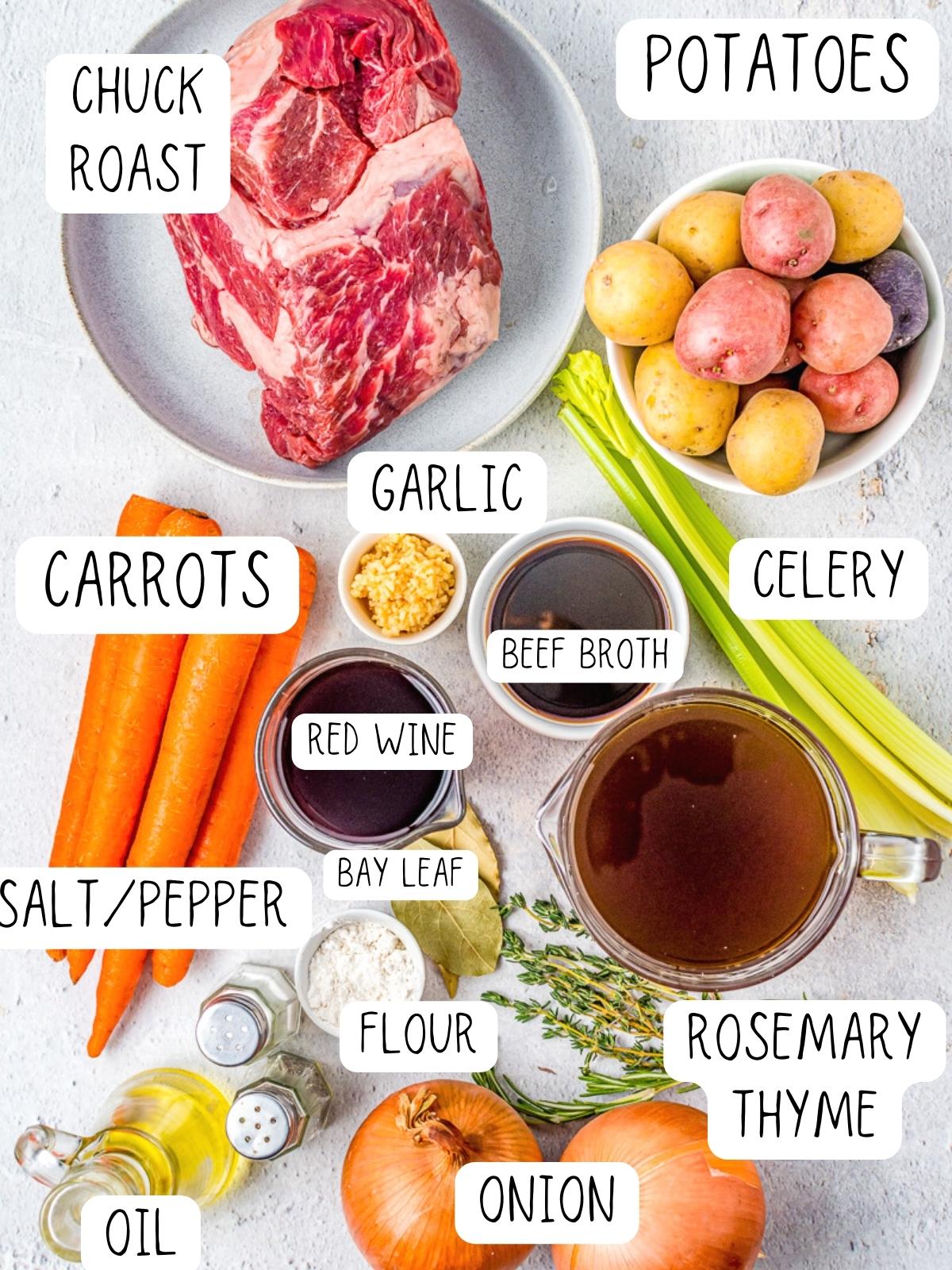 What do I need to get started?
Here is everything you will need to make a delicious pot roast:
meat and veggies
Chuck roast: Chuck roast is a part of a meat cut that comes from the shoulder or neck area. It is usually boneless and is also known as shoulder steak. This meat cut has a meaty and rich flavor and is very juicy. Although chuck roast works best for oven pot roast, you can use any other meat cuts like round lean cut or brisket as well.
Olive oil: Olive oil is rich in healthy fats and therefore is our choice for this recipe. You can use canola oil as well.
Garlic: Adding minced garlic adds a rich, deep savory flavor to this dish.
Onions: Onions also add a savory flavor to this dish. You can add either yellow or white onions to this dish.
Potatoes: I have used baby potatoes for this recipe. You can, however, use large potatoes and cut them into quarters as well.
Carrots: Carrots are rich in nutrients but also add color to the dish.
Celery stalks: Celery stalk adds a tangy and salty flavor to the dish.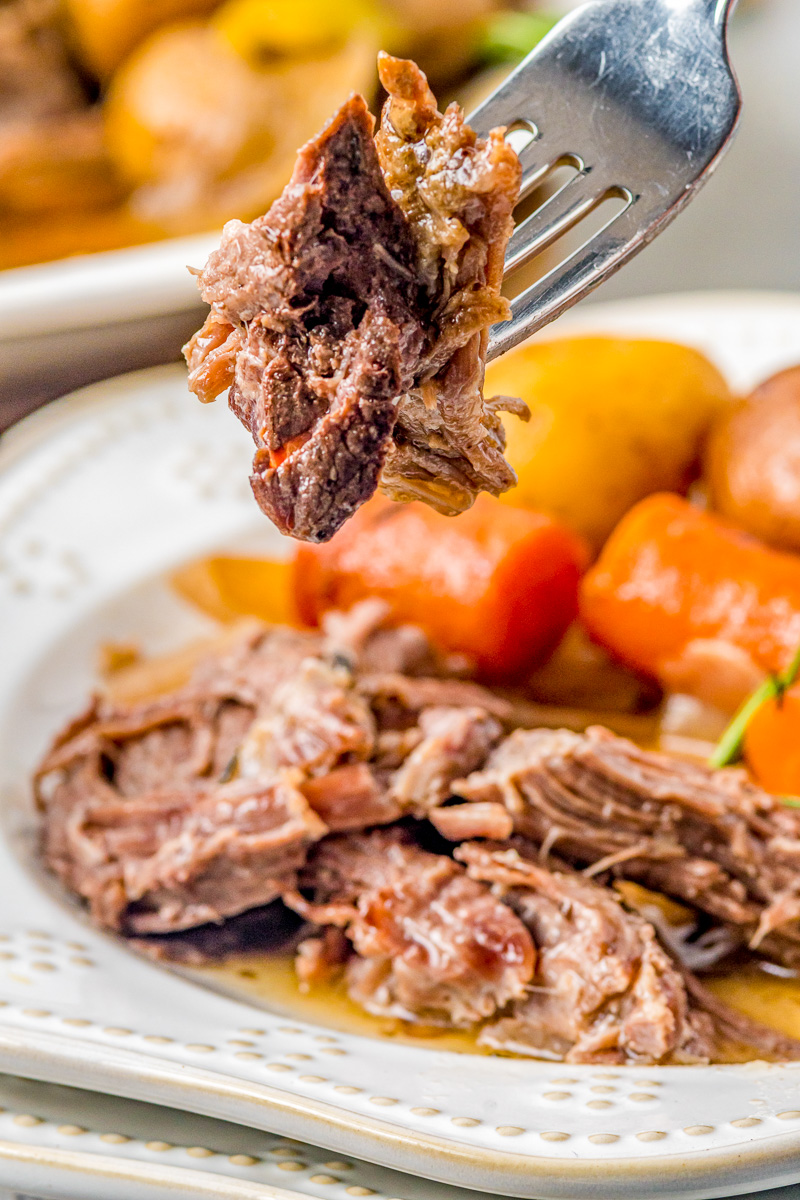 seasonings and flavor enhancers
Red wine: Red wine adds beautiful bright color to the dish but also adds a rich fruity and tangy flavor which makes this dish more tasteful.
Beef broth: Beef broth enhances the meaty flavor of this dish.
Worcestershire sauce: This sauce is a perfect combination of sweet, tangy, and savory flavors. Its umami flavor makes the dish tasteful.
All-purpose flour: All-purpose flour's main use is to thicken up the gravy. You can also use corn starch for this purpose.
Rosemary: Rosemary has a minty and peppery flavor. You can use either fresh or dried rosemary for this recipe.
Thyme: Fresh thyme has an earthy and minty flavor. It also gives a good aroma to the dish.
Bay leaf: Bay leaf is added to dishes because of its distinct aroma. You can skip adding it to the dish.
Pepper: Black pepper adds a peppery flavor to the dish. You can add it as per your liking.
Salt: Season this dish with salt according to your liking.
instructions
Follow these simple steps for the best oven pot roast recipe.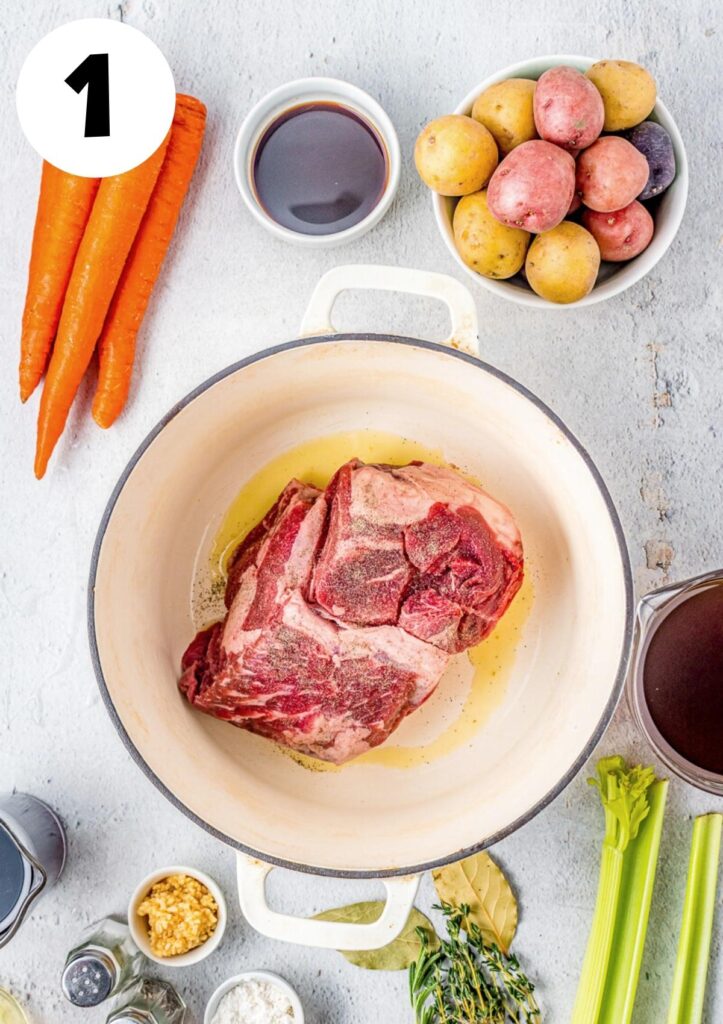 expert tips
Get the best roast, every time by following these expert tips.
slow is best: by cooking your roast slowly, you allow it to tenderize more
the bay leaf, rosemary and thyme are wonderful flavor enhancers
salt and pepper to your desired taste preferences
small, unpeeled new potatoes work best for oven roasts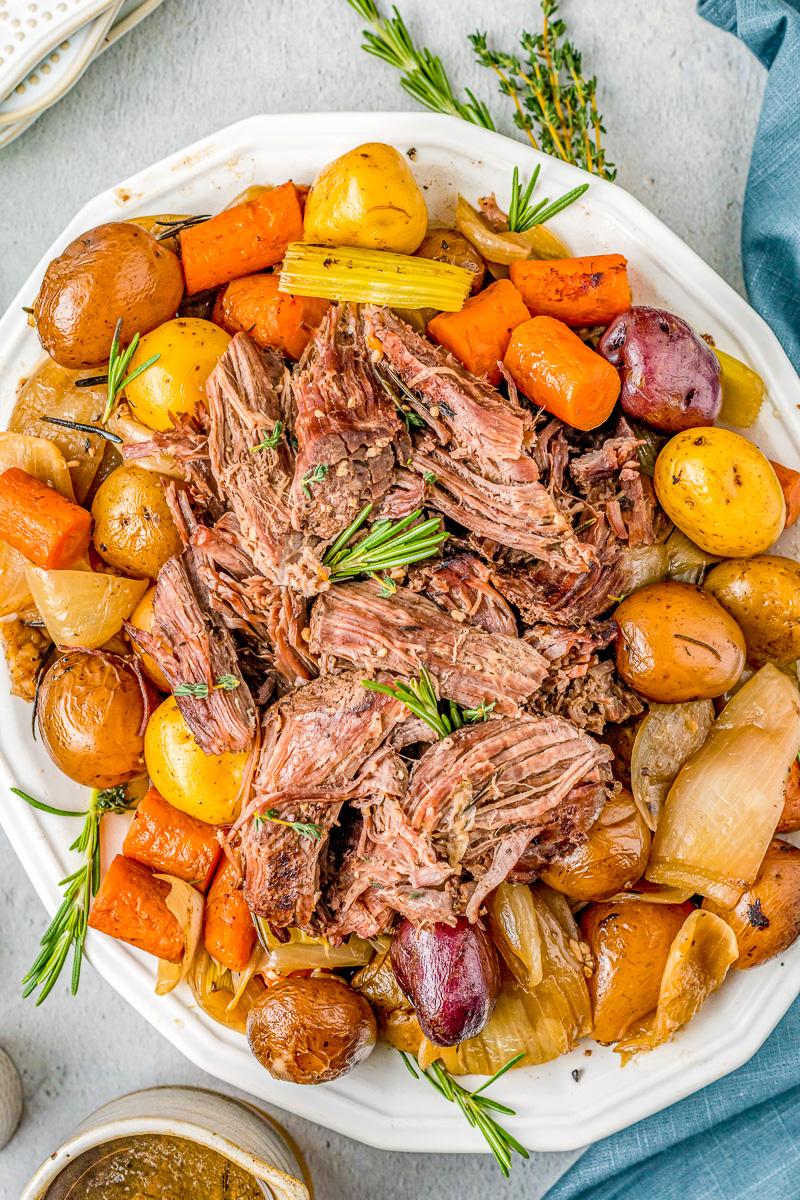 How to use leftover oven pot roast?
Here are some fun ways you can use leftover oven pot roast:
Pasta: Turn the leftover pot roast into Beef Stroganoff by serving it with pasta.
Sandwiches: Add BBQ sauce to the shredded meat and make delicious sandwiches.
Burrito: Fill it in a burrito with a fresh garden salad.
Stew: Make a delicious stew out of the leftover pot roast.
Pot pie: Use the leftover meat and vegetables as a filling in a single-serving pot pie with delicious pastry.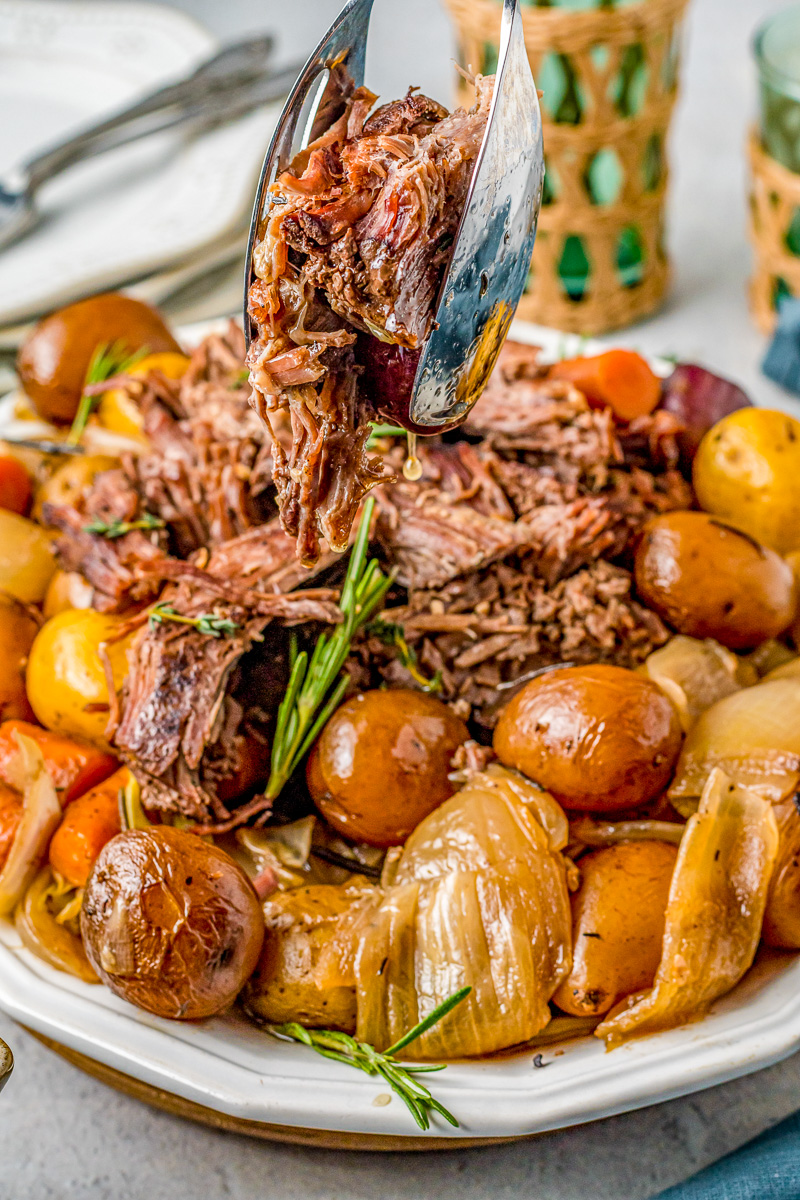 FAQ
Are there other ways to make roast?
Although most people prefer to make pot roast in an oven, there are other ways to make it as well. You can cook it in a slow cooker, over the grill, or even in the instant pot.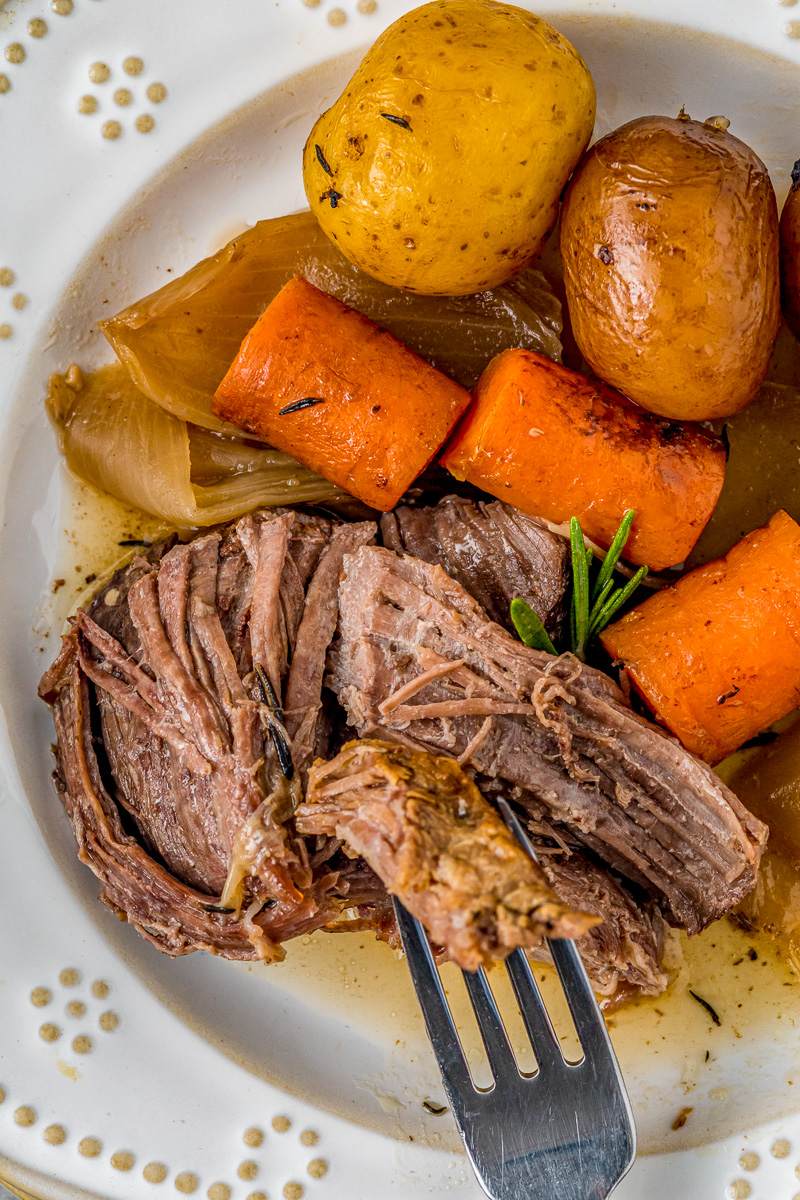 Why cooking a roast slowly is important?
Since the meat cut used in a pot roast is rich in fat and fiber, cooking it at high speed usually toughens it up.
As you opt for slow cooking, you are giving it time to slowly dissolve collagen into gelatin. Moreover, the enzymes break up the meat and the tough fiber tenders. As a result, the meat is juicy yet tender.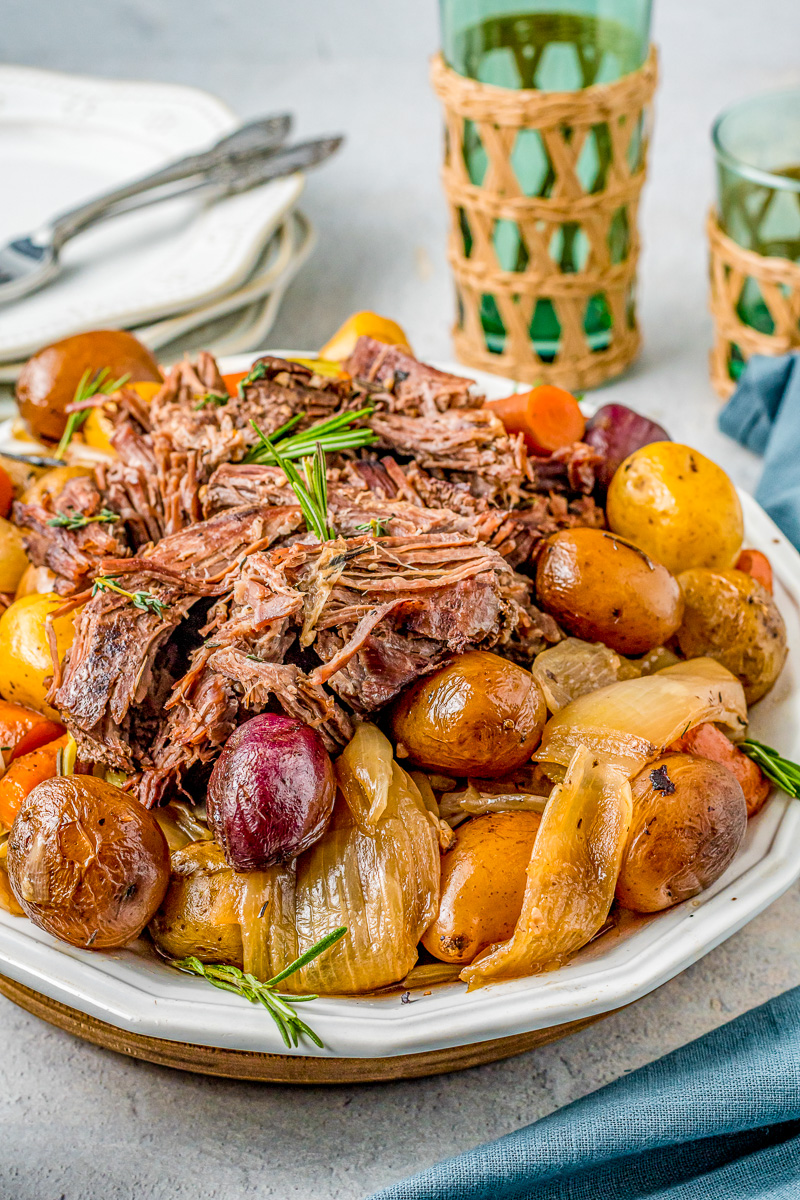 How to make a roast in the oven tender?
The easiest way to make the roast tender is by slow cooking it and allowing the meat to break apart slowly. Moreover, you can marinate it in advance for up to 12 hours, and it will also allow it to stay tender.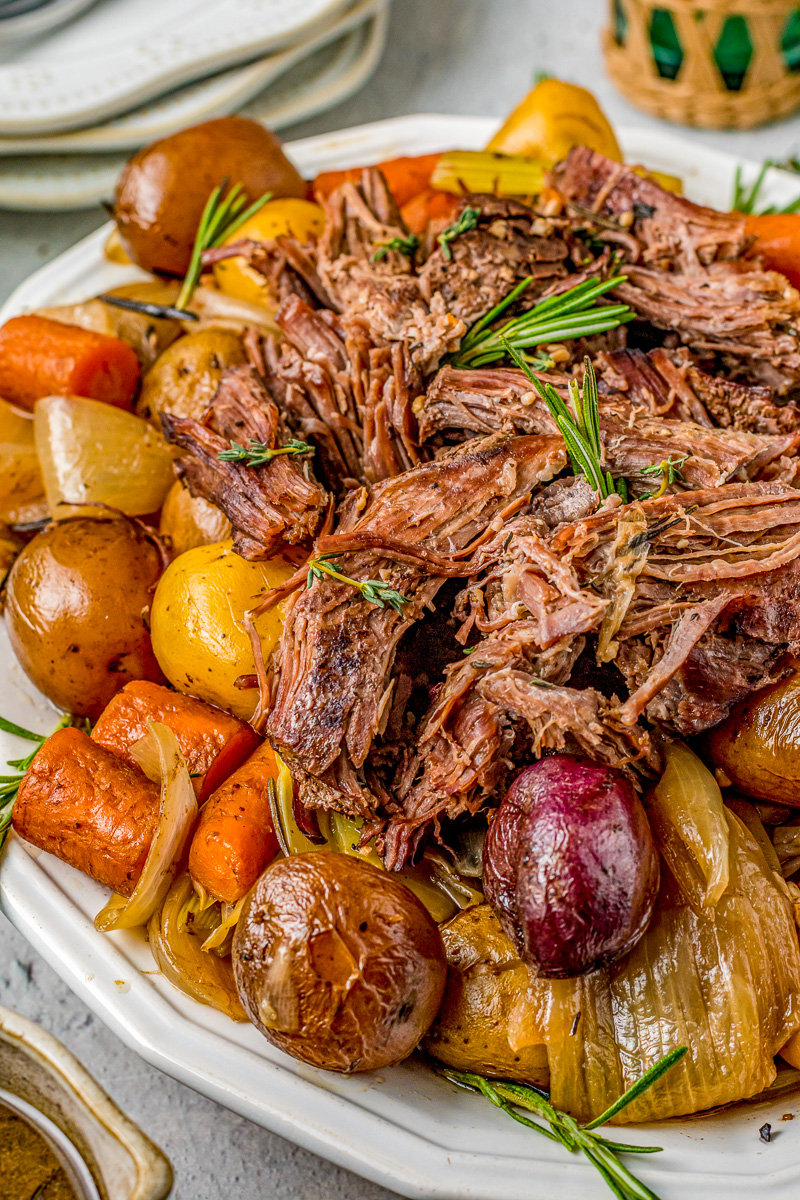 how to serve pot roast
Baked roast is a versatile dish and therefore goes well with several sides. You can serve it with roasted potatoes, mashed potatoes, roasted vegetables, fresh salad, stuffed mushrooms, bean stew, dinner rolls, etc. Whatever side dish you choose, I am sure it will taste just perfect with your oven pot roast.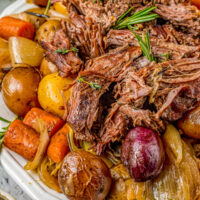 Dutch Oven Pot Roast
This Dutch Oven Pot Roast cooks low and slow in the oven for fall-apart beef. Served with its own flavors of onion, potatoes, and carrots with a savory gravy.
Print
Pin
Rate
Ingredients
4

lb

chuck roast

½

tsp

salt

½

tsp

pepper

2

tbsp

garlic

minced

2

onions

quartered

1

lb

potatoes

small, baby potatoes

6

carrots

cut into 2-inch pieces

4

celery stalks

cut into 2-inch pieces

½

cup

red wine

optional

3

cups

beef broth

4

tbsp

all purpose flour

2

tbsp

Worcestershire sauce

2

sprigs rosemary

fresh

2

sprigs thyme

fresh

2

bay leaves
Instructions
Heat the oil in a large oven safe pan.  Season the meat with salt and pepper and brown on all sides.

Remove the meat and deglaze the pan with the wine.  Place the meat back into the pan and add the garlic, onions, potatoes, carrots, and celery to the pot.

Combine the beef broth, worcestershire sauce, and flour.  Pour over the meat.  Add the rosemary, thyme and bay leaves.

Place a lid or tinfoil over the pan.  Bake for 3, then check the meat.  If it pulls apart easily, it is ready.  If it doesn't pull apart, cover and place back into the oven for an additional hour.

Reserve the broth and serve as gravy as is, or you can make a thicker gravy to serve over the meat and potatoes.
Notes
Don't get impatient.

 

Roast will be dry and tough if it is cooked to quickly at a higher temperature.

 

As it cooks slowly, it will bread down any grissel and fat and the meat will just fall apart.
Have leftovers?

 

Add some BBQ sauce and use it on sandwiches.
Storage?
Store in an airtight container in the refrigerator for up to 5 days.
You can freeze the roast for up to 3 months.
Nutrition
Calories:
695
kcal
|
Carbohydrates:
29
g
|
Protein:
63
g
|
Fat:
35
g
|
Saturated Fat:
15
g
|
Polyunsaturated Fat:
3
g
|
Monounsaturated Fat:
18
g
|
Trans Fat:
2
g
|
Cholesterol:
209
mg
|
Sodium:
1010
mg
|
Potassium:
1734
mg
|
Fiber:
4
g
|
Sugar:
6
g
|
Vitamin A:
10268
IU
|
Vitamin C:
23
mg
|
Calcium:
113
mg
|
Iron:
8
mg
more soups and stews…