Slow Cooker Carnitas are a simple yet delicious dish loaded with spices. The dish tantalizes your taste buds, and you can enjoy it with a variety of side dishes. It is not just easy to make but is easy to store and a suitable dish for your Mexican-inspired party menu.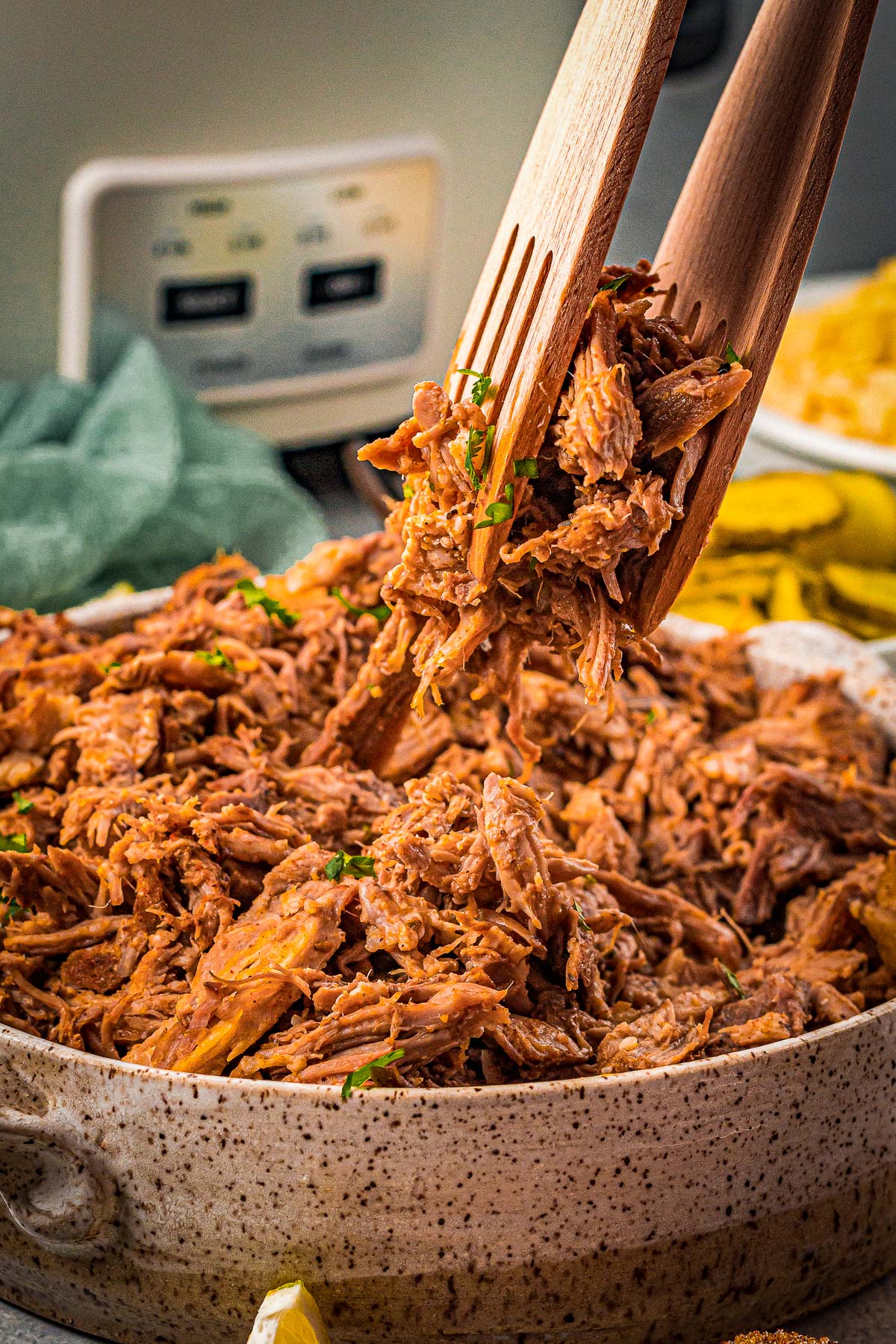 For an authentic Mexican cuisine lover, you can make these pork carnitas in the slow cooker for an easy dinner. The rich spices, aroma, and meat that literally melts in your mouth. We make this dish once a week and serve on buns, with street tacos, or pulled pork sliders.
key ingredients
The following spices and seasonings really bring out the Mexican-inspired flavors of the pork butt.
Chili powder: Chili powder adds the heat that we all love to pulled pork. You can adjust its quantity according to your liking.
Smoked paprika: Smoked paprika is the perfect ingredient for a bit of heat and smokiness.
Ground coriander: Ground coriander has a very deep flavor, and the aroma is just beautiful.
Garlic powder: Garlic powder adds a strong savory flavor to the dish. You can use fresh garlic instead of powder as well.
Ground cumin: Cumin is an essential spice in Mexican cuisine. It has a warm, slightly sweet, and nutty flavor.
Achiote: This is a unique ingredient that you can only find at Mexican sores or aisles. It is a paste and is a popular Mexican condiment. The paste is known as Annatto. This ingredient adds color to the dish, but that's not all. It has a complex flavor that is characterized as spicy and earthy, with a hint of bitterness.
Onion powder: Onion powder adds a savory flavor to this recipe.
Mexican oregano: This herb has a lemony and citrusy flavor. If you can't find Mexican oregano, you can choose the regular Italian one.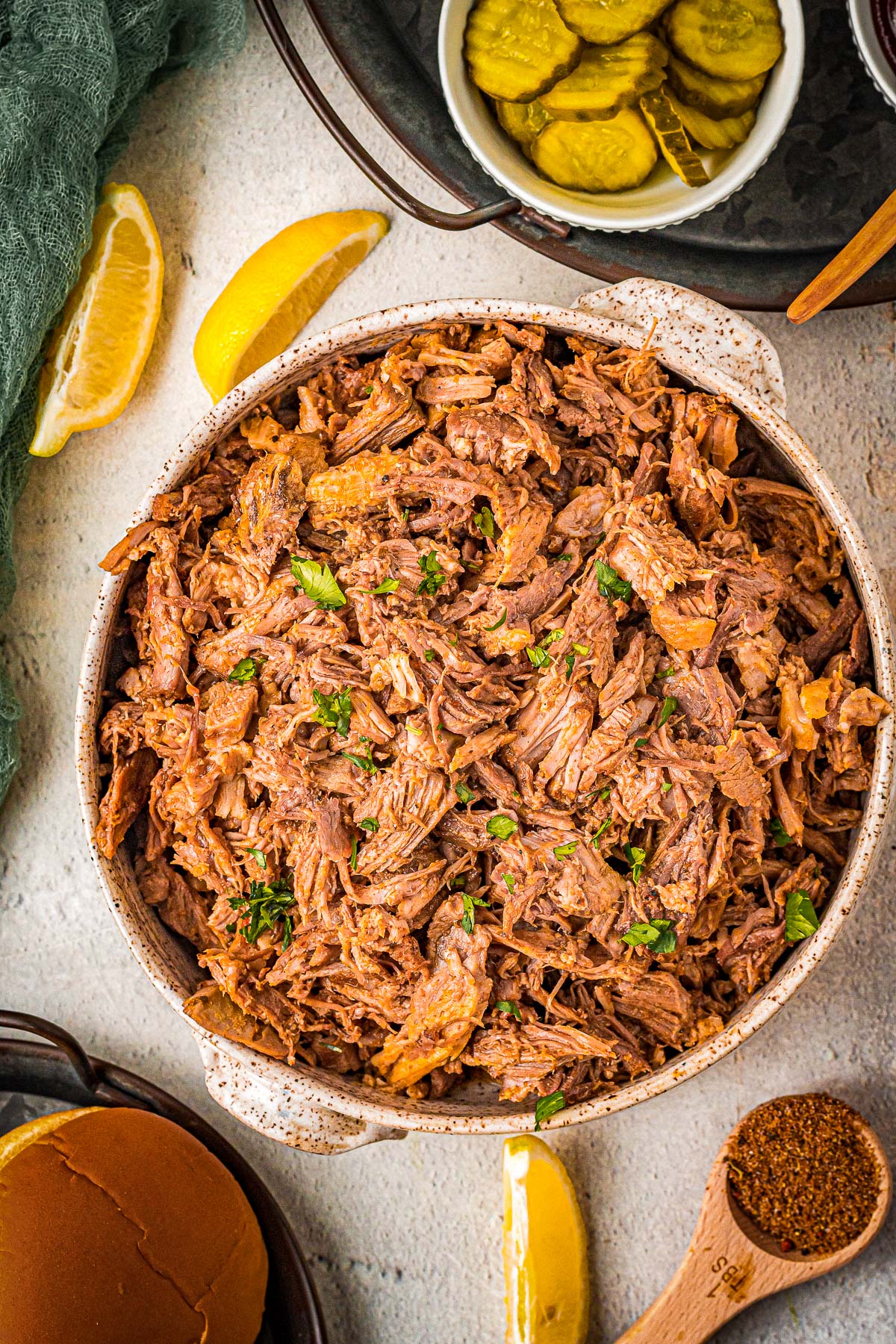 FAQs
What to use instead of Achiote?
Achiote adds so much flavor to this recipe. If you want a Mexican taste, I recommend you don't skip it. But if you can't find this Mexican condiment, you can make a paste using white vinegar, paprika, dried garlic powder, oregano, oil, and ground cumin. The blend will give you a good flavor substitute for Achiote.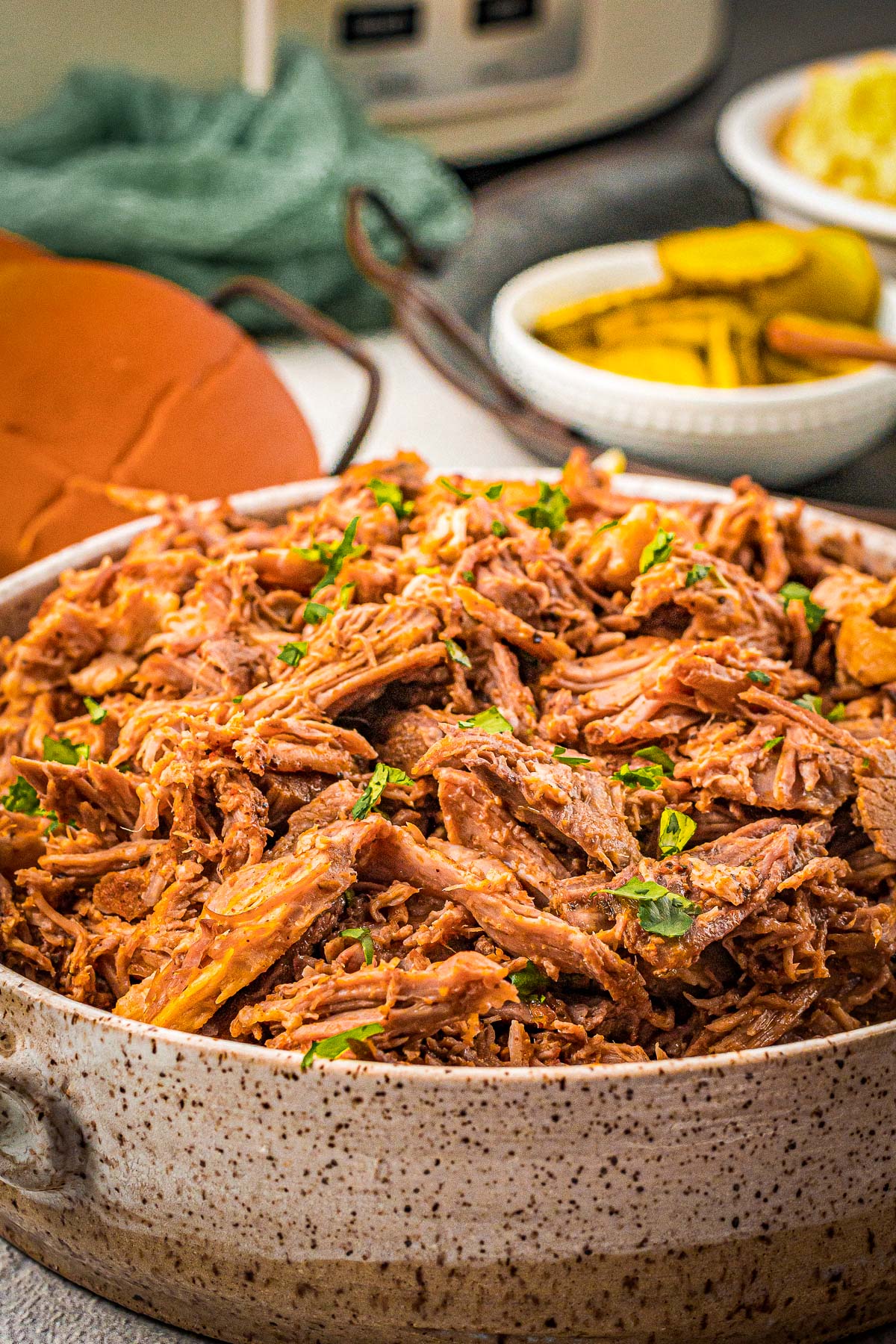 Can you store leftover Mexican pulled pork?
Yes. You can store the leftover in an air-tight container. Refrigerate it for five days. Plus, you can also freeze the leftover slow cooker pulled pork. You can freeze it in a freezer-safe container or in a zip lock bag. Freeze for up to 3 months. Thaw and reheat and enjoy!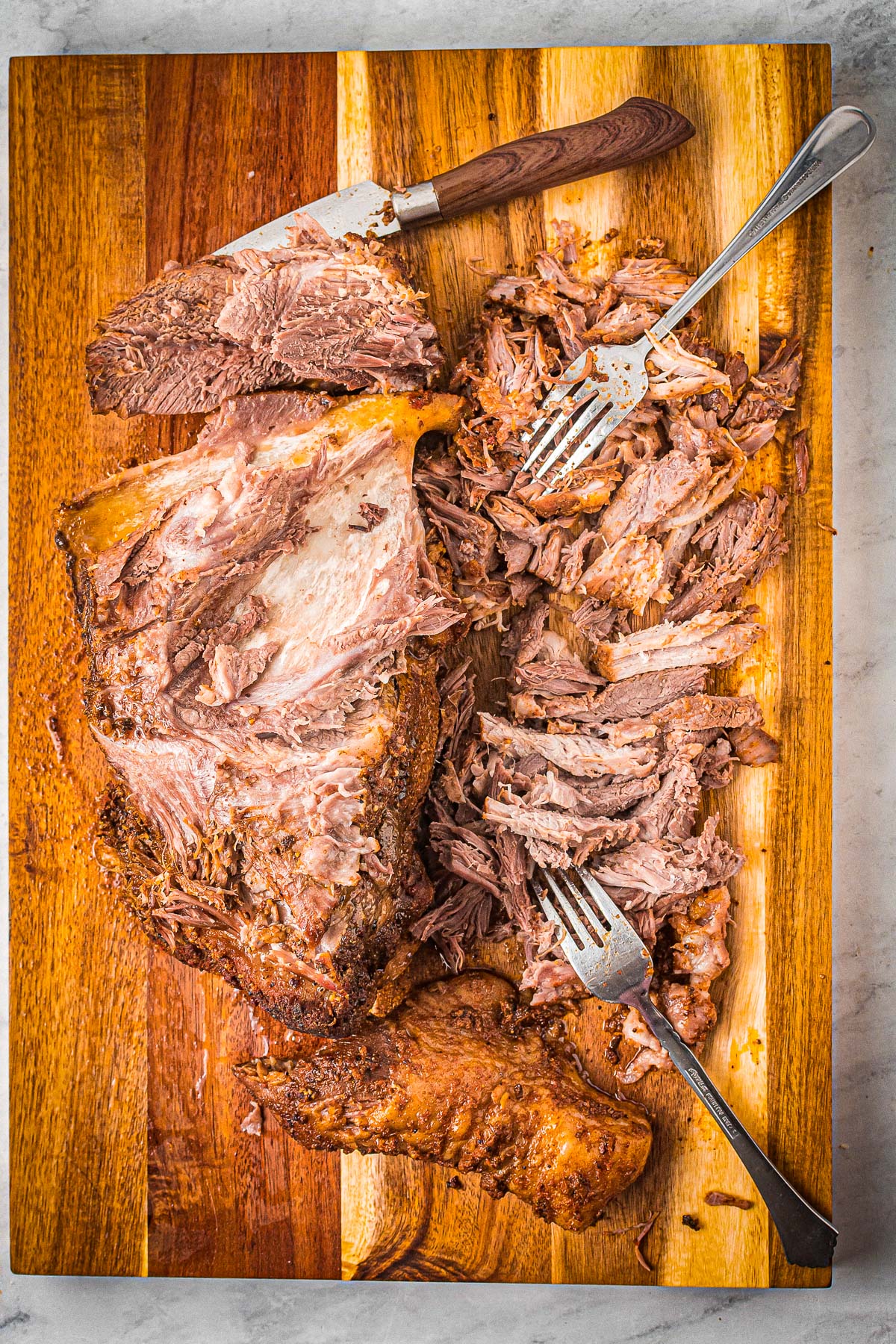 substitutions
Onions: I prefer using either white or yellow onions for this recipe. That's because they have a slightly sweet yet savory flavor that offers so much taste. If you can't find yellow or white onions, you can choose red onions as well.
Brown sugar: Since brown sugar has a caramel-like flavor, a slight sweetness tastes really good and adds complexity to the dish. It is, however, not a compulsory ingredient, and you leave it out.
Can you use a meat cut other than Pork butt?
The closest meat cut that works well if you don't have pork butt is pork shoulder. It offers the same flavor and texture. If you want to switch pork with beef, feel free to do so. You can use beef chuck roast or brisket for this recipe.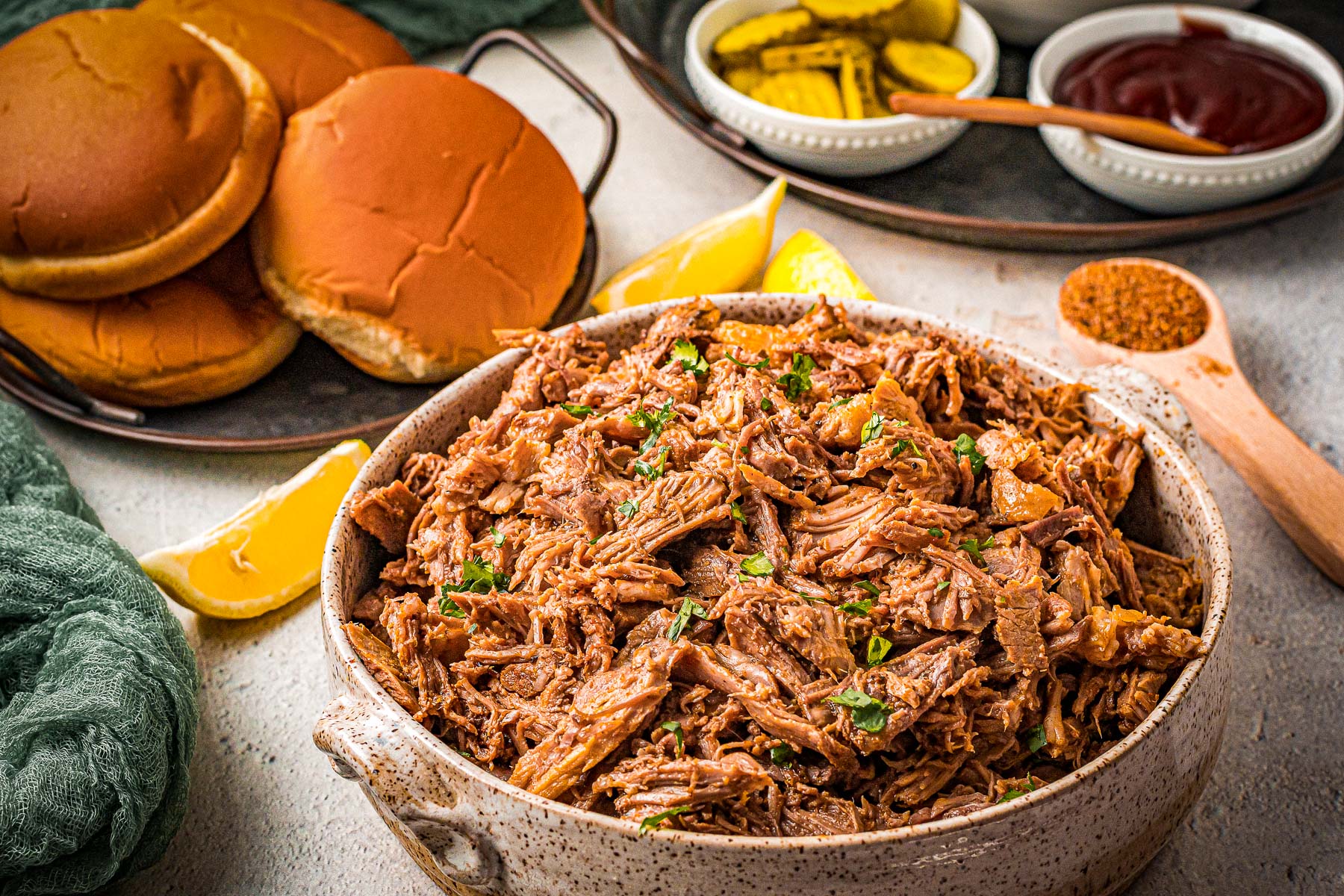 How do keep pulled pork from drying out?
Although pork cut is rich in fat which makes it moist, you still have to keep an eye on it so that the meat doesn't dry out. The best way to do so is by checking the meat after 4 hours. If it falls apart easily, you can turn the heat off; if it doesn't, you can give it an extra hour.
The meat cut I have used for this slow cooker pulled pork recipe is a pork butt. That's because this particular meat cut has excess fat, which adds so much flavor to the dish. Plus, you get so much moisture as well, and the pulled pork doesn't dry out easily. You can either use boneless meat or in-bone as well. I prefer using boneless as it is very easy to handle.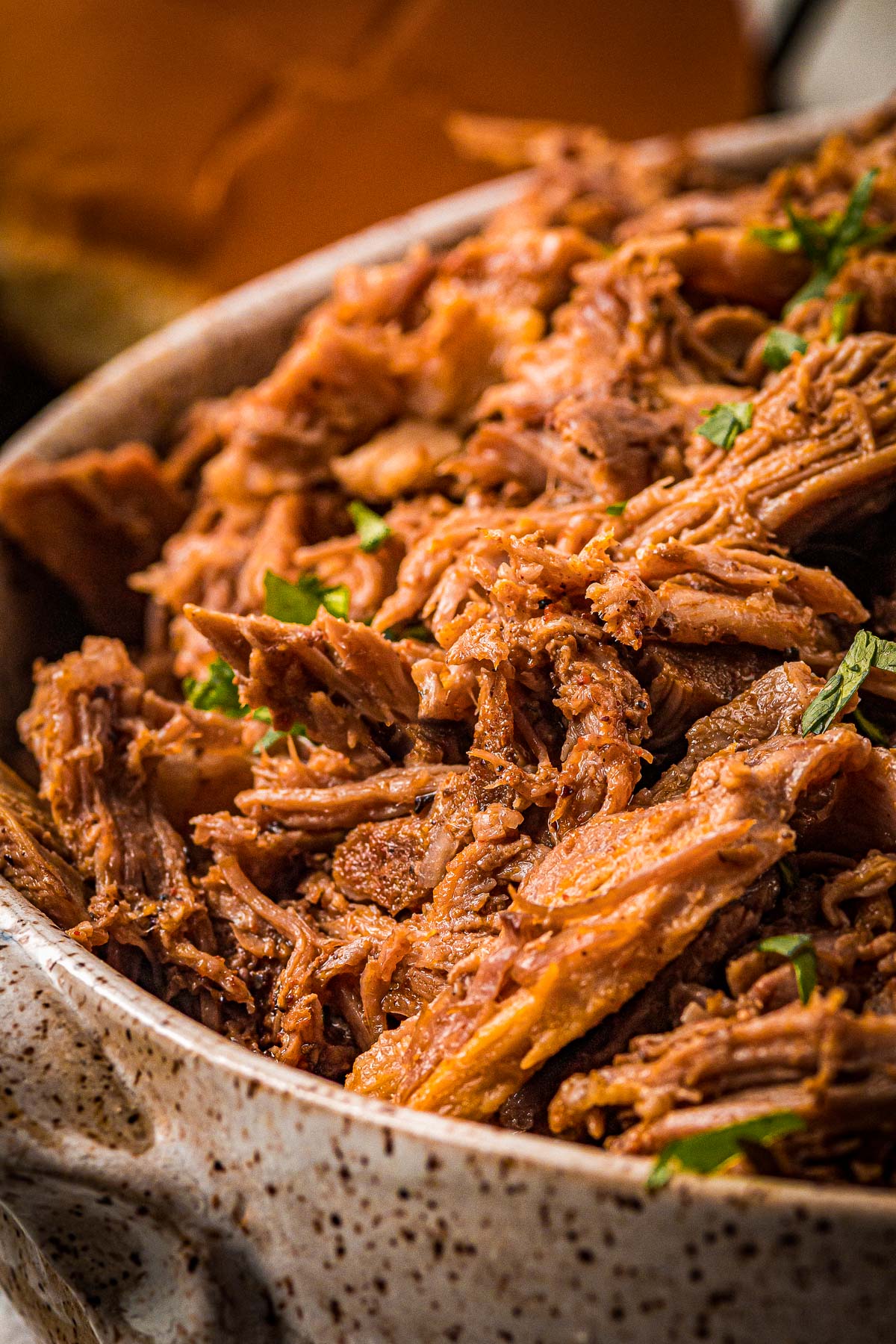 What to serve with pulled pork?
Puller pork is a tasteful and versatile dish you can enjoy in so many ways. Here are a few to name: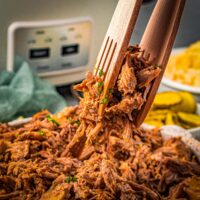 Slow Cooker Carnitas
Pulled pork couldn't get easier with this slow cooker version. Season it up and let it cook. Then shred it and serve it with your favorite side dishes or make it into tacos or sandwiches!
Print
Pin
Rate
Ingredients
2

onions

halved

4

lb

boneless pork butt

or 5 lb bone-in

¼

cup

brown sugar

1

tbsp

chili powder

1

tsp

smoked paprika

1

tbsp

ground coriander

1

tbsp

garlic powder

1

tbsp

ground cumin

1

tbsp

chiote

annato seeds

1

tsp

onion powder

1

tsp

Mexican oregano

1

tbsp

salt

2

tsp

black pepper
Instructions
Cut the onions in half and lay cut side down in the bottom of the slow cooker.

Combine brown sugar and the seasonings and coat the outside of the pork well, making sure to press on well.

Place the pork over the onions, fat side on top.

Set slow cooker on high for 4 hours, or low for 8.  

Check pork butt after 4 hours.  If the meat can be pulled apart with a fork, it is done.

Remove the pork butt and shred with 2 forks or by hand.  Remove the onions and reserve 2 cups of the drippings.

Combine the pork and the reserved drippings in a bowl and serve as desired.
Notes
While I highly recommend using the Achiote in this recipe, you can leave it out.

 

It will be slightly different, but it will still be very delicious.
Check on the meat after 4 hours on high.

 

If it begins to pull apart easily, it is done and shouldn't be cooked any longer.

 

This will keep it from drying out.
Leftovers:
Store in an airtight container in the refrigerator for up to 5 days.
Store in a ziplock bag or container in the freezer for up to 3 months.
Nutrition
Calories:
350
kcal
|
Carbohydrates:
12
g
|
Protein:
43
g
|
Fat:
13
g
|
Saturated Fat:
5
g
|
Polyunsaturated Fat:
2
g
|
Monounsaturated Fat:
6
g
|
Trans Fat:
1
g
|
Cholesterol:
136
mg
|
Sodium:
1041
mg
|
Potassium:
886
mg
|
Fiber:
1
g
|
Sugar:
8
g
|
Vitamin A:
432
IU
|
Vitamin C:
2
mg
|
Calcium:
64
mg
|
Iron:
4
mg